3 New Approaches to Panoramic Photography
0

It's of little wonder why panoramic photography is so fascinating to us. Panoramic photography offers human eyes the opportunity to view the world from an almost supernatural perspective. For as long as photography has been around, photographers have been piecing together shots to form panoramas, offering a 360-degree look at the world around us.

Photo Credit: Great Mississippi Flood, Yazoo Flood, Washington University
The practice of panoramic photography has evolved as photography itself has advanced. Camera technology and photo editing software are more powerful, and make panoramic photography easier to accomplish. In fact, every iPhone 5+ user can now access a standard panoramic function on the phone's camera. This is a telling sign speaking to a fascination with the popularity of panoramic photography that extends outside of the professional and amateur photographers' communities.
Like all forms of art, panoramic photography is changing and photographers are discovering new techniques. Vertical panoramas, panoramic planets and fractured panoramas are all techniques that have expanded on the beauty of the panoramic form.
1. Vertical Panoramas
Vertical Panoramas are an interesting and unexpected way to view panoramic photography. When executed effectively, vertical panoramas subtly guide the viewer's eyes from top to bottom. This tells a different story than horizontal panoramas. As panoramic photography increases in popularity, vertical panoramas are a breath of fresh air.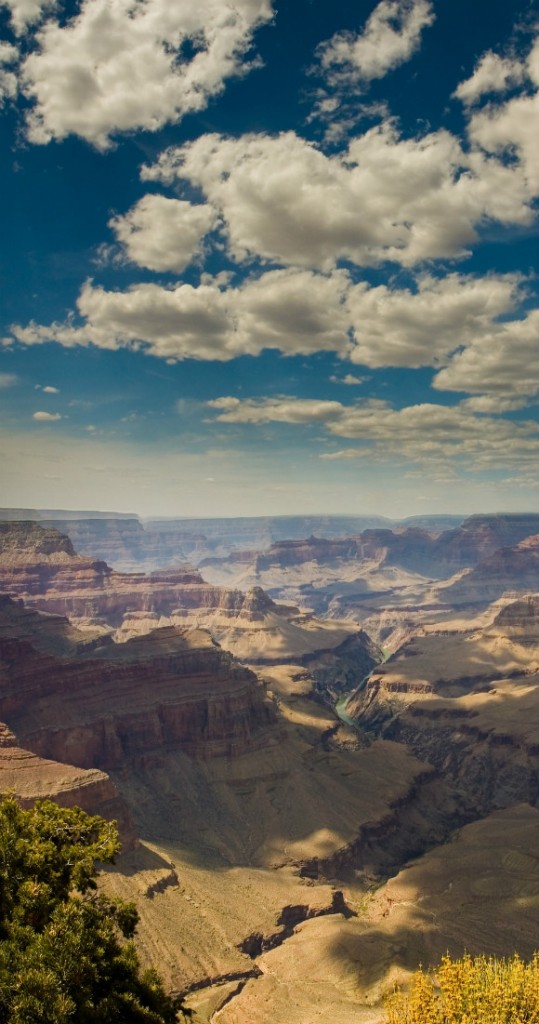 Notice in the photo above how you can hardly help but follow the photograph's implied flow as your eyes move from top to bottom? The coloring has a lot to do with this. The stark contrast between the light-colored clouds and the blue gradient sky pull your attention first. The bottom half of the photo has more of an earth-toned gradient effect. The lighter portions of the photo gradually become bolder in color to emphasize the depth-of-field.
Vertical panoramas are slightly more technically difficult to achieve, but are possible even for the novice photographer. You'll need to include a ball head and "L" bracket for your tripod. It's important that the tripod stays level and that you're able to have your camera go from facing completely downward to completely upward without having to readjust your tripod for each shot.
As with any panorama, overlap (aim for around 50% overlap in every shot) is necessary to effectively stitch the individual photos together. Focus and exposure are important, as well. Depth-of-field is certainly one of the more striking features of vertical panoramic photography.
One last thing to note is that most photo stitching software typically doesn't like vertical panoramas. A workaround is to rotate the images to stitch and edit, and then rotate them back for your final version.
Vertical panoramas work for a variety of scenery. Showcase the majesty of a beautiful mountain range or the tranquility of the gorgeous Florida coastline.
2. Panoramic Planets
Pano planets are another interesting take on the horizontal panorama. With photo editing software like GIMP or Photoshop, you can take an ordinary panorama and transform it into a tiny little planet. You can accomplish this by using the Polar Coordinates of Photoshop or GIMP, which takes your panorama or landscape photo and wraps it to create a circular, planet-like effect.
To accomplish this effect, there are a couple of requirements your photo should meet. The image should be twice as wide as it is high and 360-degree panoramas, which come back to the same point on each edge, work best. The bottom 25% of your photo should be very basic and have minimal detail. Photos with grass, concrete, rocks, etc. work the best. The top 25% of the photo should have little detail as well, being mostly homogenous in color and detail.
Most or all of the detail should be contained in the middle 50% of the photograph. For this reason, panoramas of city buildings and other architecture work well for creating pano planets.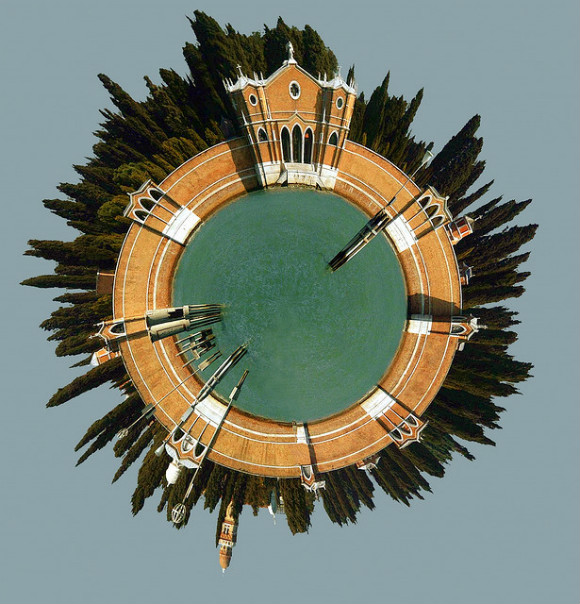 Photo Credit: Planet "San Michele, Venice," Dirk Paessler
The panoramic photo above perfect demonstrates how the 25-50-25 ratio works well to create a nearly perfect execution of the panoramic planet technique. The architecture is wrapped nicely around the landscaping. The trees frame the buildings and separate the monotone horizon from the inner portions of the "planet."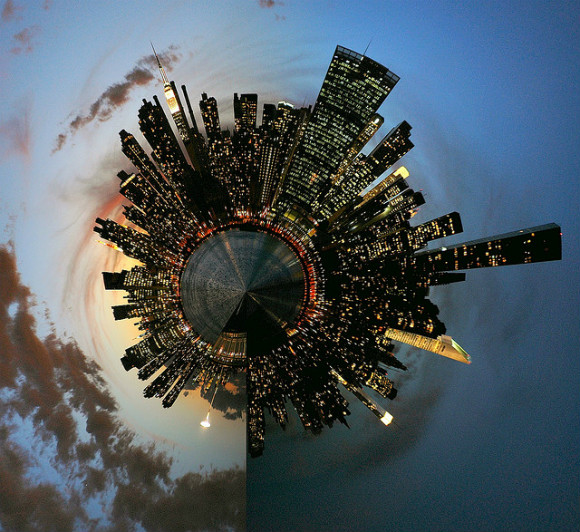 Photo Credit: Planet "Manhattan III," Dirk Paessler
Above, the architecture-heavy photo creates a very eye-catching planet. Manhattan's skyline is stunning around the Hudson. The contrast between the east and west sky enhance effects of the sun's setting.
Be sure that the horizons and the left and right edges of the panorama line up. Otherwise, there will be a split in the resulting pano planet where the horizons or edges are not the same. For well shot 360-degree panoramas, this won't be a problem.
3. Fractured Panoramas
If any method would be the anti-panorama, fractured panoramas would be it. Generally with panoramas, the individual shots are seamlessly woven together to create one large 360-degree image. Fractured panoramas throw this method out the window.
Fractured panoramas are deconstructed versions of normal panoramas. They may combine photos and snippets from entirely different places, lighting, tone, color and even scale. Nothing is off limits for a fractured panorama.
The beautiful thing about fractured panoramic photography is that only the photographer's imagination is the limit. Some fractured panoramas will have jagged and geometric borders like the one below.

Photo Credit: Piazza di Spagna – Il cielo di via Condotti, 2010, Roberto Vignoli
Others may have a more fractal or patterned quality on a vertical canvas with distorted curvatures, like the following: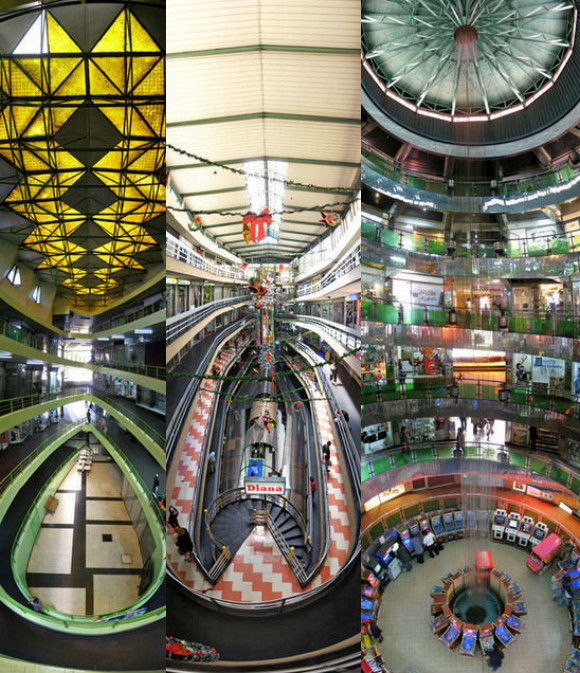 Photo Credit: Snails (Caracoles) series, 2007-2014, Carlos Silva Troncosco
Once you are able to take basic and vertical panoramic photos, your options with creating fractured panoramic photography are virtually limitless.
Conclusion
Panoramic photography is stunning no matter how it is executed as long as you pay attention to the technical aspects. Mostly, remember to have a steady camera to ensure the ability to take shots in one sweeping motion and to take photos with lots of overlap. You should also make sure you are shooting in RAW so that you don't lose any photographic data before stitching your images together.
Think beyond the traditional definition of a panoramic photo and experiment with vertical, planet and fractured panoramic photography. Don't be afraid to test out your own concepts and follow your own imagination. Photography is an art for a reason, and that reason is for you to explore and create with no limitations.