10 Gorgeous Web Builders That Can Help You Create Stunning Websites
1
Along with complicating things, evolution also simplifies things, as goofy as it may sound. But it doesn't complicate them in a negative sense, but in terms of wider possibilities, simplifying the usability. It is the same with web creators. From complicated programs they have become user friendly editors, accessible to anyone, regardless of age or proficiency. Long are the days when you had to spend years learning several programming languages. With this new type of software a site can be ready in a matter of minutes. If you're a web designer, you like what you're reading: you won't be needing to work with a programmer anymore. If you're not using such a web builder already. And if you're not a web designer, why not become one, by creating your own site and hardly spending a dime in the process? Here is a list of ten of the best code free web builders we got our hands on: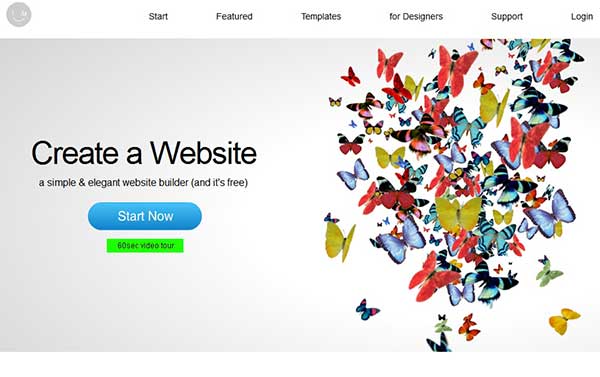 IM Creator combines intricacy, complexity and dynamism into one powerful web builder able to do almost anything. It's very easy to use with its intuitive top menu full of drag and drop elements and widgets (pictures, slideshows, videos, texts) You don't even need to register to begin building. Templates are as numerous as are varied and they cover a wide array of domains, from cuisine and arts to design and travel themes and you can either use/edit a template or build your site from nothing. To that end, the customer support team and its professional designers are at your disposal, but the video tutorial and the pdf guide available at start are more than enough in my opinion. A forum and FAQ section are also available. They also offer hosting plans, starting from $9.95 per month, but otherwise the service is completely free. What more could you want?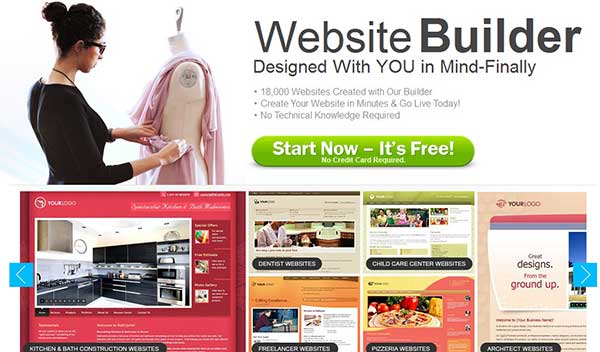 WebStartToday have made business sites their forte. With good chances to lead the niche market, they offer more than one thousand templates specialized for almost every type of branch out there: beauty salons, dentist cabinets, restaurants, limousine rentals, dry cleaners, funeral services, and many more. Templates are complete to the point where they include the text. After you're finished you just replace it with your own. Fret not about other people ending up with a copycat website, it's not the case. Even if the templates are similar, the main colors are easily changed with just a click of a mouse. Other features worth mentioning are unlimited storage and 24/7 customer service.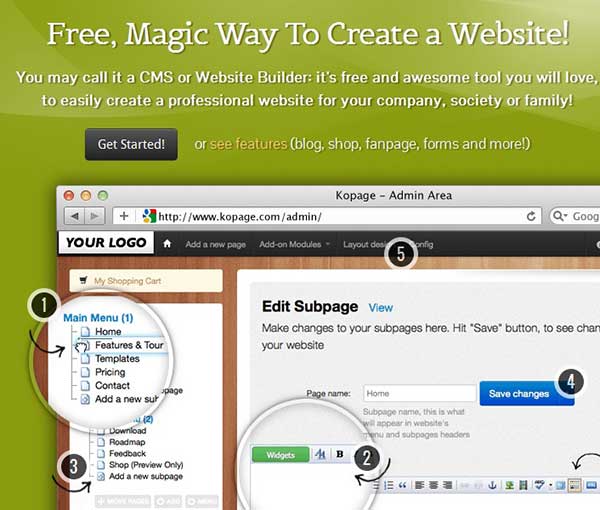 Kopage is a rapid, complete and accessible site builder which includes many features and elements, ranging from slideshows to videos and galleries, and even HTML widgets. The greatest convenience is that you can install it onto the CPanel directly. Should your hosting service lack the option, you can always ask them to install it for you. For day to day users the service is free, but Kopage does charge hosting companies.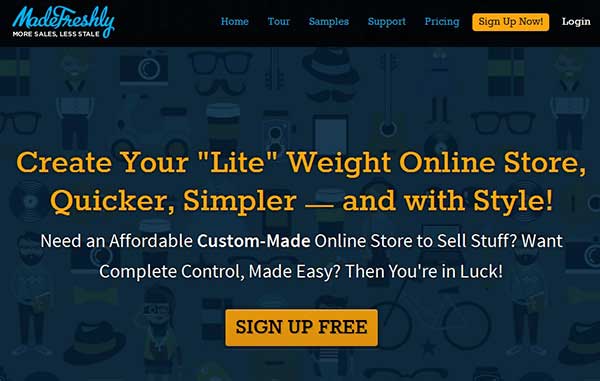 MadeFreshly is a web builder focused on web stores and is very quick and simple to use. The first thing you do is add your products in your store, and customize it later. Registration is not needed until after this point. After you choose the payment method for your store you deal with the cosmetics. There are 6 templates, 3 premium and 3 for free. However, the free package is limited to two themes, one site, three pages and one image for each product. There are three premium packages priced at $11.99, $19.99 and $34.99 respectively.

Webydo is changing the way we see the web. Made for graphic & web designers, this code free website builder platform is the perfect professional solution to build and design pixel perfect sites. You can start with a readymade inspiration or from a blank canvas. No matter which way you do it, everything is editable which makes every site created using Webydo unique. With over 600 fonts to choose from and the ability to adjust the colors, sizes and shape of all the elements the possibilities are endless.  Webydo puts you in the driver's seat, so what are you waiting for? Creating an account will take you no more than 7 seconds – it's time to start designing!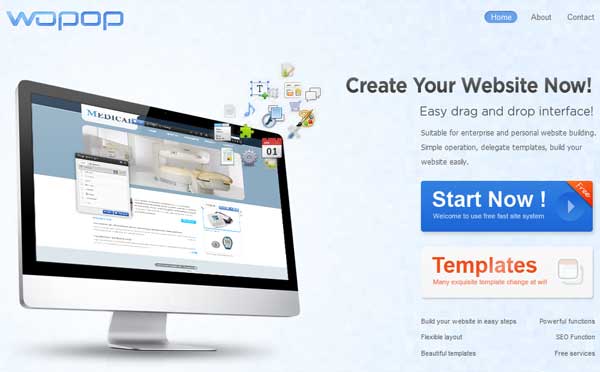 Wopop is a free web builder creator with templates categorized by field of business or dominant color. You can see the templates before signing up, to get an idea about the styles. The normal free option includes advertisements, but the other plans are quite a bargain: prices start at $2.98 per month. Services include live chat and telephone support, hosting, custom domains and a 30 days unconditional money back guarantee.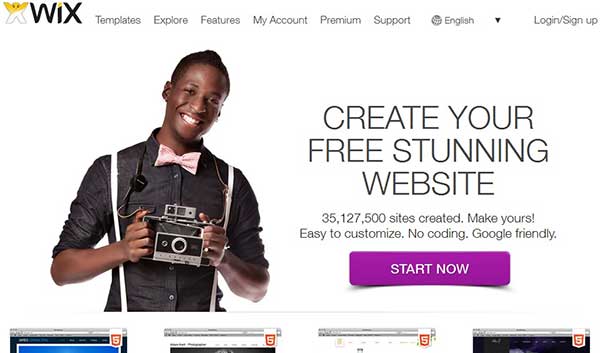 Wix is very straightforward and easy to use. On the homepage you get to choose the field of your interest and it matches the templates automatically. If you don't like the match, you can always edit them. You can take your time, as the demo is unlimited – only after you're done with your site you choose the plan and publish your site. All these features make Wix an ideal web builder for beginners or customers that don't want to spend a whole day creating a site.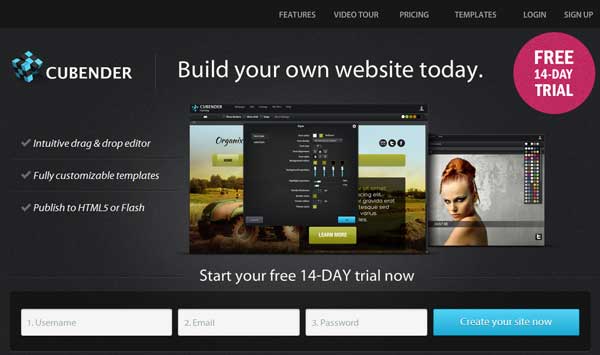 Cubender is specialized in virtual stores and personal pages. However, it's possible to create any type of site with it, editing the templates is a dynamic and flexible process. Its supports e-commerce, mobile integration, SEO configuration, Google Analytics and more. The trial lasts 14 days, after which you can publish your site immediately. The prices are very competitive, especially considering the services included. They start at $9.95 per month.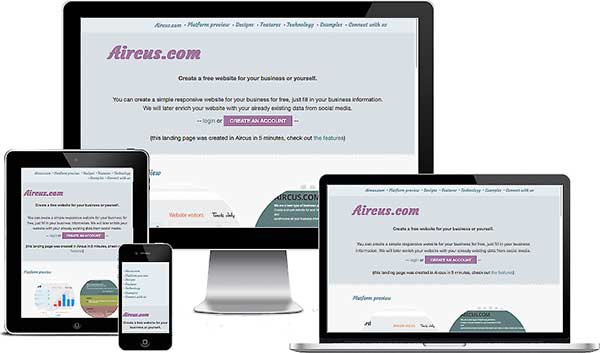 The motto of Aircus is simplicity. It is easy to use, elegant and modern. It's not complicated nor does it have throngs of templates and customizing techniques, but the ones available are versatile and classy. Aircus is a great asset for a busy business men, who wants a website built as soon as possible. More to that, it's also available on phone and tablet support. Which means you can build a site from virtually anywhere. It takes just a few minutes to have a site going and it costs nothing. You can even build your site during the lunch break.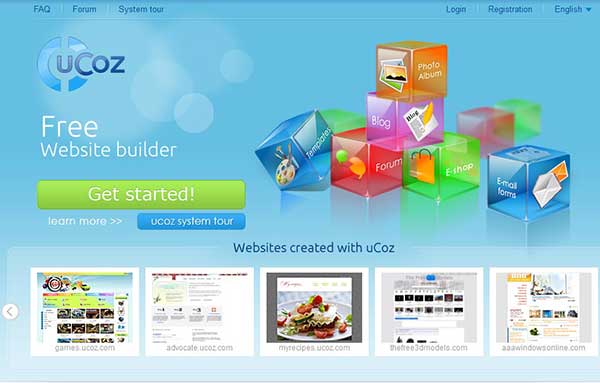 Whether you're about to build a basic web presence, or you're seriously considering launching a powerful E-shop with bells and whistles, uCoz site builder will help you implement your ideas. This web service has a significant experience in the sphere (more than 7 years), and offers the best features of a powerful cloud hosting infrastructure
Because uCoz is primarily targeted at HTML-illiterate customers, its admin panel is very easy-to-navigate and features drag-and-drop and WYSIWYG editing elements. For instance, in order to broaden your website functionality, all you need is to switch on relevant modules (Forum, Blog, E-shop, Publisher, Site News, Polls, Mini Chat, etc.) and modify them as you wish. In other words, uCoz gives you freedom of customization in every way. Moreover, you can try all these features for free without entering any credit card details – their free plan never expires.