22 Must-Have iPhone Apps for Designers
1
iPhone is a smart phone developed by Apple Inc. This Internet-enabled phone was first introduced on January 9th, 2007. Numerous apps have been developed for these phones to help people perform various activities.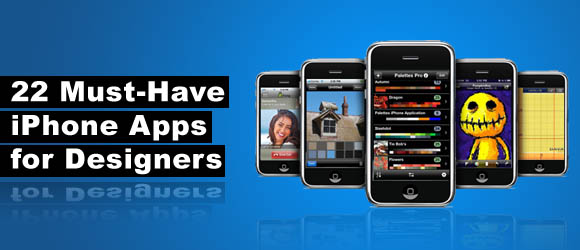 It supports different multimedia options and this makes it a versatile one for all kinds of people. Designers are no exception to this latest technology. There are many apps in iPhone that will make life easy for designers. We will review some of the important ones in this article.
Related posts:
The fontShuffle is a storehouse of hundreds of fonts. It contains more than 650 fonts that you go can browse through to decide which one you want to use for your design. You can even compare different typefaces and compose text samples to decide the right one. These fonts are sorted according to similarities and they have been constructed as a visual tree. This app is free and it is available in English and German languages.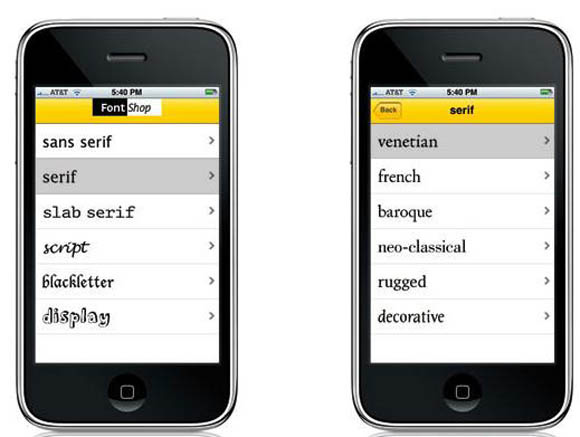 Palettes is probably one of the best color app for iPhones. You can create the exact shades that you want. You can create palettes from websites, photos or any other source. You can even come with your own color combination from the list of colors my doing a mix-and-match or blending of up to three different colors. You can also have access to numerous colors in ColorLovers.com and import them directly to your iPhone. This app can export palettes from Photoshop, Paint and Gimp and you can save them in RGB, HSB, CMYK and other formats.  It costs $5.99 USD and you can try the Palettes Lite free of charge. The Lite version does not have all the features present in the full-version.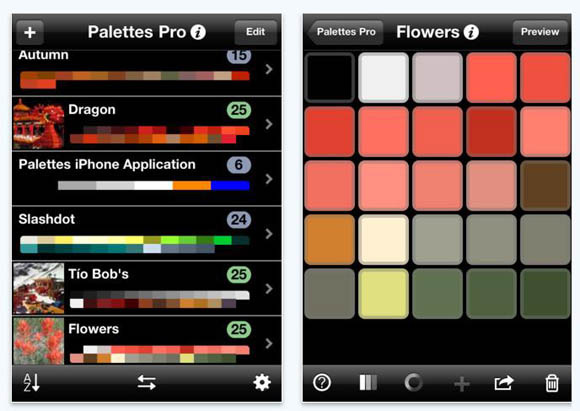 Photocalc is a perfect app for photographers and designers. It makes it easy to calculate a lot of variables that play an important role in photography. It provides Depth of Field (DoF) calculations that include focal length, aperture, subject distance, near limit, far limit, total depth, hyperfocal distance, circle of confusion and more. With this app, it is also possible to calculate exposure reciprocation and flash exposure. You can change between English and metric units, whichever is more comfortable for you. It costs $2.99 USD.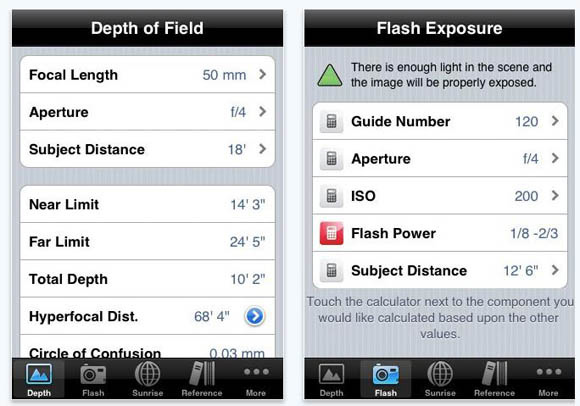 Despite its cool features, iPhone does not have the feature to store and retrieve files. AirSharing app fills this gap and makes it easy for users to store different kinds of files on their iPhone. In fact, it is much more than just storing files. You can take them wherever you go and you can share it with your colleagues, family and friends through a wireless device. You can also mount your iPhone as a wireless drive on a computer and share the files. It is easy to save and view different kinds of file formats. When you mount your iPhone as a wireless device, you can drag and drop the files between your iPhone and computer. It costs $2.99 USD and comes in many languages.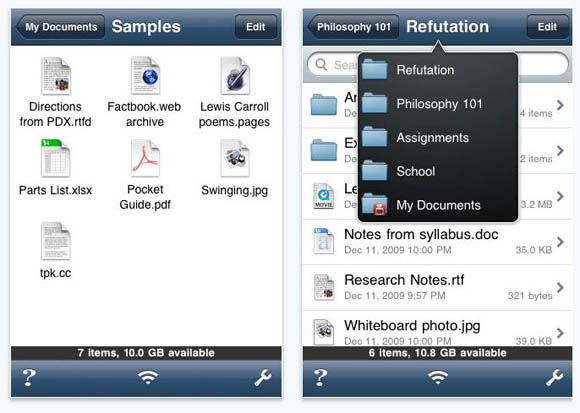 EverNote is a versatile app that helps you perform a wide range of actions in your iPhone. You can create notes and group them by date, location, title or even country. It is easy to move from one group to another with a mere tap on your iPhone. You can search through notes really fast and you can even view all of them at once. Besides notes, you can also snap photos and record voice memos and reminders. This is a free app that you can download.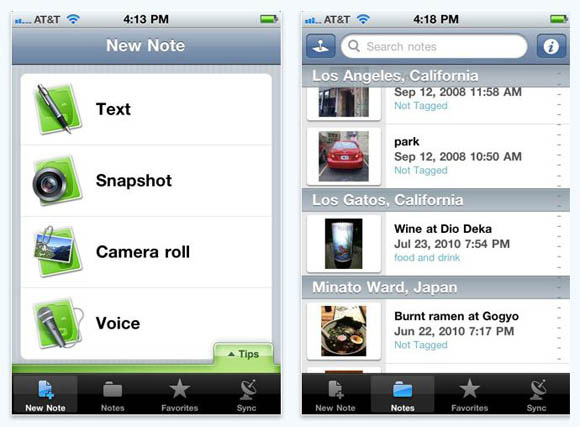 This is the best task management app in iPhone. You can make a list of things that have to be done today to help you stay on top of them. There is another list called next that includes the things you want to do as soon as you get some time. Scheduled list displays all the items that start at a later date while Someday items are those that you want to start soon. It is a great app for designers because it helps them to better-manage their deadlines and tasks.  The cost of this app is $9.99 USD.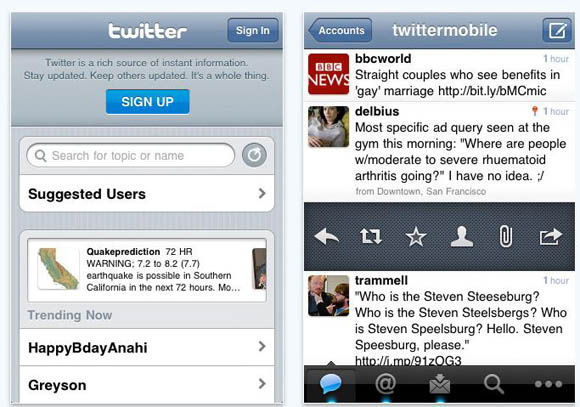 Outpost makes it possible for you to access Basecamp, a popular online project management tool. It is used by most clients and it can also help you to better track your progress. It is possible to access all the capabilities offered by BaseCamp through this app. It costs $19.99 USD.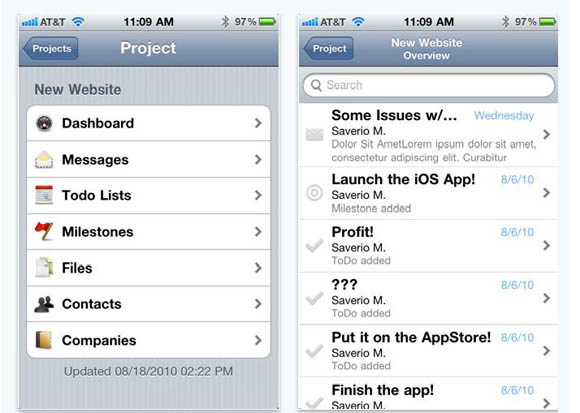 Harvest is a time and expense tracker app that helps you to log in the time you have worked and also the expenses incurred. You can do it on-the-go, both online and offline. It is a more organized way of your billable hours, timesheet and expenses. You can even take photos of your receipt. This is a free app.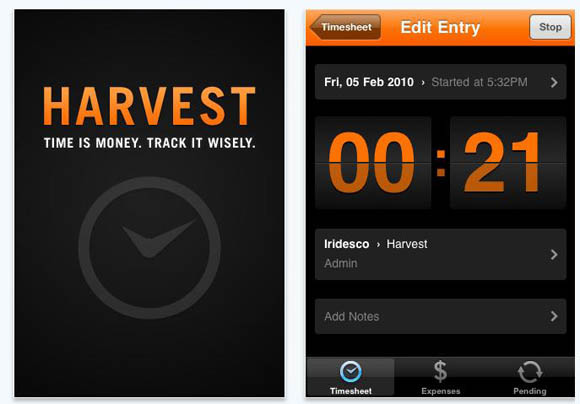 Tweetie, as the name implies, is the iPhone app for Twitter. With this app, you can do a realtime search, tweet, send DM and share photos, videos and links with your contacts. It is a great app for social networking and it can be downloaded free of cost.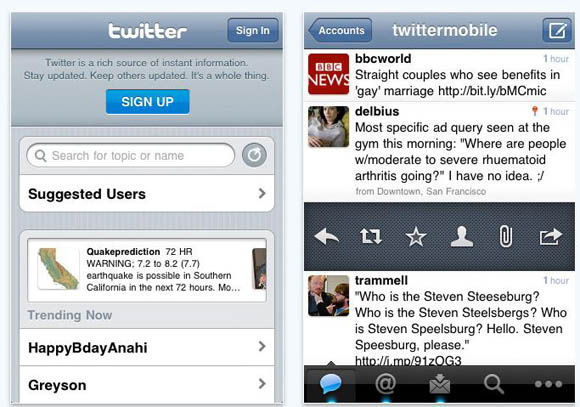 ShoZu is another social networking app that helps you to stay in touch with your contacts. You can connect to all social networking sites like Facebook, Twitter, Flickr, MySpace and WordPress from this app. You can share video and photos, tweet, blog, read and set your status message through ShoZu. It costs $4.99 USD.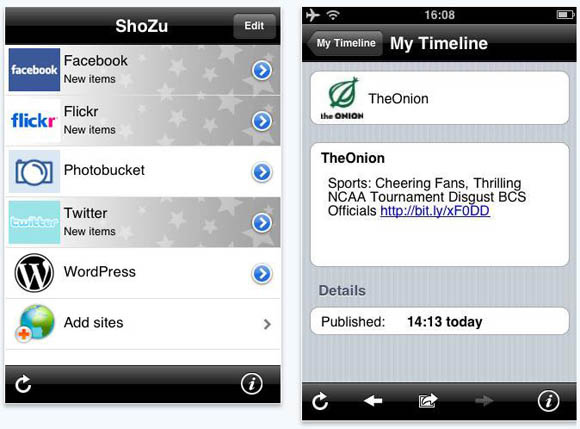 Type Drawing is a perfect app for creating any form of typography art. You can draw the text with your finger and save it for future use. This is a useful app for designers because it helps them to come up with unique fonts. It also supports 23 font families, varying font sizes, colors, backgrounds and even eye dropper and zooming. You can also save your drawing and send it to your email. It costs $1.99 USD.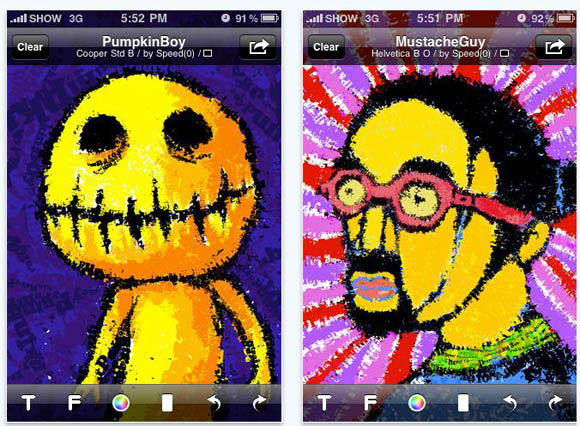 OmniFocus helps you to keep track of your tasks by grouping them into project, place, person or date. It is easy to organize your goals and work towards completing them. The tasks can be broken into subtasks and you can even attach videos or links to each task. It comes with built-in search and calendar notifications. It costs $19.99 USD.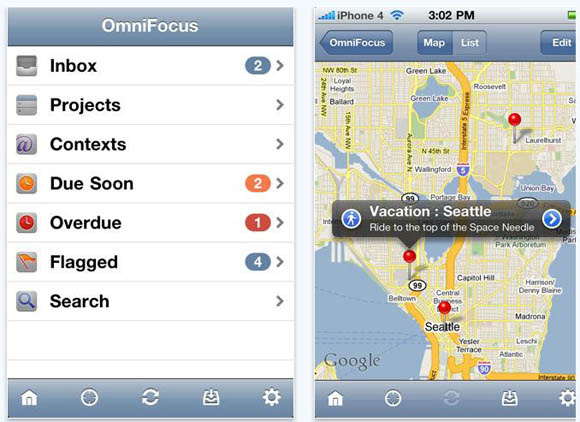 WordPress blogs can be managed easily with the help of this app. You can moderate comments, add posts or edit them through this app. This displays the consolidated list of all your WordPress blogs and it is free to download and use.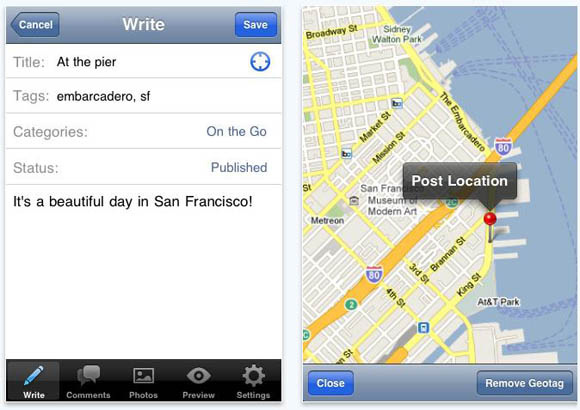 Fring helps you to make video calls from your iPhone. You can chat, talk or see the other person through this app, provided the other person also has a fring app in his or her iPhone. You can also connect with people through Google Talk, Yahoo Messenger, MSN, Facebook and Twitter.  It is a great way to stay in touch with your business contacts, friends and family for free.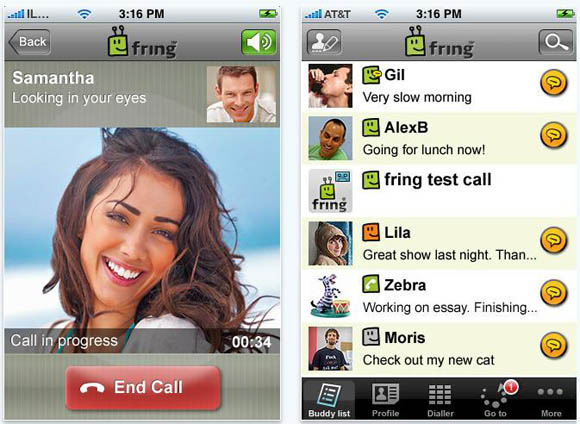 Ruler is a good utility app that helps to measure just about anything. With this app, you can turn your iPhone into a ruler and measure heights, weights and distances easily. You can measure any object by placing your iPhone right next to it. You can also switch from centimeters to inches and save them. It is one of the most downloaded free apps available for iPhones today.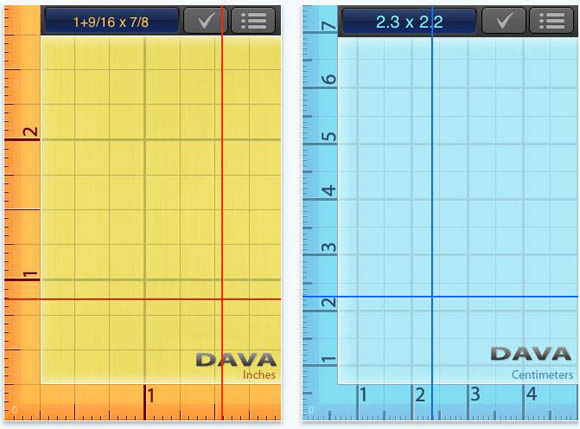 Cliqcliq colors helps you to get the exact color you are looking for and convert it to any format of your choice. It is a useful app for designers and developers who work on a wide range of technologies like CSS and HTML. You can even get the color from a photo or your iPhone camera. These colors and their formats can be emailed so you always have an exact copy of what you want. This app costs $2.99 USD.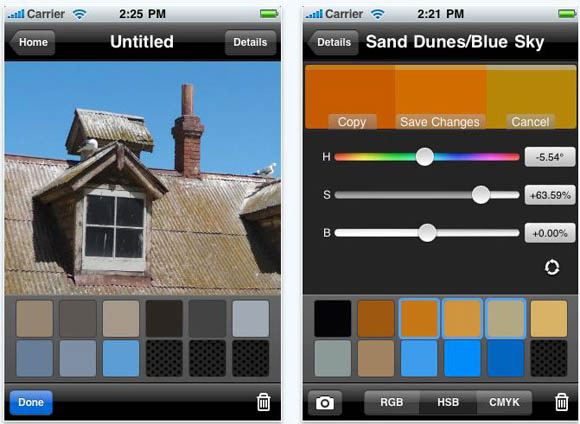 PixelPipe makes it easy for you to upload your photos and videos and share them with your friends through social networking sites. You can upload upto 720p HD pictures and videos with a maximum limit of 225MB per file. You can do it in the background while you work on other things in your iPhone. You can access popular social networks like Flickr, Facebook, Twitter, MySpace, Hi5, Orkut, YouTube, PhotoBucket, Metacafe and ShutterFly from this app. The best part is that it is free.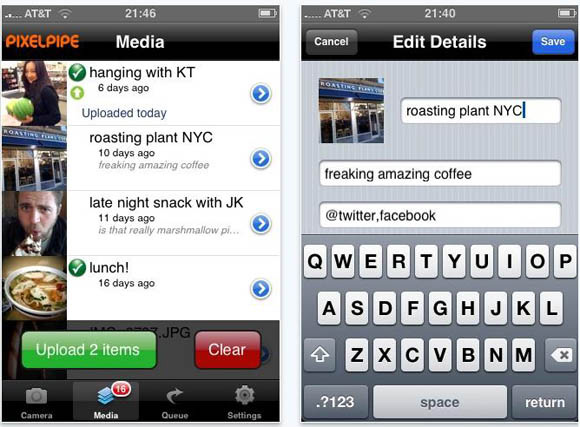 beamMe is an intelligent social assistant that helps you to meet the right people based on your profile and preferences. You can chat and share your personal details with your new contact. This is a great way to look for new business and personal contacts who will add more meaning to your life and work. This is also available free of cost.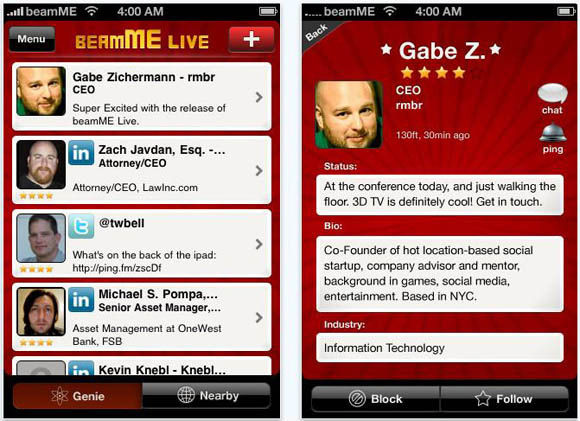 ZeptoPad is a white board app that helps you to draw vector images and also handwriting. You can save your worksheet in chosen folders and retrieve them later. It can also be accessed in the form of a slideshow. This costs $19.99 USD.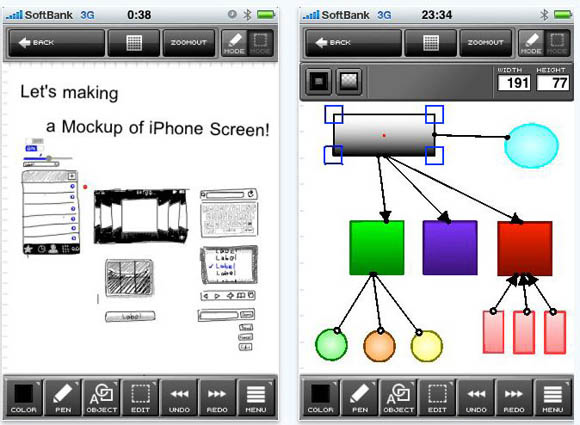 iBlueSky is a mind-mapping app that helps you to pen down your thoughts easily. It has a huge page size and can be emailed in many formats such as PDF, PNG, plaintext and Novamind. It can have multiple branches for each of your thoughts and you can add notes or colors to each branch. This cool app costs $9.99 USD.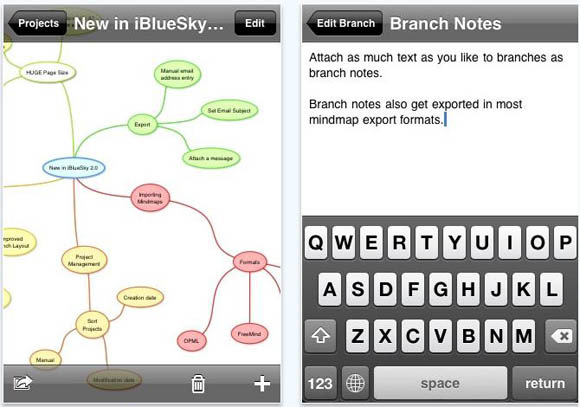 Dexigner is a useful app for designers because it provides them with the latest news, events and designer competitions from around the world. It acquires your location and gives you the events that happen close to your place.  It helps you to stay abreast with the latest trends in design for free.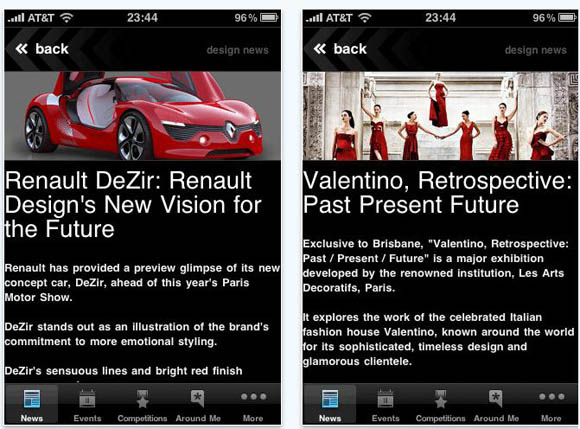 Analytics gives you access to Google Analytics from anywhere. You can get numerous reports, multiple logins, multiple metrics and a dashboard through this app. It has a great UI and costs $6.99 USD.
Conclusion
In short, these apps are a great resource for designers and it helps them to build new contacts, complete their work within deadlines and stay updated easily.