30 Amazing Digital Manga Artwork
17
Deal mania on GraphicMania! Check out our deals section for graphic designers and developers. The newest deal can be seen below!
Value:

€249
|
Now: €49
|
Discount: 80%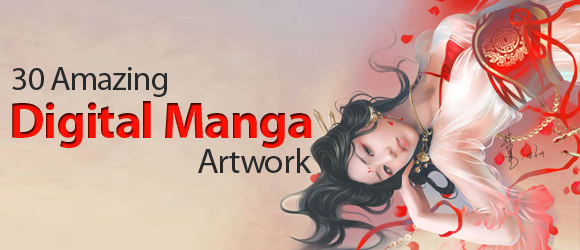 It is a long time since we shared Manga artwork and Anime inspirations. This art is remarked with special style in lines, colors and shades that is inspired from the Japanese and Chines culture. Although its special eastern style, Manga art has many fans and lovers all around the globe.
Before continuing reading this post did you already join our Twitter and subscribe to our RSS feed? If not, rush and join us now to receive updates of new posts and free resources.
Today, I thought it is a good idea to share with you some amazing Manga artwork and Anime digital paintings that are vary in style and subject while sharing the same Manga style of artwork. You can click on each image to go to its artist profile and know more information about it. if you are a Manga art fan, I think you would like to see these posts as well: