Amazing Examples of Public Sculpture
3

After turning to digital art and design, I have been missing something about traditional art. It is the ability to touch and sense the artwork in your hands and feel like it is a part of you, such as the paper texture and the sculpture artwork. I guess most digital artists that moved from traditional art tools are feeling the same, correct?
Traditional artwork will still have its own presence in the age of digital art and computerized lives. You can't show a digital 3D sculpture in a public location like in the examples below. Touching and interacting with the artwork provides a unique experience that you can not have with digital artwork. In addition to this unique feature, public sculptures actually give the art another dimension by integrating the art piece with people's everyday lives, this gives the artwork deeper value than locking it in an exhibition where only a limited number of people will see it.
Public sculptures teach people how to appreciate art and accept it as an important part of their life. Furthermore, it teaches young children how to think and become inspired by it when they see it in parks and squares. The following collection includes a number of public sculptures from around the world created by different artists using steel, bronze and other materials. If you like this collection, do not forget to take a look at the post onamazing metal sculptures:
60+ Truly Inspired Figurative Metal Sculptures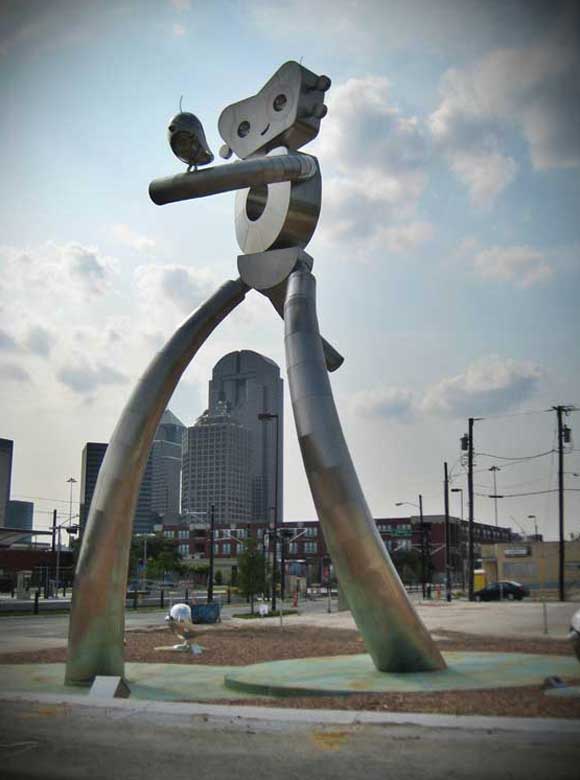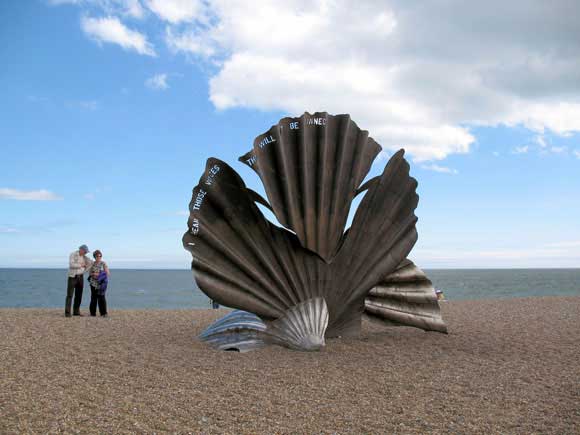 Maggi Hambling's Scallop Shell Sculpture. On the beach north of Aldeburgh town centre.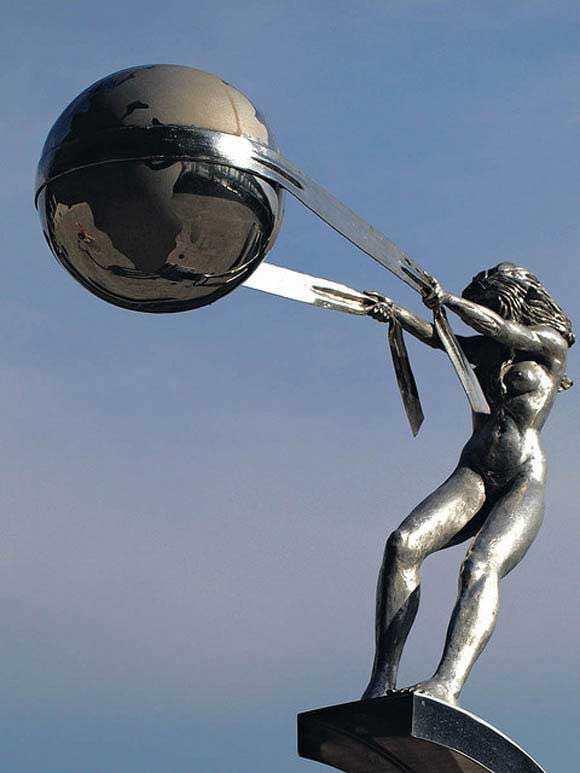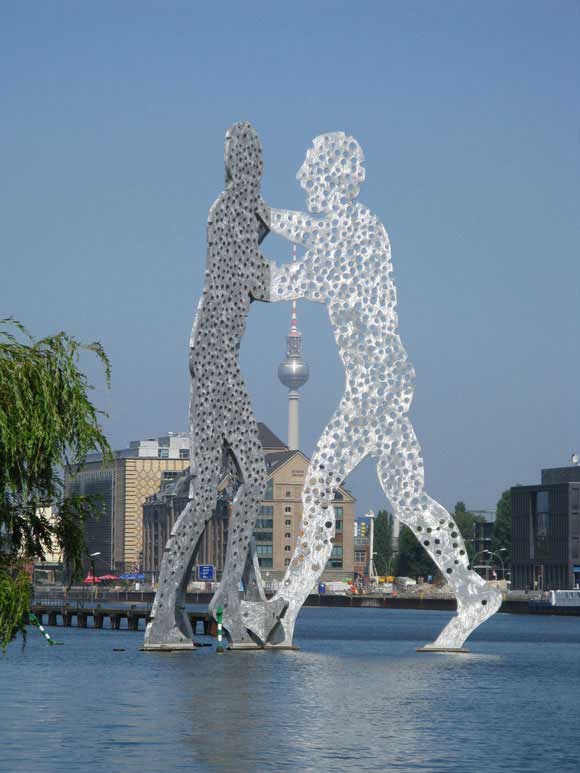 This substantial sculpture, created by the renowned American artist Jonathan Borofsky, thirty meters high, weighing some forty-five tons, yet transparent and light, has been on display in Berlin since may 1999. The three aluminium figures, which unite to form a whole, are meant by the artist to remind the viewer "that both man and molecules exist in a world of probability and that finding wholness and unity within this world remains the aim of any creative and spiritual tradition". Treptow's special location, with the river Spree at hand and the metropolis Berlin just beyond was predestined for this purpose. TheMolecule Man expands the artistic concept of Allianz in Berlin.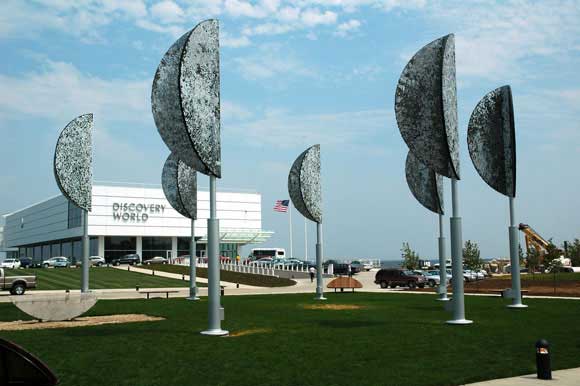 Location: Lakefront Milwaukee, WI
Artist : Ned Kahn
Year : 2006
Type : Aluminum and stainless steel sculpture
Dimensions : 910 cm (360 in)
Coordinates: 43°02?13.71?N 87°53?51.46?W
Wind Leaves, is a public artwork by American artist Ned Kahn, located on the downtown lakefront Pier Wisconsin, in Milwaukee, Wisconsin, United States. It was created in 2006 and consists of a series of seven 30 ft (9 m). tall structures made from aluminum and stainless steel.The structures, which move with the wind, have leaf forms at the top covered by thousands of stainless steel disks.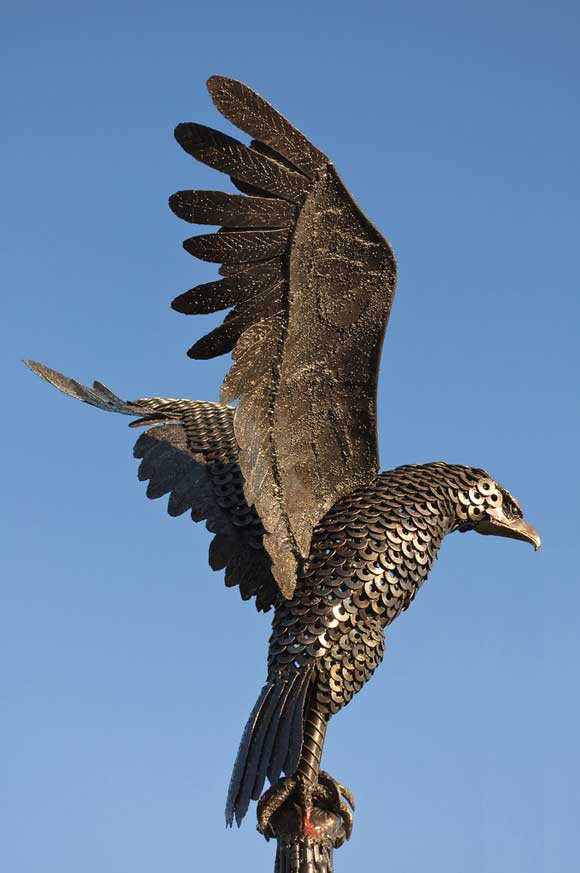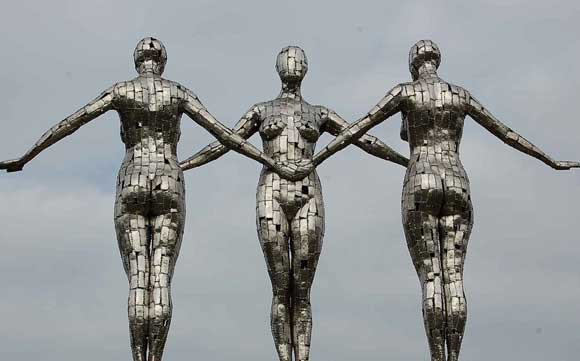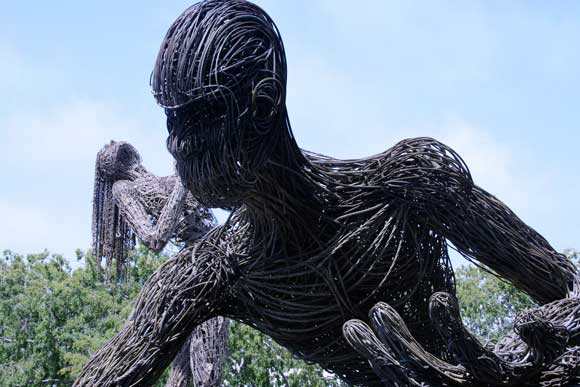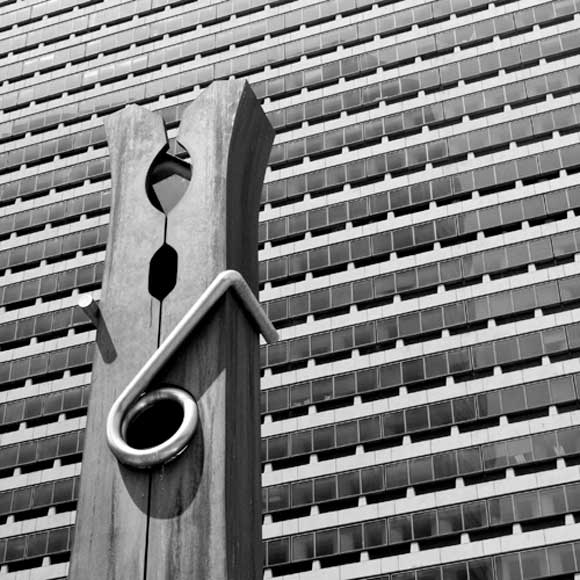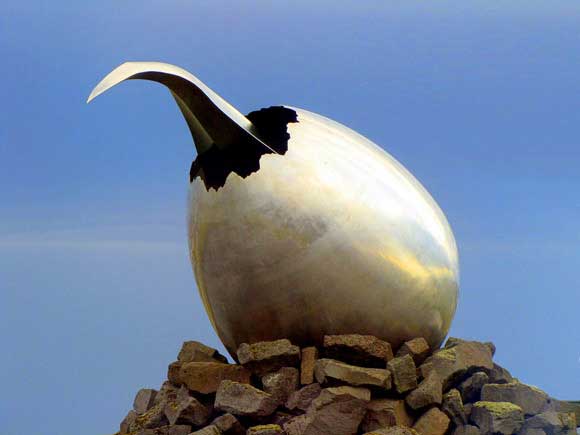 The Jet Nest is a large sculpture outside the main terminal building at Keflavik Airport in Iceland, designed by Magnús Tómasson. It shows a "new-born" jet aircraft emerging from a steel egg perched on a nest of rocks.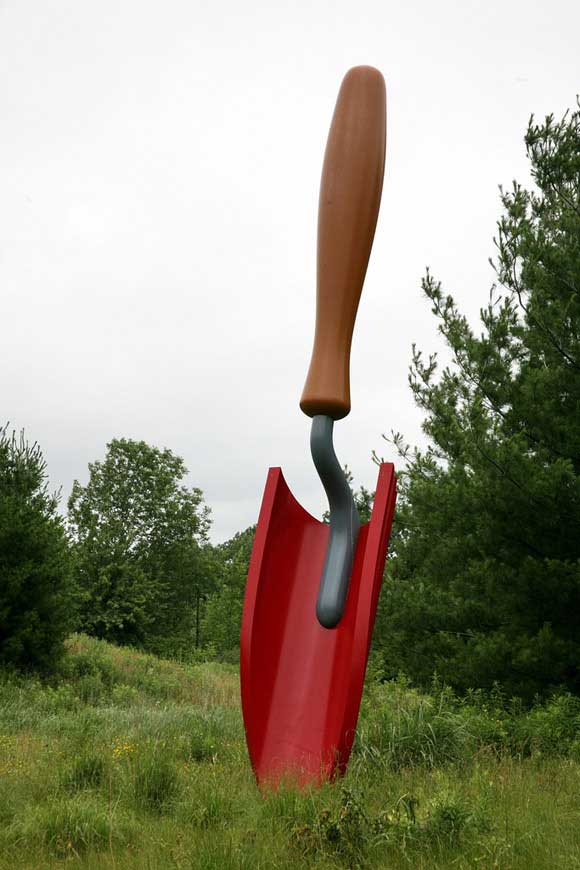 Plantoir, 2001
Stainless Steel, Aluminum and Fiberglass, Painted
By Claes Oldenburg & Coosje van Bruggen
Plaintoir is the first of their works designed specifically for a garden setting. The sculptures shape, a gardener's trowel, is an appropriate addition to the Frederik Meijer Gardens collection. Painted in brilliant red and measuring more than twenty-three feet in height, Plantoir is an exaggeration, in form and color, befitting the work of Oldenburg and van Bruggen.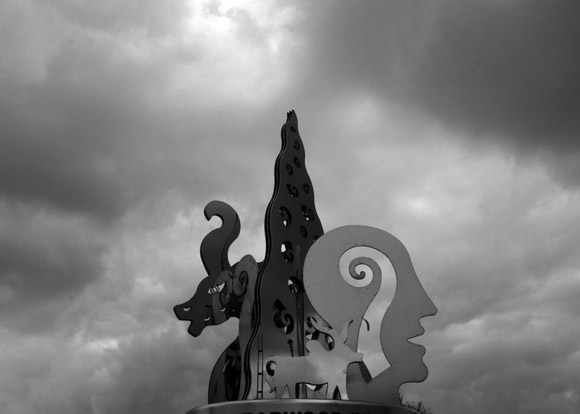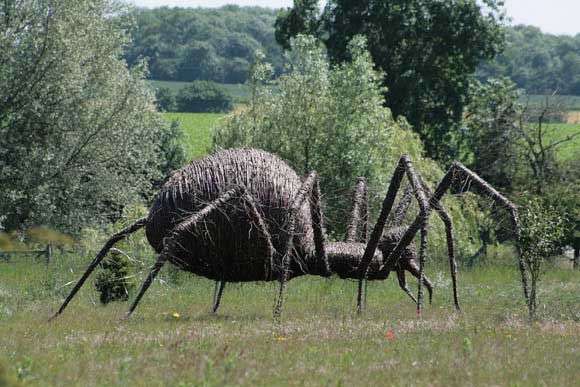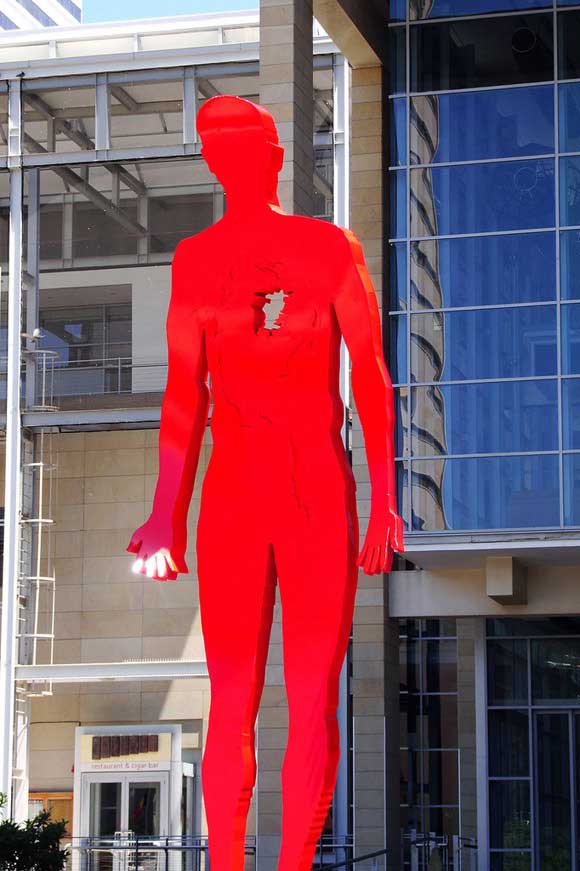 The Property Magazine describes the prototype sculpture as follows:
"Gavin Younge's sculpture will be a nine-metre-high human figure, red in colour and made up of two thick steel plates curved sideways to resemble the aerofoil shape of a leaf in the wind. The figure's surface is networked by vein or skeleton-type decorations and rifts that will act as wind vanes. Younge says that his work, known as Olduvai, harks back to the gorge of that name in the Rift Valley and is, therefore, a tribute to mankind's evolutionary perseverance in Africa, the Cradle of Mankind."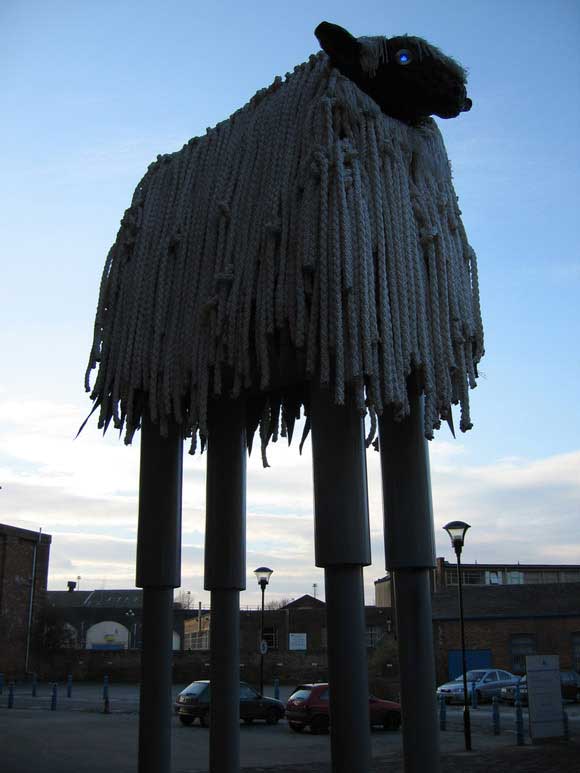 This sculpture now stands watch over Marshall St. in Holbeck, Leeds.
The artist is Antonia Stowe. From the artists website: "…4m in height. The legs are made from tubular steel and the carcass using a range of materials including rope for the woolly coat. The sheep head will have bright blue eyes. The project is about the story of the sheep that once grazed on the roof of Temple Works next door to Marshall Mill where it is to be sited. It aims in some way to reflect the ingenuity of the industrial revolution where engineering, creativity, intellect and hard labour developed areas of Leeds . Its contemporary stance reflects the recent amazing re-developmental transformation of this area into Holbeck Urban Village."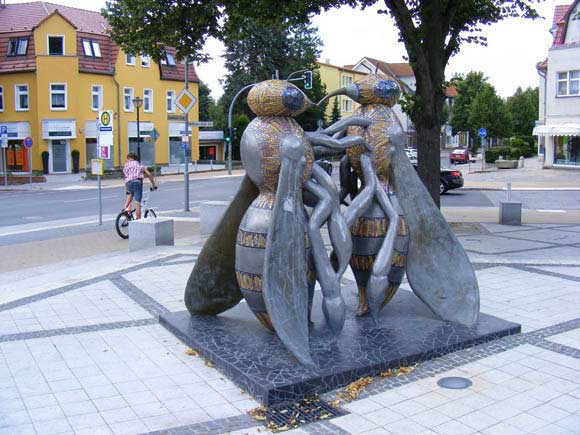 The Bienentanz-Skulptur was unveiled on 23 June 2009 and is 2.5 m high, weights 2.5 tons and is made of brass, steel and thousands of tiny mosaic pieces.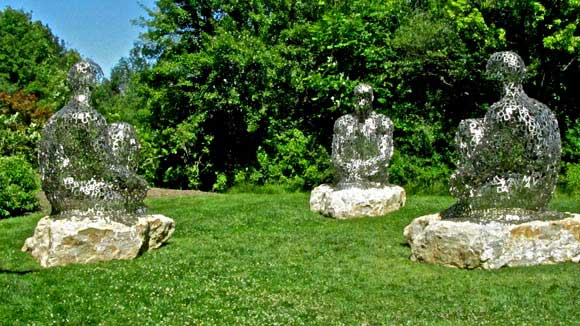 This sculpture is done by Jaume Piensa, Spanish, born 1955. And it is made of Stainless Steel and Stone, 2006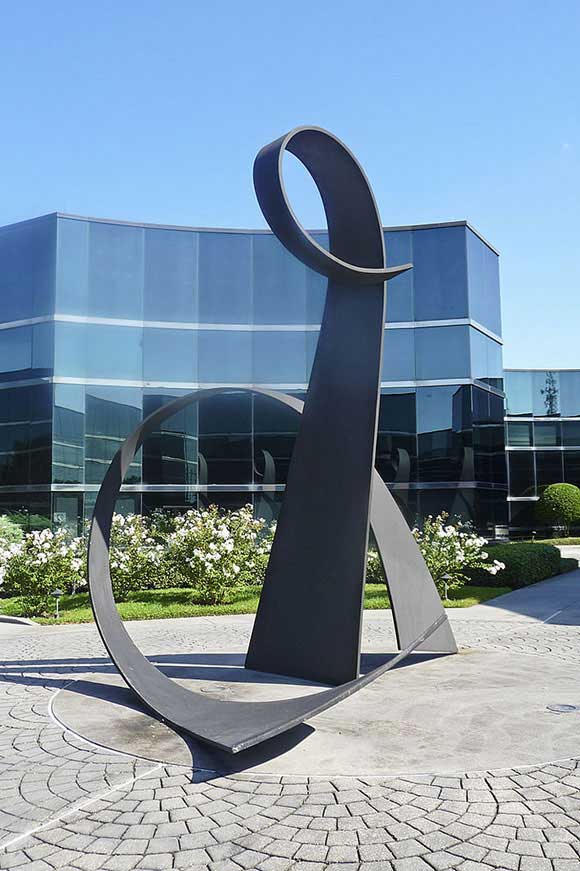 Steel sculpture in the Wyle Engineering complex in Clear Lake City, TX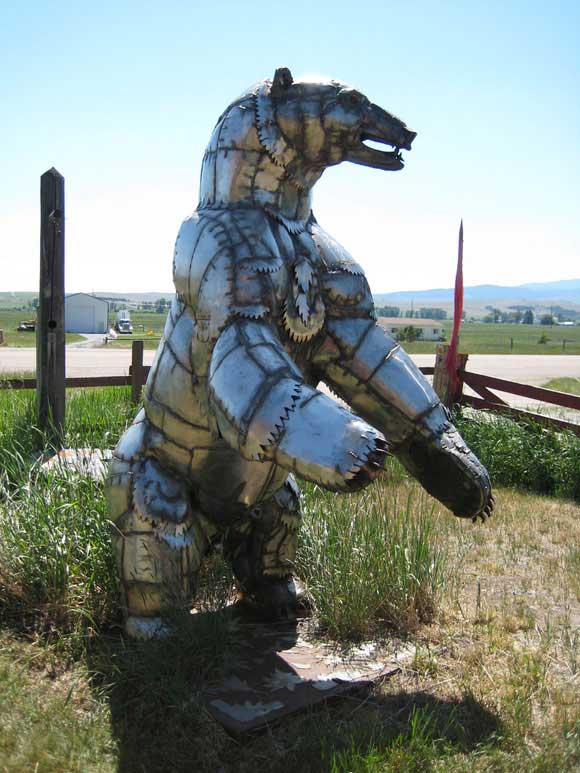 Metal sculpture of Bill Ohrmann of Drummond Montana, retired cattle rancher turned self taught artist.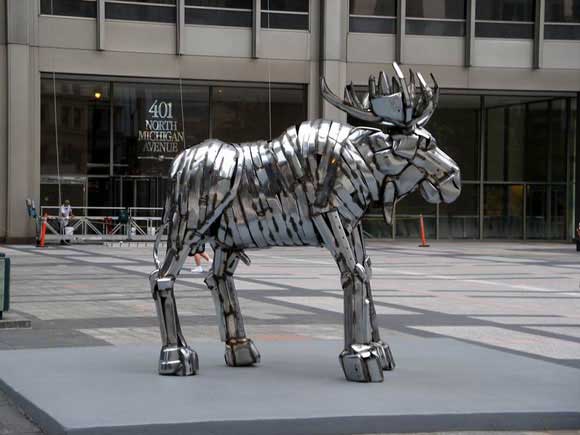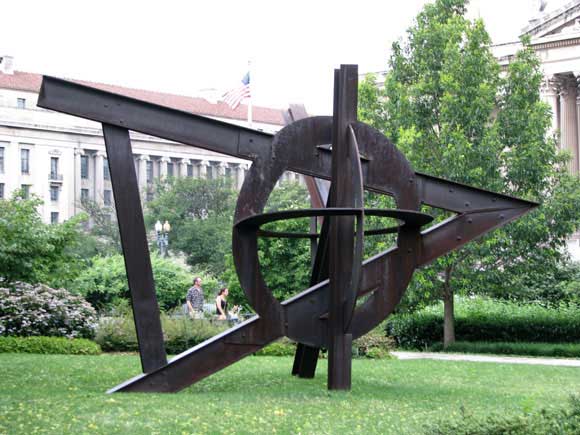 The sculpture that Mark di Suvero began to make in the late 1950s consisted of massive, weathered timbers and found objects such as barrels, chains, or tires. Their dramatically cantilevered forms were seen as sculptural equivalents of the bold, gestural paintings of Franz Kline or Willem de Kooning. In the 1960s di Suvero stopped relying on scavenged industrial materials and began to create works from steel beams that he moved with cranes and bolted together to create large outdoor pieces. Aurora is a tour de force of design and engineering. Its sophisticated structural system distributes eight tons of steel over three diagonal supports to combine massive scale with elegance of proportion. Several of the linear elements converge within a central circular hub and then explode outward, imparting tension and dynamism to the whole. The title, Aurora, comes from a poem about New York City by Federico García Lorca.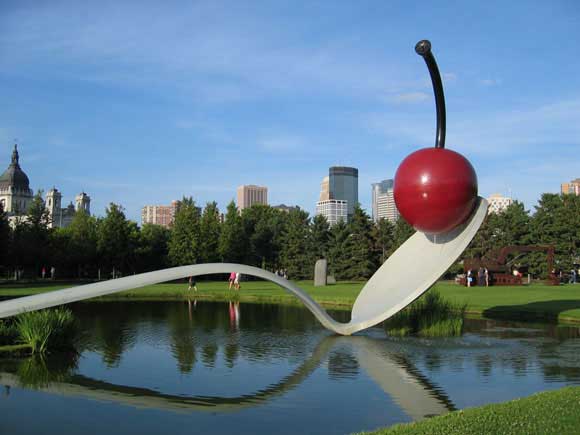 Spoonbridge and Cherry by Claes Oldenburg and Coosje van Bruggen (Minneapolis Sculpture Garden)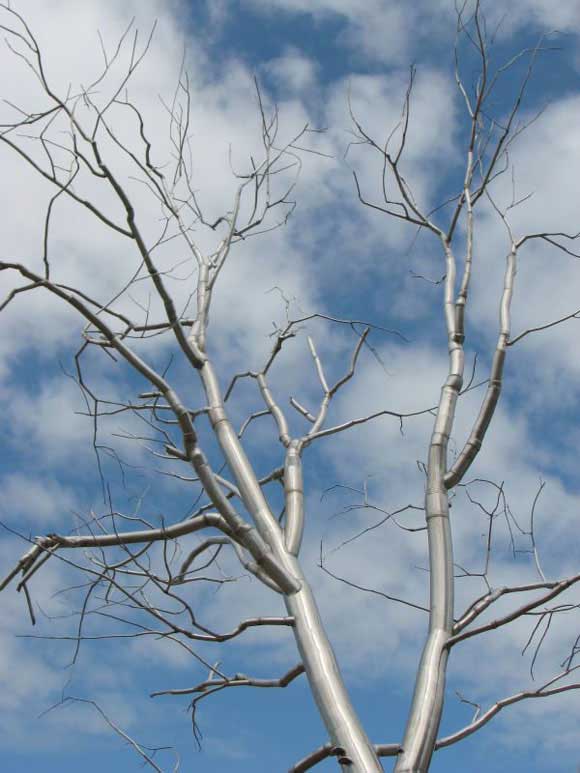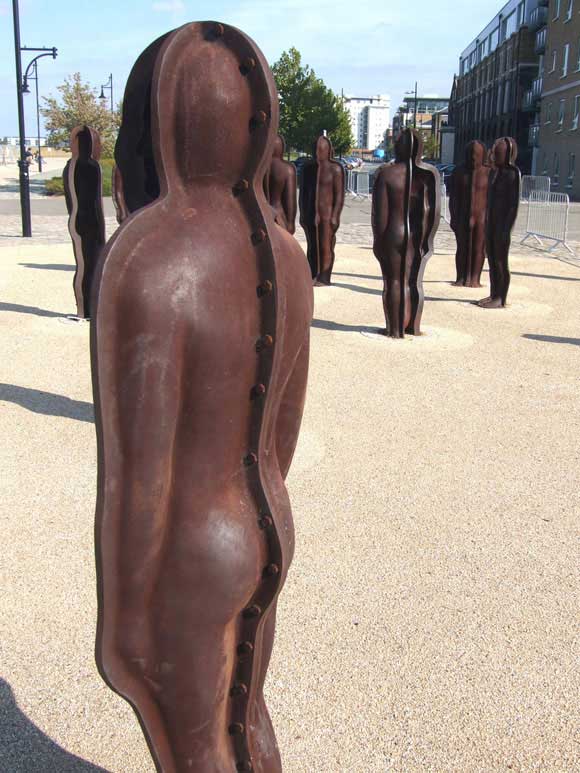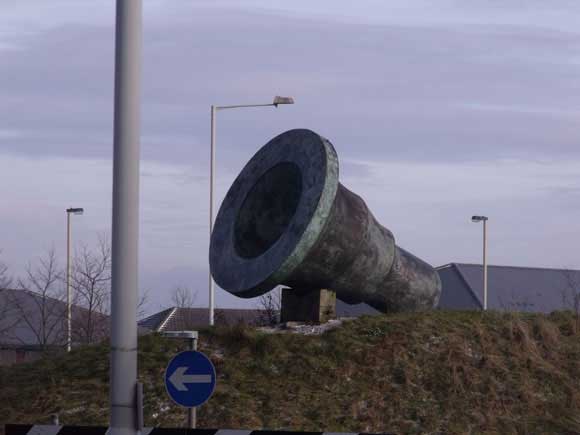 This artwork is called Bronze Cannon and it was designed by Andrew Burton in Castle Gate Island in Dudley.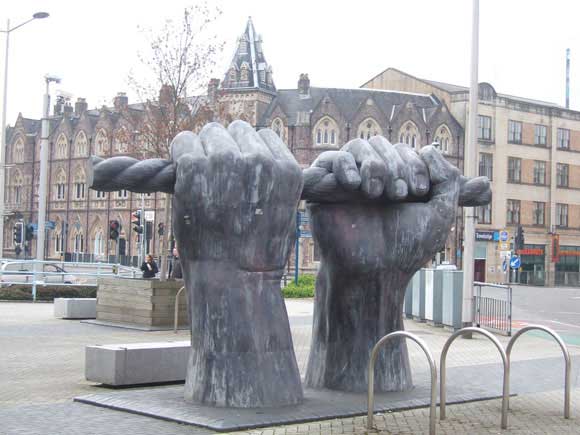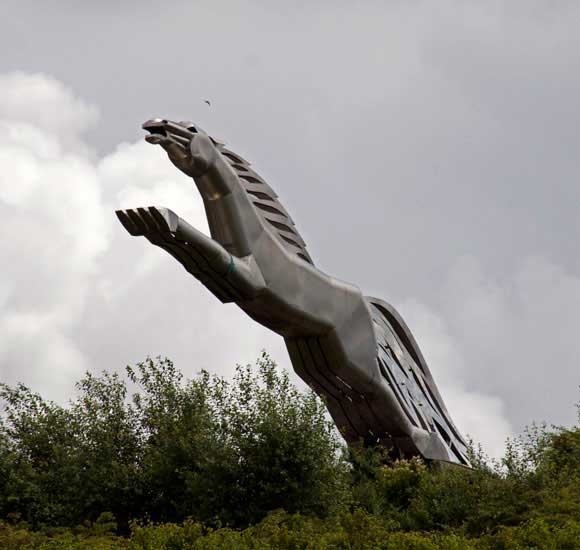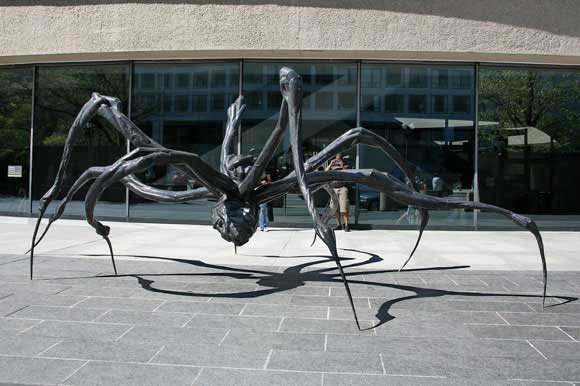 Crouching Spider, a gigantic sculpture of bronze and stainless steel made up of a globular body and long, attenuated legs, is part of a celebrated series of spider sculptures that Louise Bourgeois produced beginning in the early 1990s. According to the artist herself, the spider is a reference to Bourgeois's mother, who was a weaver and someone she described as being industrious and protecting. The artist also chose the spider for its role as a defender against other, more pernicious insects such as mosquitoes, which can carry deadly diseases.
Born in France in 1911, Bourgeois moved to New York in 1938 to pursue a career as an artist. Her sculpture and installations are marked by her singular use of not only bronze and marble, but also latex, wax, plaster, cement, and plastics. She is known for her biomorphic forms that frequently carry strong sexual implications. Her work, despite its pervasive autobiographical content, has universal appeal. An extraordinary work that is both threatening and playful, Crouching Spider reveals why Bourgeois is among the most provocative artists working today.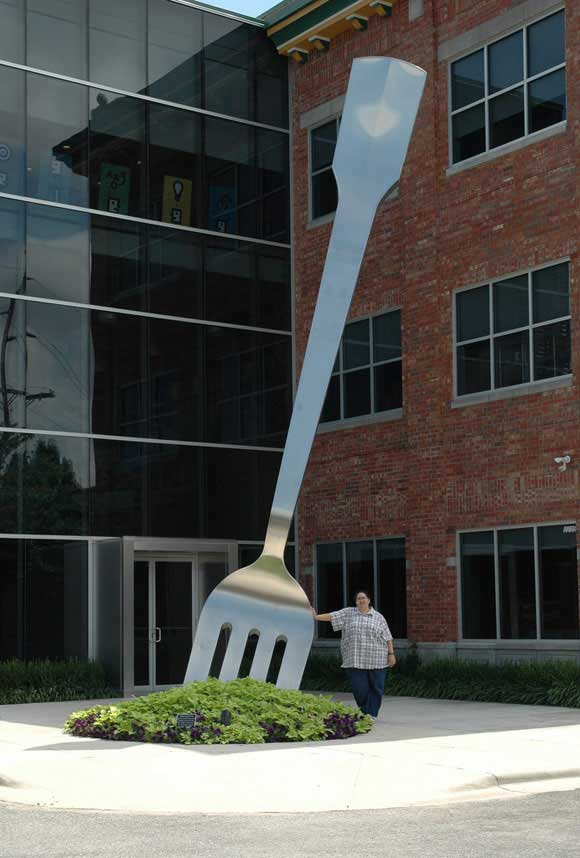 This 35 foot tall, stainless steel fork was originally an exterior sculpture for an upscale Italian restaurant in Springfield, Missouri.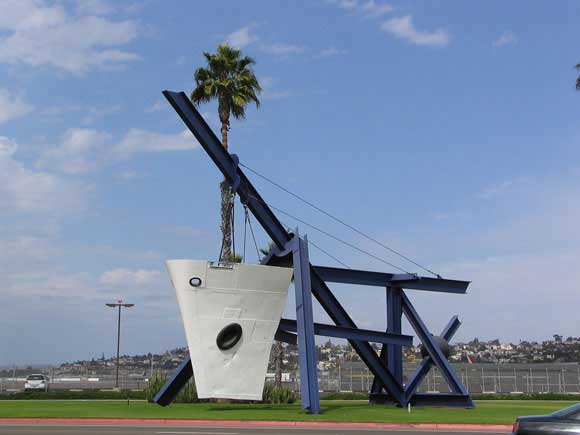 Description from www.portofsandiego.org/sandiego_publicart/isis.asp :
Working in partnership with the City of San Diego Commission for Arts and Culture, the Port's Public Art Program has arranged for a one-year loan of "Isis," a major contemporary artwork by world-renowned sculptor Mark di Suvero. The artwork is on display on the traffic triangle at Harbor Drive and Laurel Street, one of San Diego's busiest intersections and a major approach to San Diego International Airport.
The sculpture stands 42 feet tall and is 63 feet long. Constructed from industrial steel beams, the sculpture features the bow of a ship that serves as its focal point. It has been suggested that the ship's bow is in memory of di Suvero's father, who was an Italian naval officer stationed in China. The bow is suspended by steel cables, which allow it to gently sway with the wind. "Isis" is both the name of an Egyptian goddess as well as the acronym for the Institute of Scrap Iron and Steel, which commissioned di Suvero to make the sculpture for its 50th anniversary.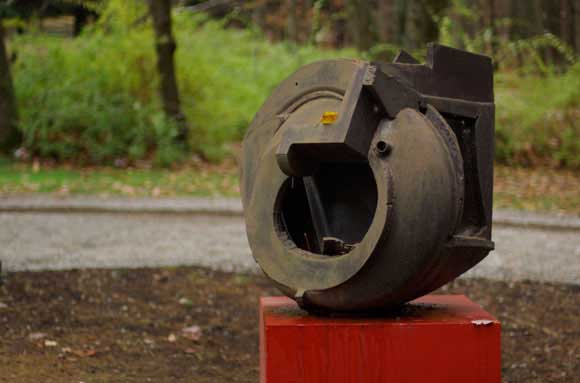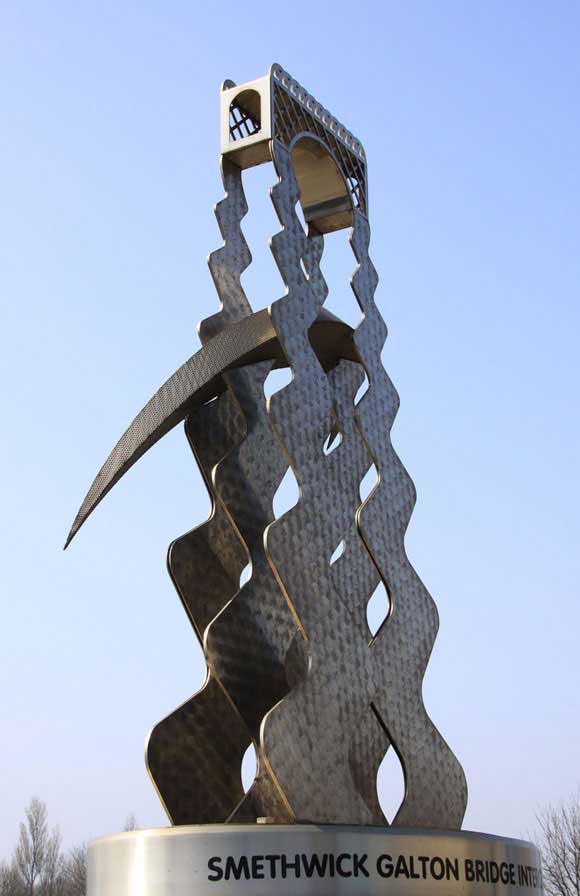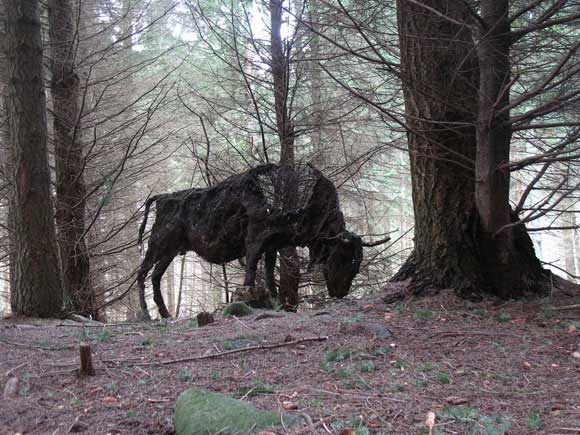 European Bison, by Sally Matthews
Text from the sculpture park website…
"A small herd of bison can be glimpsed through the trees. The four creatures arranged in different positions have a very naturalistic presence. They are based on close observation of live bison which Sally sketched at the Highland Wildlife Park. She was inspired by their "quiet, enormous presence" and imagined they had once roamed the forest at Tyrebagger. The sculptures were made from welded steel and chicken wire frames and covered in the forest using peat, sheep's wool and other natural materials such as pine needles bound together with waterproof PVA glue. Her use of these materials gives the bison a shaggy and earthy appearance which helps them to blend with their surroundings. The peat, formed over thousands of years and with its ancient smell, helps to make a link with the past. By using materials that will rot and decay over time, Sally makes a link with natural processes and cycles. Everywhere in the forest, particularly underfoot, the process of decomposition sustains new growth above
This area of the forest, dark, secretive and wild, inspired the artist to think of prehistoric Scotland, when much of the land was covered with forest. At this time, Scotland was home to many creatures no longer at large, e.g. bear, elk, boar, lynx, wolf and beaver. Situated on a slightly downwards sloping track, the bison appear silhouetted against a lighter backdrop which adds drama to the encounter."