Adobe Flash CS4 Certification Exam Practice 01
15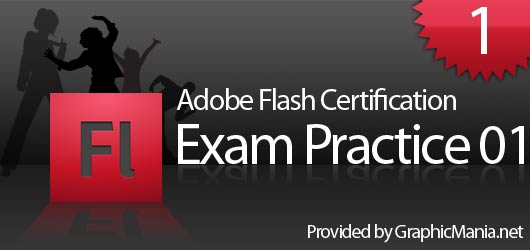 And again, as I promised you to it is the time again for new series of Adobe certification exam practice questions. This series will cover Adobe Flash CS4 certification exam practice.
The following ten exam questions mimic the real certification exam and cover real topics from the certification exam focus points.
Answer the following questions by commenting below and provide the correct answer. In the next week I will answer the questions with brief description about each question.
1- You have a movie clip that is located in many places in your Flash document, what is the panel that is used to find the places where the movie clip is in the document?
a- The Library panel
b- The Timeline panel
c- the Movie Explorer panel
d- the Components panel
2- What is the best method to create a start of that is consists of 5 sides in Flash?
a- The Polystart tool
b- the Rectangle Primitive tool
c- Draw it using the Line tool
d- Import start symbol from Illustrator
3- What is Not true about bones in Flash?
a- Support AS2 and AS3 files
b- Works with both symbols and shapes
c- Groups all the symbols on one layer
d- Works with only my own way
4- Which Flash object does Not accept applying filters to it?
a- Text field
b- Movie Clip
c- Graphic Symbol
d- Buttons
5- When you import PSD file to Flash, the layers can be converted to any of the following?
a- Groups
b- Layers
c- symbols
d- Smart Objects
6- What is Not a tag in the animation XML file?
a- Source
b- Keyframe
c- Motion
d- Tweening
7- What is Not a method to play external video in Flash?
a- Streaming
b- Progressive
c- Embedded
d-Flash does not read external video files
8- You are publishing a Flash movie that includes sound tracks, what is the best sound compression to create the highest quality?
a- MP3
b- Raw
c- Speech
d- ADPCM
9- What is Not true about Action Script 3 debugging?
a- It can work with any Action Script debugger version
b- Files must have be set to Flash Player 9 or higher
c- It works with a stand alone Debugger window.
d- It started in Flash CS3
10- What is Not an anti-alias option when adding text to Flash?
a- Anti-alias for animation
b- Anti-alias for readability
c- Bitmap text
d- Anti-alias for dynamic content