Massive Discount: 400 Premium Web Backgrounds, Textures And Paterns At Only $29
0
Deal mania on GraphicMania! Check out our deals section for graphic designers and developers. The newest deal can be seen below!
Value:

€120
|
Now: €29
|
Discount: 76%
When you create a website, you need to impress your viewer. How do you do this? Well, by creating a great user experience mixed with a cool design. How do you create a cool design? One of the most important visual components is the web background because when it is designer properly, it will have a good impact overall quality.

If you want your website to pop-up and you're sick of the same old color schemes, then you should really check out this pack. This collection contains over 400 amazing textures which will make your site really stand out and let your viewers know that you pay a lot of attention to details.
Click here and grab this offer while it's hot.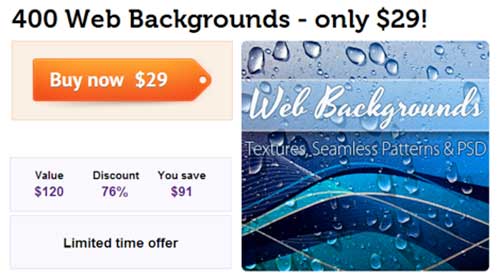 Your Mega Pack includes the following Elements:
50 high-resolution web-optimized textures (JPEG 2560×1920px each)
40 seamless texture tiles patterns (JPEG in two sizes: 512px and 256px)
21 high-resolution textures (JPEG minimum 3000px)
100 tiny web-optimized pattern tiles (PNG, PSD and ready-to-use JPEG)
40+ web-optimized black texture tiles (JPEG 500px)
10 "404 Page" backgrounds (PSD and web-optimized JPEG, 2560×1920px each)
10 "Under Construction" background (PSD Templates and web-optimized JPEG, 2560×1920 Px. Each)
10 "Web backgrounds" (PSD and web-optimized JPEG,  2560×1920px Each)
100 pattern tiles (JPEG 50px or more)
Free Bonus : 20+ "Hand Drawn Floral PNG"
Normally, this pack costs $120 but for a limited period of time you can get it at only $29. This means you'll get a 75% discount! Don't waste your time searching the net for other backgrounds because this pack contains all the goodies that you will ever need.
This amazing deal is hosted on MightyDeals.com, a place that any designer must know about. Here you will find useful things related to web design and graphic design at incredible discounts.