Turn Your Blog to a Store with Wazala
1

Blogging is not just a method to express your ideas and share it to the world, but it can also be a method to promote your skills, products and even sell it.
Many internet users are using blogs because it is easy to setup, implement and use. It can also be used to show regular updates and contents on a daily basis. These are some of the reasons that encourage people to make blogs.
On the other hand, many people find the blogging CMSs restricted with regards to ecommerce applications and adding shopping carts to your blog. Wazala makes it easy with a new shopping cart that you can add to your website, blog and even to your Facebook application.  All you need to do is to install a simple code in your website or blog so that, you can completely manage from the Wazala backend.
Although it is very simple and easy to integrate, it provides a powerful shopping cart tool for your site.  It has useful features which is not limited to sell physical product, but also sell downloadable products like design resources, source codes and artwork. This makes it usable for designers and developers who would like to sell their electronic products.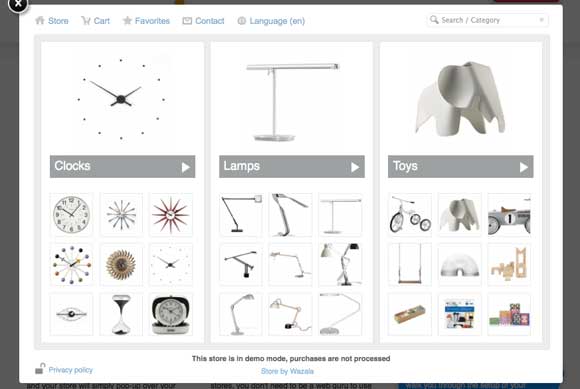 The payment methods are very important to allow the maximum number of users to buy your product therefore, Wazala is providing two commonly used payment methods through Paypal and Google Checkout. This allows your users to pay on either method they prefer. Along with the basic shopping cart functions, Wazala supports some useful administration features. It improves your sales business with the ability to track inventory through the inventory management options. Also, you can add promotional coupons to your products sales.
Wazala comes with a support system to customize its look and feel based on your site design and style up to 15 languages. In general, this new product provides a new experience to blog owners and Facebook fans who would like to turn their hobby into investment.