Banner and Landing Page Design Services by RightBanners
2
Elegant and eye-catching banner ads are a great solution to attract customers to your website. One of the fastest and most professional services to help you efficiently advertise your business is RightBanners.com.

What is RightBanners?
RightBanners is a service that specializes in banners and landing pages. Established in 2008, RightBanners has designed over 10,000 banners to date. They design top-notch static and animated banners of various shapes and sizes. In addition to banners, they also offer landing page design and HTML / CSS markup for landing pages.
Banner Examples from RightBanners
Why work with them?
It is simple. All you need to do is fill out their order form, and they will take care of the rest.
They provide high quality services. RightBanners delivers creative and capturing designs that drive clicks!
They are fast. Their turnaround is 4 hours per banner or up to 2 business days for bulk orders.
They offer three free revisions for each order. They make sure to meet your requirements and provide you with a premium quality service.
They are experienced. They have an impressive client list and thousands of different designs in their portfolio.
They are reliable. RightBanners respects your business and guarantees that all information shared with them remains confidential.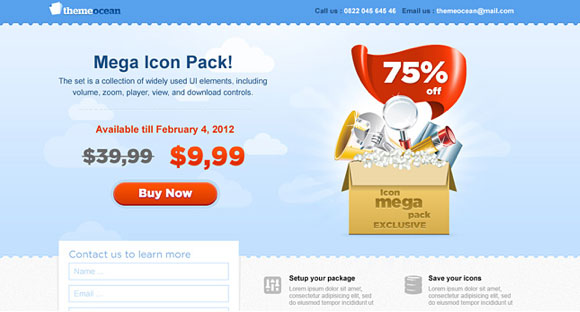 Landing page example from RightBanner
How it works
Ordering with RightBanners is simple.
Select an appropriate package.
Select the number of banners you need.
Specify whether you need rounded or animated banners, along with banner sizes.
Add some notes and a link to the site you are going to advertise. You can also submit an artwork that needs to be used.
Where have I seen their work?
RightBanners is trusted by Envato, Vandelay premier, BuySellAds and many others. Check out some of their work samples and what their clients have to say. RightBanners is one of the best companies that provides fully-customized and professionally designed banner ads and landing pages.