15 Cool Social Media Icons Set
0
Unless you've been living under a rock the past decade, you'd surely know how important social media is for promoting your website or online business. As soon as your content goes online on social media, the word spreads like wild fire and so are your chances of getting more client or business.
And the best way to encourage your visitors to promote your work on social media is to provide social media icons on your website or blog. Having a set of attractive social media icons at hand makes it so easy for your visitor to share your work with his/ her peers.
So, here is a collection of 15 really cool social media icon sets that you can download and add to your website. These icons are high quality and can be found in PSD, AI or in EPS format. Take a look at the following list and see if any of these is suitable for your website or next design project.
1. Free Colorful Flat Icons (PSD)
This set includes 20 flat colorful icons which are inspired by google icons. The whole set is available in 128×128 pixels size. The icons are in vector PSD format so that you can easily edit and color them. They are helpful for your personal use as well as work purpose. The icons set includes Skype, Gmail, Google Chrome, Dropbox, Google Drive and others.
Download

2. IC Mini Social Icons Set
This collection contains 18 tiny little icons that show orderliness with your website and look kind of cute. You can easily adjust the icons according to your usage as they comes in PSD, JPG and PNG format. The icons are 32×32 pixels in size and will surely give your website an appealing look. Download the freebie set including icons like YouTube, Twitter, LinkedIn, Tumblr, RSS, Evernote, Flickr, Ember, Behance, Digg, Share-this, Dribble and many more.
Download

3. Hex Social Media Icons
Hex has the perfect set of icons having right color coding according to your website. These are hexagonal style icons as well as buttons for your webpage. These will make your website attractive because of their more than perfect color shades.
Download
4. Pure CSS3 Responsive Social Media Flat Icons
This amazing set of icons can be further styled through CSS3 as they are converted into web fonts. But they are not so good to use in Photoshop. However, you can easily use them for your webpage.
Download

5. 150 Circle Icons Pack
Here comes a set of 150 circle icons to enhance the elegance and beauty of your website. This set has a huge variety of icons which are perfectly homogenized between flat layout of icons and mixture of pastels. Download the pack from the link below and use it for any purpose.
Download

6. 28 Super Awesome Icons
If you have a well running website, you obviously want everything to be perfect for it. These 28 in total super awesome icons are in PSD format and therefore you can easily adjust them according to your website. All the icons are labelled so you can easily differentiate between them.
Download

7. Publicons
This set comes in SVG and PNG format that makes them easy-to-use in email templates and websites. These are perfectly tuned platform and publishing icons.
Download

8. Simple Line Icons
These non-pixelated simple line icons suit best with your website if you need dynamically scaled icons. The sharp boundary makes them easily readable and grabs viewers' attention. Instagram, Pinterest, etc. are included in this set
Download

9. Geekly
Geekly is a set of 25 social media icons, of which 10 are for website and 5 are universal icons. These icons are unique due the light effects. You can use this flat style and modern set of icons in all sizes up to 512×512 pixels.
Download

10. Clear Rounds
This set includes 14 standard social media icons like Facebook, Pinterest, Twitter, LinkedIn etc. the zip file includes PNG and well labelled PSD file. These icons are completely vectorized and can be easily integrated in your business website as well as personal blog.
Download

11. Long Shadow Social Media Icons
This atypical collection of icons is premeditated using long shadows. It has 40 social media icons that can be used in all sizes up to 256×256 pixels. Avail these social media icons including Wikipedia, Amazon, Dropbox, Evernote and many more from the link below.
Download

12. Single Color Networking Icons
Simple and plain approach towards icons for your website not only make it look decent but also make it unique than other varicolored website. This organized orange colored set of social media icons will be perfect for your visual branding.
Download

13. iOS Style Social Media Icons
This set contains 24 amazingly styled icons that are iOS dominating. It contains Skype, Twitter, Google, YouTube, Facebook, LinkedIn, Pinterest and many other social media icons.
Download

14. Outline Social Icons
The set contains 27 superfine social media icons of recent times. You can adjust these icons according your demand as they come with PSD, JPG and Adobe illustrator files. They are perfectly suitable with graphic design, print, landing pages and websites.
Download

15. 56 Hand Drawn Social Icons
A vectorized set of 56 hand crafted social media icons that comes with PDF, SVG and EPS formats. Give your website a classy and fine look by utilizing these fabulous icons. They are also conducive to your personal usage. Each icon is made as transparent PNG and comes in two sizes; 64×64 pixels and 128×128 pixels.
Download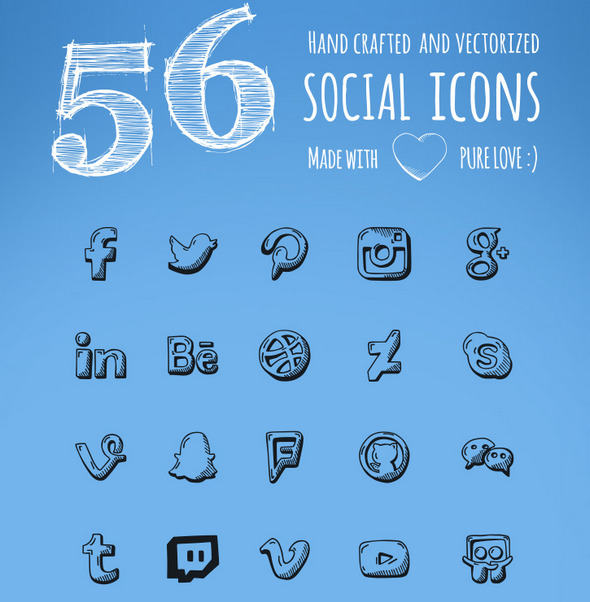 Hope the above mentioned set of icons will prove themselves excellent for your business website as well as for personal use.