Best Android and iOS Apps to Create Animations
0
Whether you are a professional webtoonist or a high-school cartoonist, an Android user or iOS client; you have visited the perfect platform of your interest. Besides hundreds of other options in iOS and Android devices, animation designing is one of the emerging trends of this decade.
Animating designing is no more an arduous task to do. With the help of several best Android and iOS apps for creating animation, it has become more happy-go-lucky activity. Who knows you may be the next big animation creator in near future. Make yourself at home with the following Android and iOS apps that I have opted for you.
Android Animation Apps
PicsArt Animator: Gif & Video
With the help of PicsArt Animator you can create a loosey-goosey animation without having any prior experience. You can create frame by frame animation and can view animation timeline by play mode. Make your drawing much more exciting by using sketch tools and multi-layer tools. PicsArt Animator gives you an option to draw on your pictures and make animated selcas. This is a 100% trusted app as it originates from the top developers of Google Play Store. These qualities make it one of the best android apps to create animation.
Download

Animate it
Animate it has lots of exciting features like opening scene, creation, editing, containing data about the characters etc. Even children can also work smoothly on their creativity through this app. Tools for animation create and edit with up to 32 framework for each clip, up to 20 files. It also has playback option while creating animation. Download it from the link below and avail each and every feature to enhance your creativity.
Download

FlipaClip: Cartoon Animation
FlipaClip provides you lots of traditional and advanced tools to create animation. You can also create frame by frame animation, Onion layers, Animation layers, Animation timeline. It also uses innate tools including Drawing tools, Text tools, Frame manager etc. These features make FlipaClip most famous android app to create animation.
Download

Animator: Make Your Cartoons
Are you a fresher? A rookie in the animation world? Don't have any drawing skills? Animator comes to your rescue. It is an amazing app to create animated cartoons and converting them into Gif and video format. One of the interesting features of this app is frame management i.e. it exhibit frames as pellucid layers. Being a beginner, this app allows you to creating anything because of its feature to control its speed.
Download

iOS Animation App
Animation Studio
It is the most recommendable app for iOS users. This app uses all the essential tools which make it the ultimate destination of a professional cartoonist. It has paint, auto fill, layers and airbrush, zoom, clipart, HD output and import graphics options to create animation. Animator Studio uses unique sound system and allows you to do narration and other voiceover like music tracks etc. you can easily share your drawings with others through YouTube.
Download

Cartoon Studio Pro
Cartoon Studio Pro is an important app to create your own cartoons. It works not exactly same as you create animation but somewhat similar. Various cartoon cells can be played back as movie animation. This app helps you to upload your content on social media including Tumblr, Facebook, Posterous, Twitter and even WordPress sites.
Download

Animation Desk for iPad
Animation Desk is the most smooth and influential app to create animation for iPad users. The attractiveness and orderliness of user interface makes this app winner over other animation applications. The distinguishing features of this app includes pressure sensitivity, palm detection, file manager, it also provide users an ability to see a coat of previous frame.
Download

Animation Express
Animation Express is a fundamental app for creating animations. It has the ability to incorporate sound. You can create astonishing animations through drawing and painting.
Download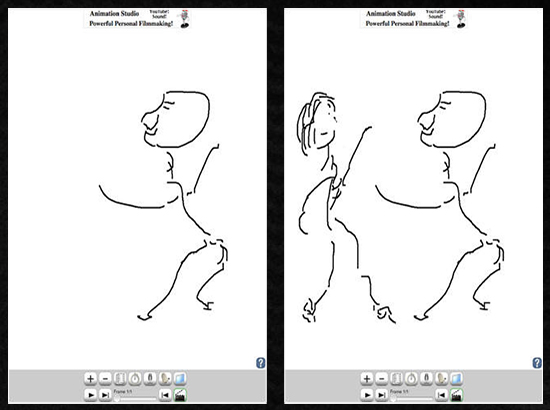 Make your leisure time more enjoyable by working with the above mentioned best android and iOS apps to create animation. Share your exciting experience with us.