15 Unique Seamless Vector Patterns for Your Design
0
Deal mania on GraphicMania! Check out our deals section for graphic designers and developers. The newest deal can be seen below!
Value:

€299
|
Now: €29,99
|
Discount: 90%
Vector patterns are artworks that include seamless design elements and are used in creating repeated artwork in backgrounds and fills for your website, print designs and more. The most important rule that designer should keep in mind while creating the pattern is to make sure that it looks continuous and flows well when the pattern is applied to the design.

The seamless pattern should have the right side completed with the left side. Also, the top side of the pattern is completed with the bottom side. The patterns can be vector based or bitmap based patterns. The vector patterns are created in Adobe Illustrator or any other vector program. In my personal opinion, the vector patterns are much more usable than the bitmap patterns because it can be scaled and edited easily without affecting its quality.
Related posts:
The vector pattern design process is time consuming and affects the total time of the design project. Therefore, vector patterns packs and templates are very useful to save time and effort especially in the short time projects. Thus, we would like to provide to you our unique pack of 15 high quality vector patterns to use in your both personal and commercial projects. To add these patterns in your Adobe Illustrator, just drag the pattern and drop it in the Adobe Illustrator Swatches panel and you can start using it.
The below preview shows the different vector patterns in the new pack, you can see it includes different styles: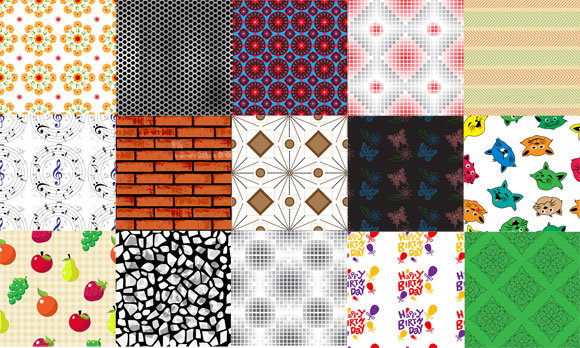 While you need to be a Graphic Mania premium member in order to download this full vector patterns pack and other resources. You can try it by downloading the 5 vector patterns samples from the link below:
Download free vector pattern sample (5 patterns)
If you are already a Premium Member then just sign in and you can download this full pack of vector patterns that include 15 high quality pattern with the source Illustrator files.
Not a member? Sign up today or read more about our Premium Member area.