40+ Inspirational Black and White Logos
19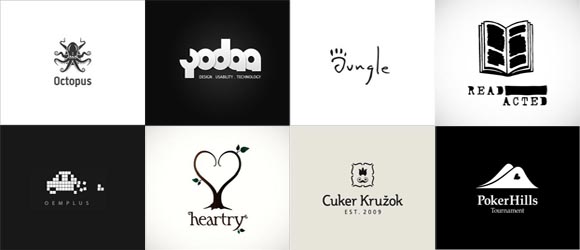 Logo design is one of the most challenging design tasks designers can meet because the logo designer has to be able to translate the core meaning of the corporate into only a few lines and limited to very few numbers of colors. The standard definition for logo design is that it is a graphic element that is used by enterprises and individuals to promote their identity and to gain public recognition.
Before continuing reading this post did you already join our Twitter and subscribe to our RSS feed? If not, rush and join us now to receive updates of new posts and free resources.
This recognition indicates that the logo needs to deliver a quick message about the company, its business, their intended target, and their business philosophy through just the design of the logo. This design can either be just a graphic element, only specialized text or a good mix of both elements. The company logo design, style and colors are the base for the corporate identity much like their business cards, letters, posters, web sites and much more.
Design logos have to follow some basic rules to ensure that the logo will save its value and does not lose the true meaning behind it; especially when it is printed, sent by email, faxed, or added to a website. Below is a brief summary of each of the important rules that should be taken into consideration when designing a logo:
Simplicity
The logo design should be simple and easy to remember; this will allow for the eye to readily pick it out when it is being used in multiple places and throughout the media.  An easy to recognize logo will always easily be remembered after the viewer sees it once or twice. The idea is that logos are almost always used in conjunction with other elements such as banners, business cards, and websites, etc.
Although you may find some famous logos that are deeply complex, know that this is out of character and not within the guidelines to creating a logo.  In addition to that they were used earlier this century with the beginning of the industry age; before companies came up with the ideas to add a logo to their business. At that time there were not many companies advertising and promoting using the media; unlike what we see today.  When these complex logos first went into use, they did not have the compatibility problems with the multiple forms of media available at that time.
When you design a logo, it is a good idea to stick with simple lines and motives that can easily be used and remembered. You do not want to end up with unhappy clients that do not actually see your logo as being unique and memorable by having a large number of details in it.
Limited number of colors
Logos tend to be used in conjunction with other elements that might utilize other colors such as: black and white, golden colors, sliver or other different method that avoids the initial logo colors. Therefore, the logo colors themselves should be limited to 3 colors or less. The colors used in the logo itself are actually representing the primary colors for the company and they  can be used in different publications to help reflect the company's identity.
Logo boundaries
While the logo can be used in different electronic and non-electronic materials such as T-shits, business cards, web banners, posters and more; the four edges of the logo boundaries should be consistent and form four angles of a square or similar.
Different sizes and formats
Make sure the logo design appears clear and noticeable in different media and formats. Logos with a lot of details make it hard to be used in a small size and on some specific forms such as printing the logo on T-shirts or sending it via Fax machine.
Black and white.
As we mentioned before, logos can be used in both its color form and its black and white form. However, you should consider this while designing the logo; by creating logos that can appear well in color or black and white, it is important to be certain that they do not lose any clarity or detailing when in a monochromatic form.
Logo font
Logos can be made with a mix of fonts or only with one font. Either way the logo font should be readable in different scales and easy for identifying from varying distances. Strange font styles may offend the viewer's sight unlike their familiarity with more traditional font styles.
With all of this said, how about viewing some logo examples? This collection includes only black and white logos that vary in the design and lines. Some of them are following the above rules and some are not. However, it is always good practice to apply the above guidelines to the following logos or any logos you may design yourself.