5 Quick Tips for Customizing Your Pinterest Brand Page
1
Pinterest is one of the fastest-growing social media sites on the web. Easy to use, fun and unique, Pinterest has taken the Internet by storm. Along with this new wave of use has come a new purpose in marketing, a field that is quick to jump on creative forms of sharing content and expanding visibility.

Since the site is now reaching more than 4 million unique visits per month, it is the perfect time for your company to begin using this valuable resource. Already, a number of well-known brands have established their own presence there, and so content is being shared at an incredible rate among users, even through other social networking sites like Twitter and Facebook.
Related posts:
The issue with using it as a marketing tool comes from the terms of use. The site has specified that it is not a place for self-promotion, instead being somewhere to cultivate and share your personal interests with like-minded individuals – or to show off something you would like to see reach a larger number of people for mutual enjoyment.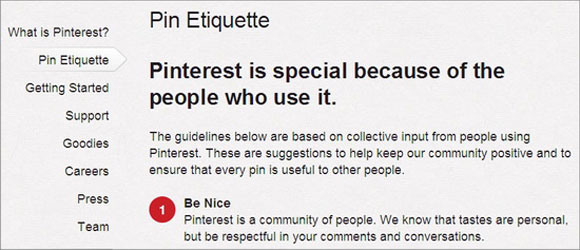 But co-founder Evan Sharp explained in an interview with Mashable (one of the names on this list) that it isn't impossible. Instead of promoting your brand, you should instead focus on sharing the idea that drives your product or service.
With that in mind, here are five companies that are doing it right, along with tips that we can learn from their Pinterest use.

Given the fact that it held an interview in which the process of marketing on the site has been explained, it isn't a surprise that Mashable has become one of the biggest branding pages on Pinterest. Mashable itself is a news service that is focused on social media and related technology topics. So it eased in to Pinterest seamlessly, already within the proper niche to best exploit its purpose.
What We Can Learn: Since it is a social media news site, Mashable uses social media news to connect with topics directly related to Pinterest itself. It gave guides, top 10 lists and news that make it a viable source for information on the very site it is promoting itself on.

A veritable giant in the music world, Sony has managed to exploit social media at every turn and regain a foothold that was being overtaken by the predominance of online audio formats. Now better than ever, it came to Pinterest with the same plan that it had with other social networking sites: to dominate.
What We Can Learn: Sony uses shameless self-promotion in the guise of bringing information, videos and pictures from around the web on artists it has a vested interest in. But it toes the line when it comes to the terms of service and doesn't actually market in any traditional format. Instead, it provides content its visitors will want while showing off its brand.

Dedicated to organic and healthy foods, many people don't know that Whole Foods is also all about helping to solve world hunger. Part nonprofit and part money-making healthy-eats mainstream company, it has a unique business plan than has helped it to expand quickly.
What We Can Learn: Whole Foods has managed to really take the notion of sharing the idea behind a company to heart. Giving users pinned photos of foods with recipes using healthier ingredients as well as information on efforts to provide food for struggling nations like Ghana, Whole Foods has the concept behind Pinterest down.

Also using Pinterest to promote a cause, Amnesty International goes a step further and frequently pins images that it feels promote social change and responsibility. Pictures of protesters, online poster images with messages and slogans, covers of books about the wars in Iraq and Afghanistan or human rights violations around the world and more fill the brand page.
What We Can Learn: Amnesty International doesn't promote itself at all. What it does is promote the cause it stands for 100 percent. As a nonprofit, that is a much more valuable use of the site than anything else might be

Focused on crafts, gardening and kids, Fiskars is a well-known company that had it easy getting itself seen on Pinterest. The Internet is an archive of endless craft and DIY ideas, family-centered projects and gardening tips. So Fiskars can just hop onto any blog or website with this in mind and pin to their heart's content.
What We Can Learn: Pinning other people's content will bring you users, especially when you are an established brand. But you can also share from your own blog or web page, which Fiskars does a lot.
Conclusion
A brand page on Pinterest is a great idea and one you should jump on early. While you might feel a little shy at first, trying to find a way to promote yourself without promoting yourself, you will soon find that with a bit of creativity, it is easy to decide on what drives your company and act accordingly.