8 Useful iPad Apps for Designers
1
iPad and tablet devices have become widely used by many professionals, not only for accomplishing simple tasks, such as Internet browsing and email writing, but also for bigger tasks like project management and more.

iPad apps for designers are becoming part of this technology revolution and you can easily find hundreds of iPad apps for designers in the Apple App Store. All these iPad apps are designed to help you take your creativity to another dimension.
With these iPad apps, your design skills are not limited to your desktop or laptop anymore. You can design anywhere and anytime. Although these apps are not as complex as desktop design applications, they can help you to do basic design tasks, digital painting, sketching and drafting, which I believe is the most important stage in the design process.
Related posts:
Many designers may share my opinion that nothing is better than drafting and drawing using pencil and paper. Even with the amazing revolution of drawing tablets, such as the Wacom Intous, there is still a gap between your hand and the line you draw. iPad design apps merge the joy of drawing by hand and the digital revolution. You can now draw your design or artwork and send it to your favorite desktop design application either in vector or bitmap format.
You can also share your design with friends and clients through Facebook, Twitter, Dropbox and more.
While there are many iPad apps for designers, you need to choose the best apps that will help you create your design and artwork fluently. Also, you need to think about the restrictions of each application and how your design flows between them. For example, you can do the outline of the artwork in one application and complete the digital painting in another to get the most out of both applications.
Therefore, I would like to share with you 8 Useful iPad apps for Designers that you can find helpful and reliable in creating designs and drafts with the iPad.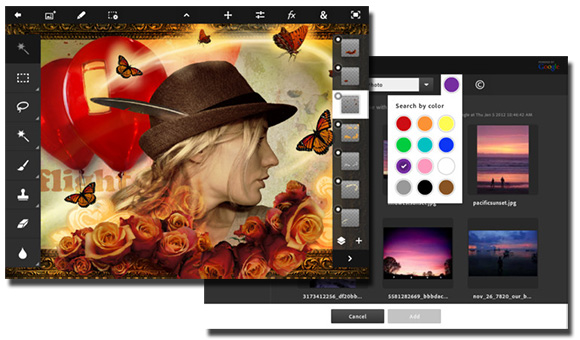 Adobe Photoshop is one of the most commonly used and important applications for many designers. Now you can have a light version of Photoshop in your iPad, which is called Photoshop Touch. Actually, it is not that light because you will be amazed by what it can do.
Photoshop Touch for iPad allows you to edit images, create designs from scratch and build layered designs using images from your camera roll to add text and effects to it, and more.
Photoshop Touch includes the following features:
Popular Photoshop features such as layers, selection tools, adjustments, and filters.
Select part of an image to extract by scribbling with the Scribble Selection tool.
Search and acquire images from Google Image Search.
Share images on Facebook.
Maximum image resolution: 1600 x 1600 pixels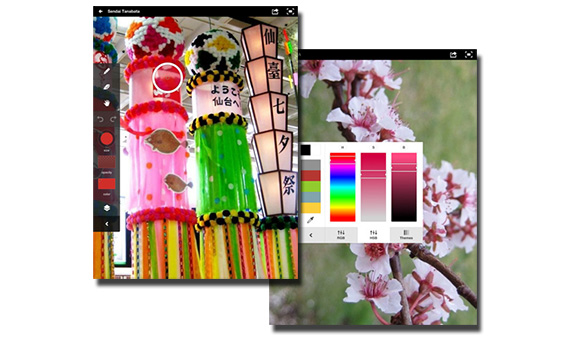 Are you a vector drawing lover? If so, I'm sure you will love this iPad app. Adobe Ideas is a very simple but powerful vector-based drawing application for iPad. Although it only includes a drawing pencil, eraser, color picker and a simple layer structure, it allows you to draw smoothly like you are using a pencil and you can save your artwork as a vector in PDF format. You can save it to the gallery or email it to your friends.
In addition to these simple features, Adobe ideas include the following:
Simple vector-based drawing tools
Variable-size brushes
Eyedropper tool to easily pick up colors from your photo or drawing
Move, scale and rotate each layer independently
Control independent layer opacity and order of layers
50-level undo/redo
Huge virtual canvas
Fast zooming and panning
Display ideas on an external display (requires adapter)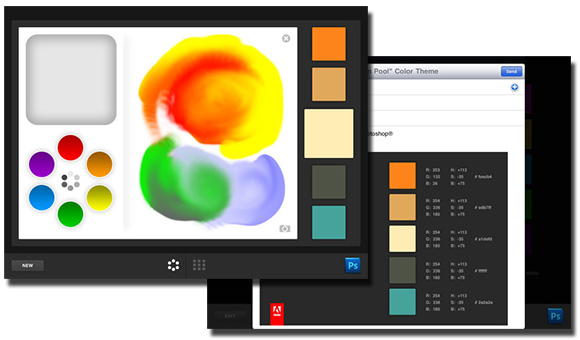 One of the most challenging tasks for any designer is choosing the best color combination for their artwork and designs. You do not need to brainstorm for the best colors for your design sitting in front of your computer screen for hours. With Adobe Color Lava, you can mix colors and get new color ideas for your design and artwork.
Adobe Color Lava lets you mix colors from existing images and save them to use when connecting to Photoshop. In addition to these features, Adobe Lava includes the following:
Creating unique individual color swatches and five-swatch color themes.
Interacting with Photoshop CS5 in real time
Making fine adjustments to your color
Mixing colors even when you're away from your computer and bringing them into Photoshop CS5 when you're connected.
Easily sharing your swatches and color.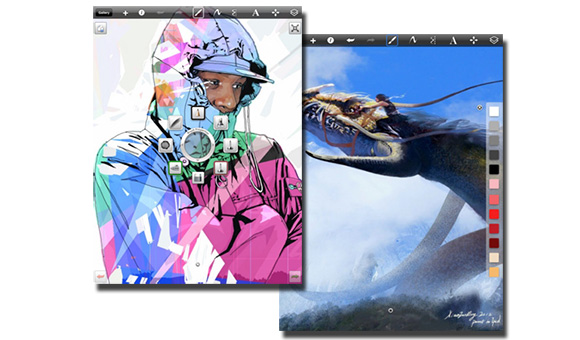 This iPad app is created by AutoDesk and allows you to create draft drawings and digital paintings on iPad with a variety of tools and options that you can easily handle. Sketchbook Pro lets you create layers and build artwork from scratch, or based on images from your Camera Roll.
In addition to the variety of drawing tools, Sketchbook pro provides a large number of presets and symbols that you can use directly without having to create them from scratch.
You can buy Sketchbook Pro directly from the App Store or you can try the free version with limited features.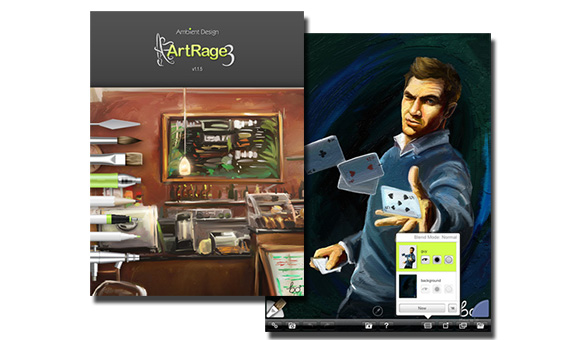 If you compare ArtRage with Sketchbook Pro, you will find that ArtRage is more advanced in digital painting and simulating the real drawing and painting tools and brushes.
While Sketchbook is designed for drafting, designing and digital painting, ArtRage is more focused on artistic painting and creating digital artwork that simulates real art. You can notice this on the canvas style documents and the tools positioned on the left of the workspace.
You can also build layered artwork that you can save and send to your desktop version of the application and continue working on your computer screen. You can also Record your paintings, export the recording and play it back in a desktop version of ArtRage Studio or Studio Pro to recreate your art with a higher resolution.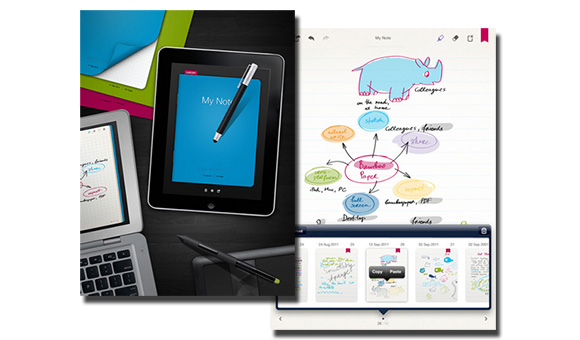 Are you looking for a simple tool to take notes, draw draft diagrams and basic ideas? Wacom Paper is an amazing and simple tool for taking notes and ideas. All you need to do is open the page and start writing, drafting or taking notes. You can use different styles of pens.
There are two versions of Paper on iPad, the free version with limited functions and capabilities and the paid one. This way you can try the free version before deciding to buy the full version.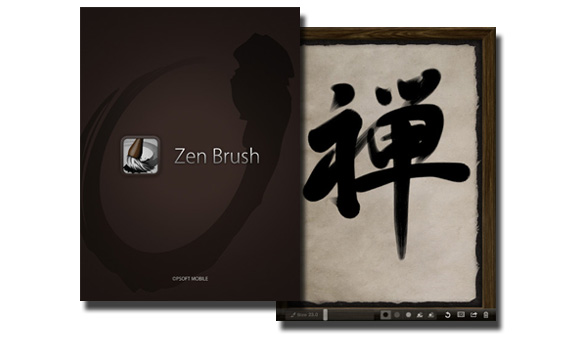 This iPad app lets you draw or write using a comprehensive ink brush. You can use it to create ink-style drawings or calligraphy-style artwork. Zen Brush includes the following features:
Background style templates (50 kinds).
Brush size adjustment slider.
3 ink shades available.
Export to Camera Roll.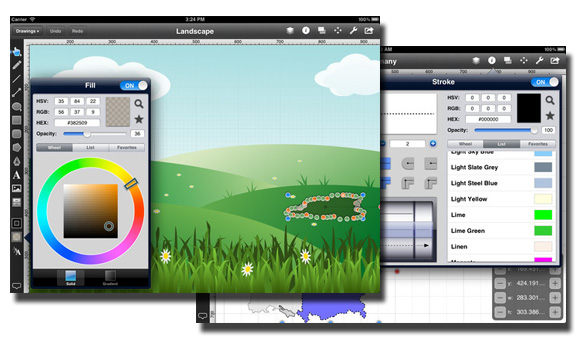 This is another vector based application similar to Adobe Ideas but with more features and tools available to create vector-based drawings and diagrams. Touch Draw allows you to create simple designs, such as logos or complex architecture floor plans using the comprehensive set of tools and libraries of shapes.
Touch Draw allows you to save files in different formats, such as SVG, PDF, JPG, PNG, TIFF, BMP and more. Also, you can share your artwork using cloud sharing services, such as Dropbox and Box.net.
In addition to the above, Touch Draw includes many of the other drawing features and tools that are commonly used by designers, and lets you arrange your artwork in layers.
The above iPad apps for designers are examples of the applications that can help you create designs and artwork directly on your iPad and share them with your friends and clients either on iPad or through email, Facebook and other cloud sharing applications.
At the end of the article, I would like to thank Chris Geogenes, animator and Adobe expert, for the helpful discussions about the iPad apps and which ones are the best for the designer's workflow.