A Journey to the Arabian Nights with Julian Breton's Calligraphy
3
At a first glance, you will realize that every line in his Arabic Calligraphy artwork is taking you to a night of the thousands Arabian nights. The curves and letters moves slowly in his hand to form a new trend in the Arabic Calligraphy.
And you would be amazed that the artist behind all these awesome artworks is not an Arabic. Yes, Julien Breton, the founder of Kalaam, is a French artist. He invented this type of art that uses the Arabic Calligraphy style to feature both Arabic and Latin words in a step that can be considered a new trend in Arabic Calligraphy art history. Julien's artwork bridged the gap between two civilizations by merging both the East and West characters together.

Furthermore, Julien implemented a new art technology in creating his Arabic Calligraphy artwork such as the light calligraphy, real-time virtual Calligraphy and 3D Calligraphy. Before we start our venture with Julien lines, let us know more about him.
Julien Breton / Kaalam, native from Nantes (France), began Arabic Calligraphy in the year 2000 by discovering contemporary Arabic calligrapher. Through self studying, he had been influenced by Arabic calligraphy and graffiti for the purpose of developing a Latin alphabet. This allowed him to create a contemporary Calligraphy inspired by West and middle-West philosophy and Hip-hop sentences.
Related posts:
He creates his Calligraphy for his desire to transcend the meaning of each sentence, to bring energy, to show a singular aestheticism, to have a balance and languorous form to be different from the traditional writing and the arbitrary letter's order.
When he discovered «light-Graff» process, he started to experiment a new way of creation. He discovered a new form of expression which is marked by body language, Arabic Calligraphy and choreography. The possibility to «write in space», to work a Calligraphy according to the background perspective colors and history gave him the will to explore this new pectoral form of expression. The ink became light, paper became photography. All landscape or architecture is a pretext to be marked by them to play with them, to Calligraphy them and immortalize this meeting between writing and photography.
Since the beginning of year 2009, he also experimented with the Digital Slaves. This is a new process of creation of real-time virtual Arabic Calligraphy while continuing to develop the light Calligraphy through a show mixing dance and Arabic Calligraphy with the Dance Company CORTEX.
Now, it is time to start the journey with Julien Breton's artwork. His artwork is categorized based on the technique he uses in creating the artwork such as the categories we mentioned above. If you would like to see more of his work, you can visit his website Kalaam.
Light Calligraphy
The light Calligraphy is a new technique that does not use any photo editing or photo manipulation in creating the artwork. Julien told us something brief about this technique:
In using the camera, you have to set forth a foot which takes a photography in « long exposure ». The photography can last 30 seconds to several minutes according to the luminosity of the chosen place. It is the same principle used by the photographers in shooting the lighthouses of cars on a road. During this long time of exposure, Julien Breton built Calligraphy in front of the camera and without visual marks. He just used lamps of various forms and color.
The ink becomes light, the paper becomes photography, and Arabic Calligraphy becomes choreography. The total list of light Calligraphy is on inquiry.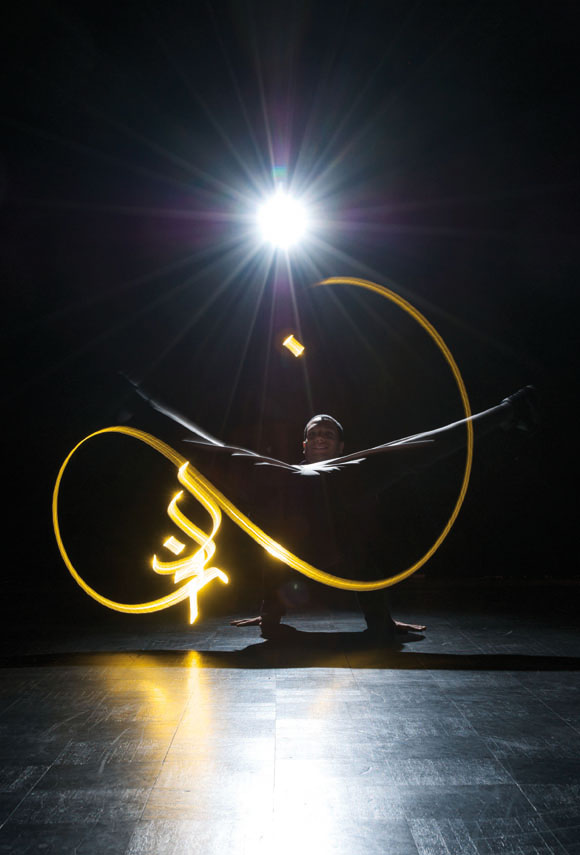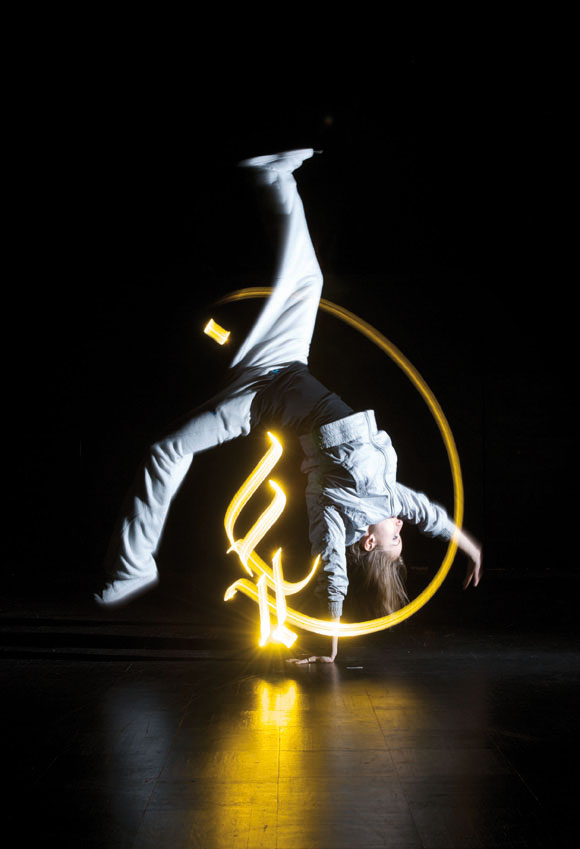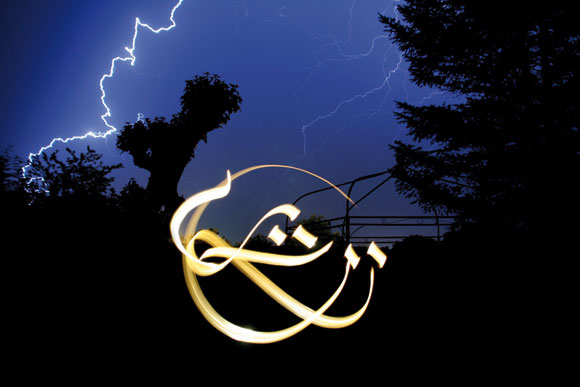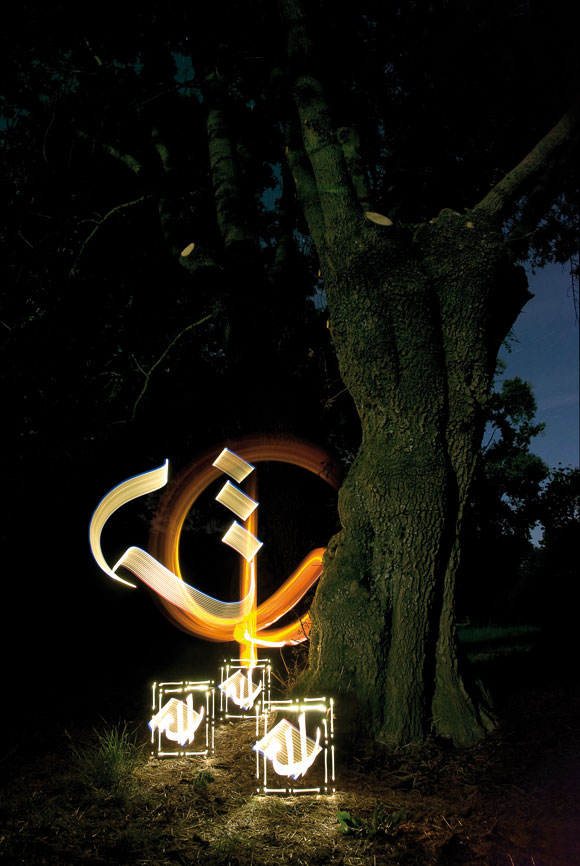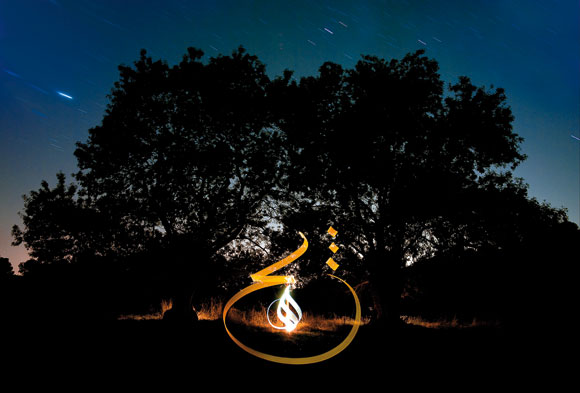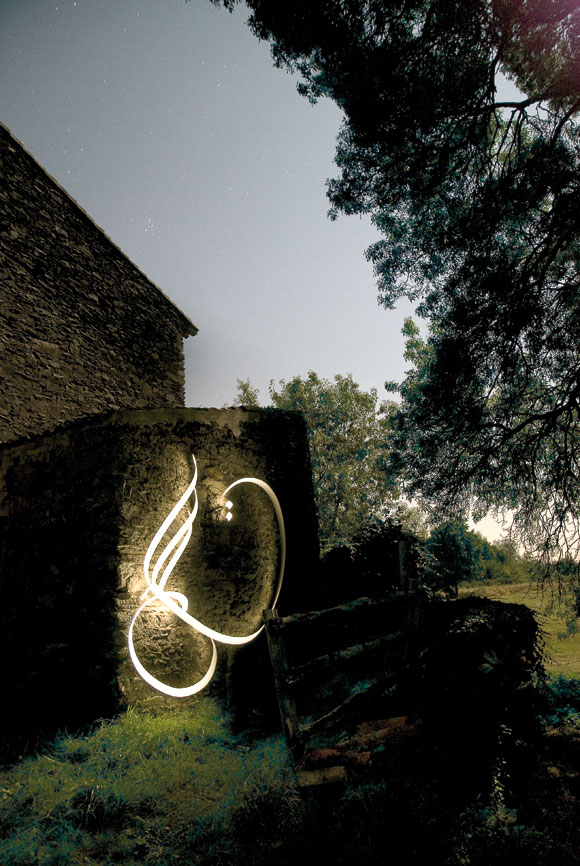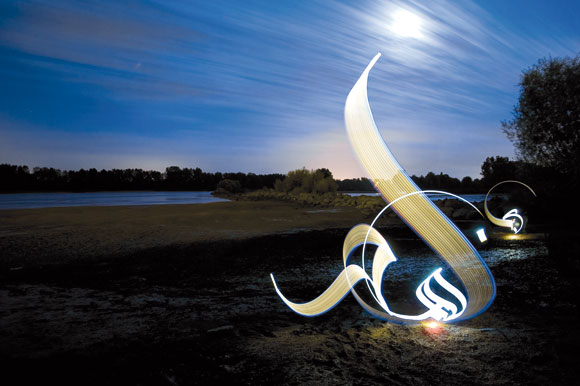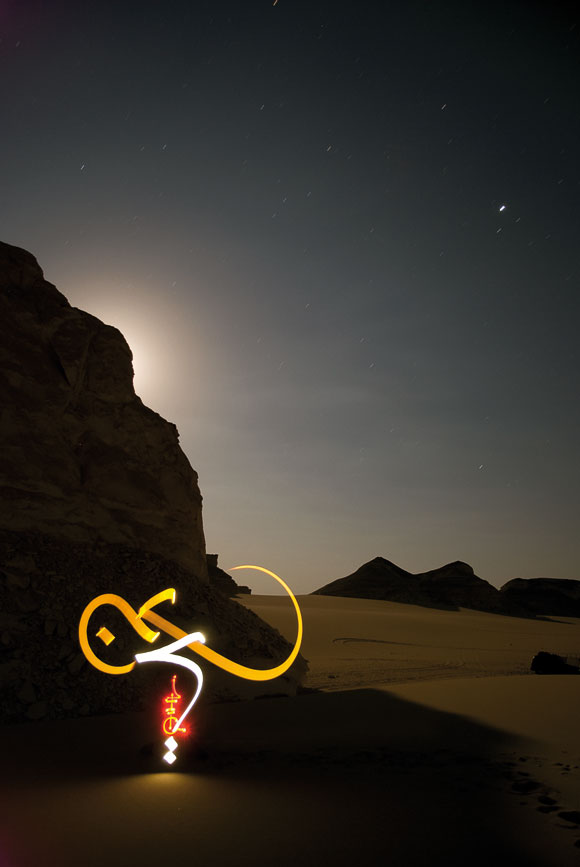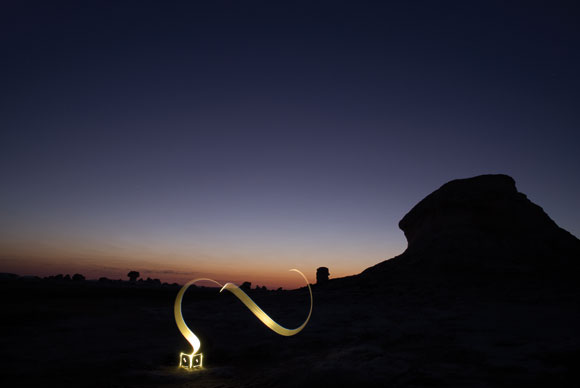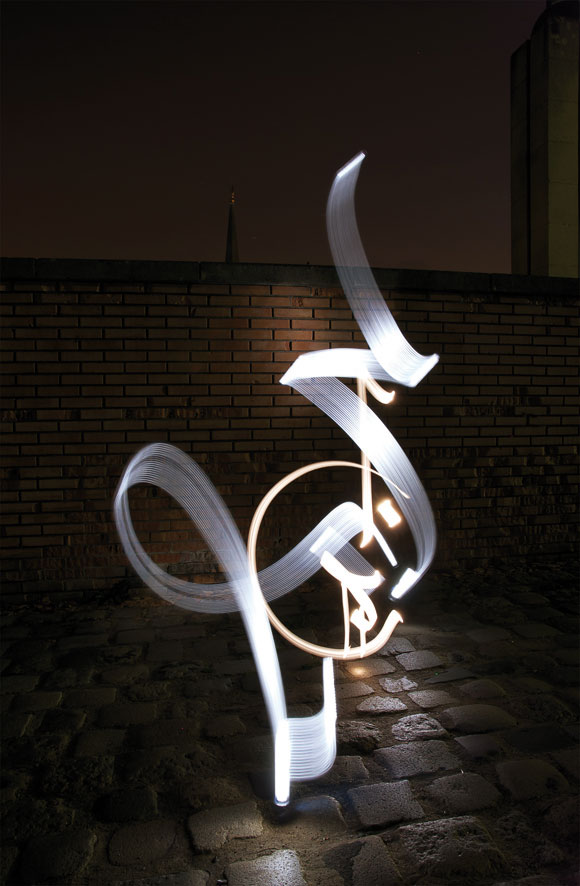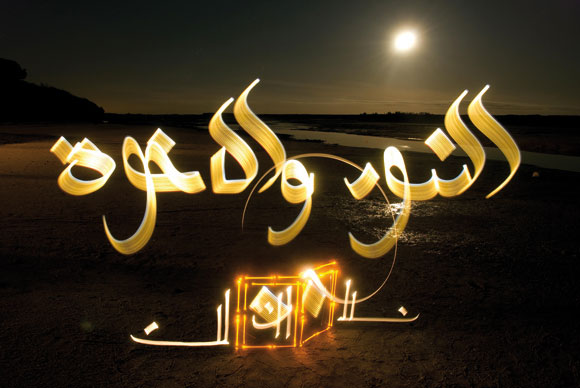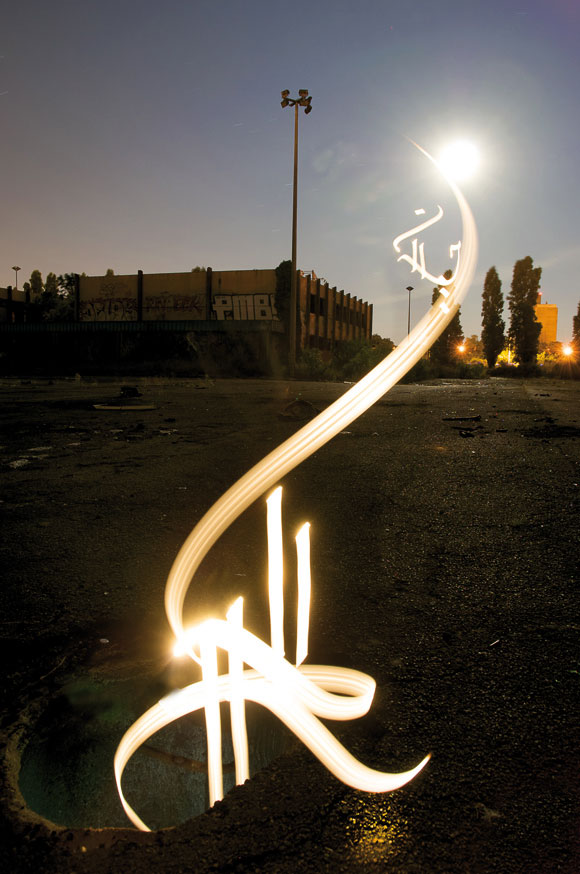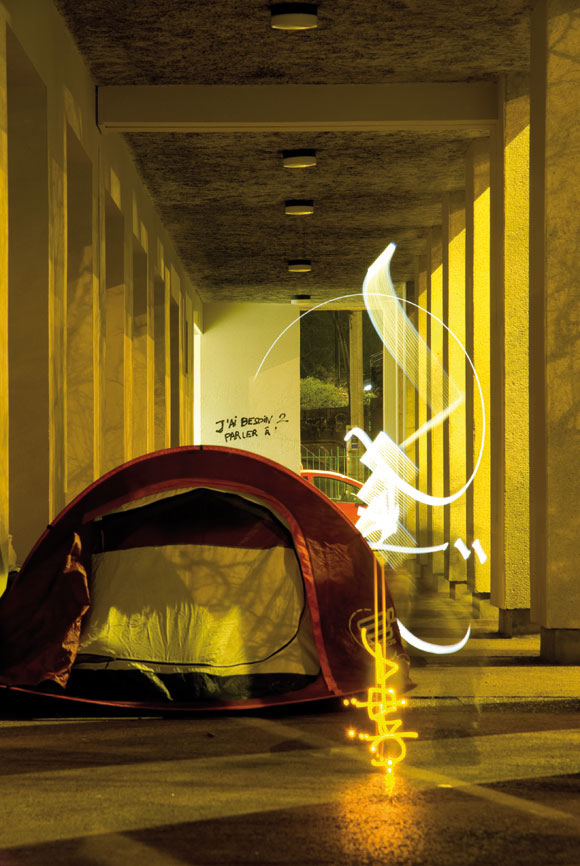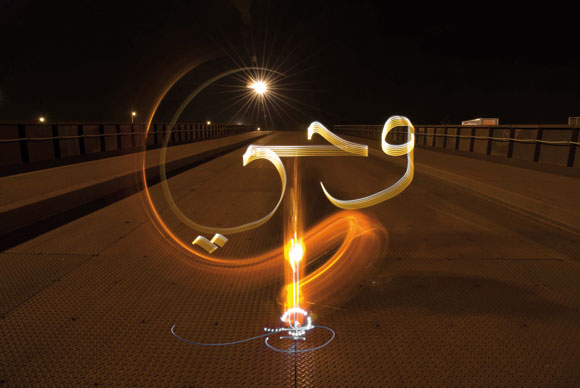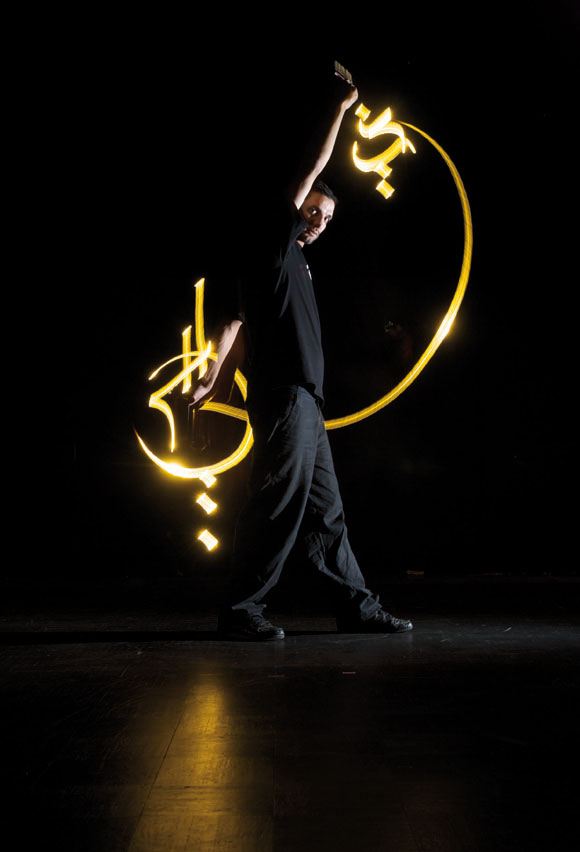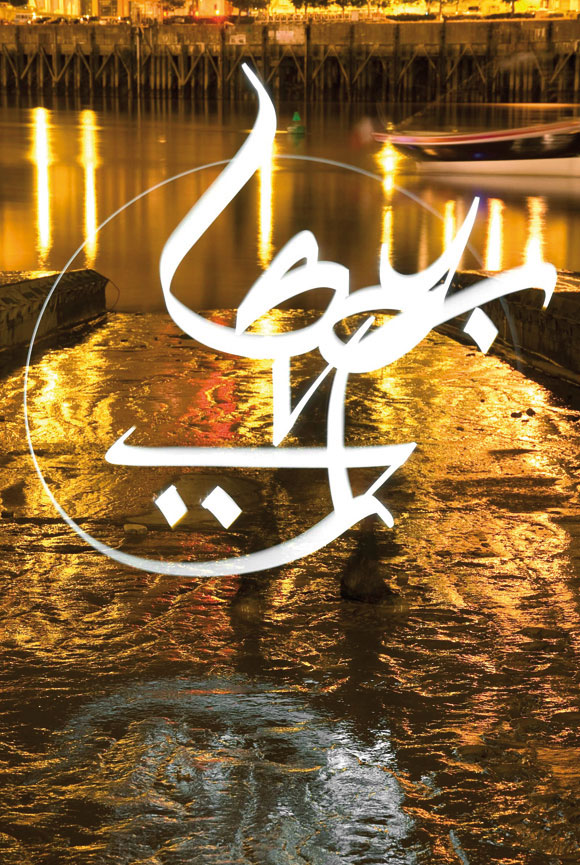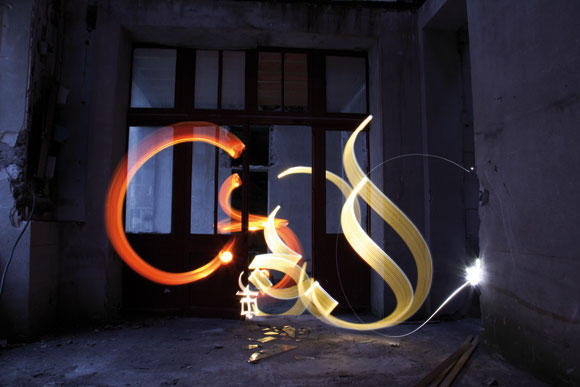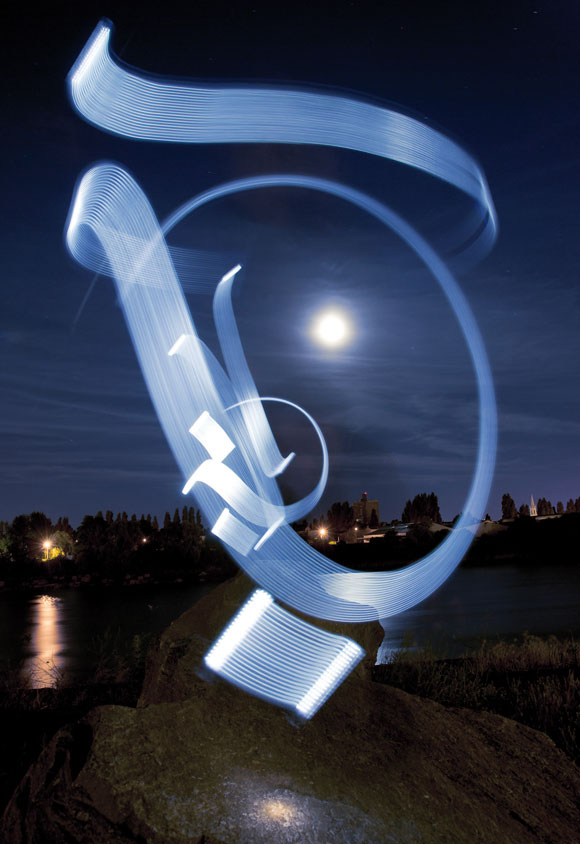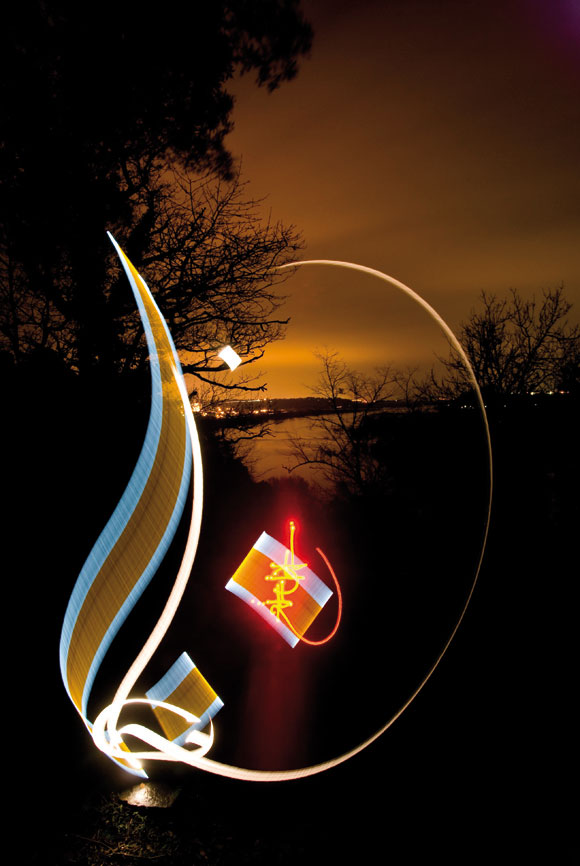 Paper Calligraphy
Julien started his Calligraphy work using the old paper style which still has its own taste and beauty as we can see in his paper Calligraphy artwork below: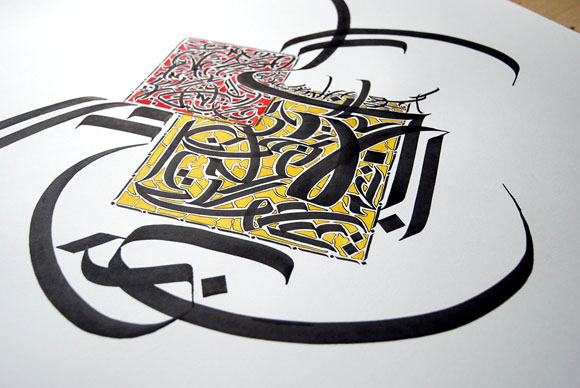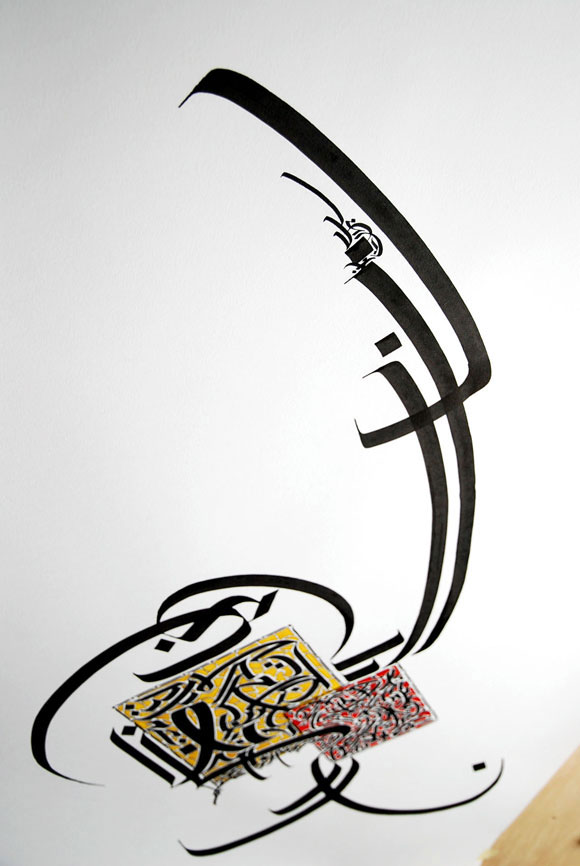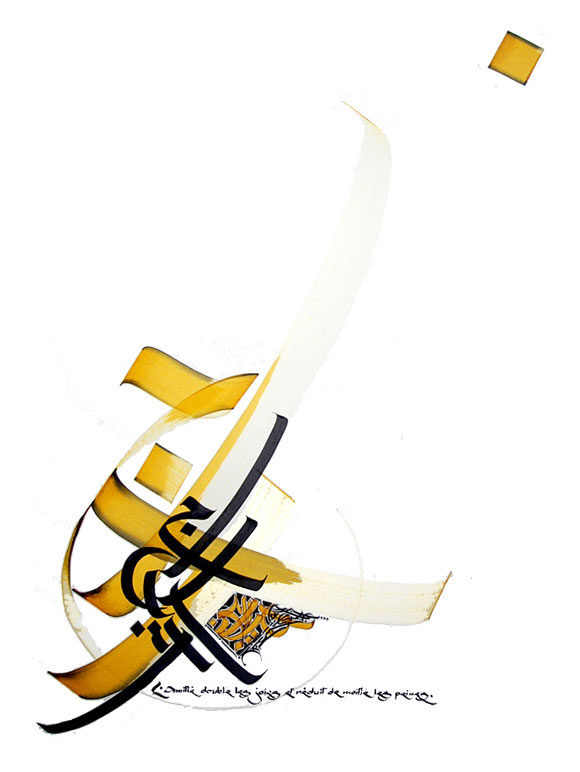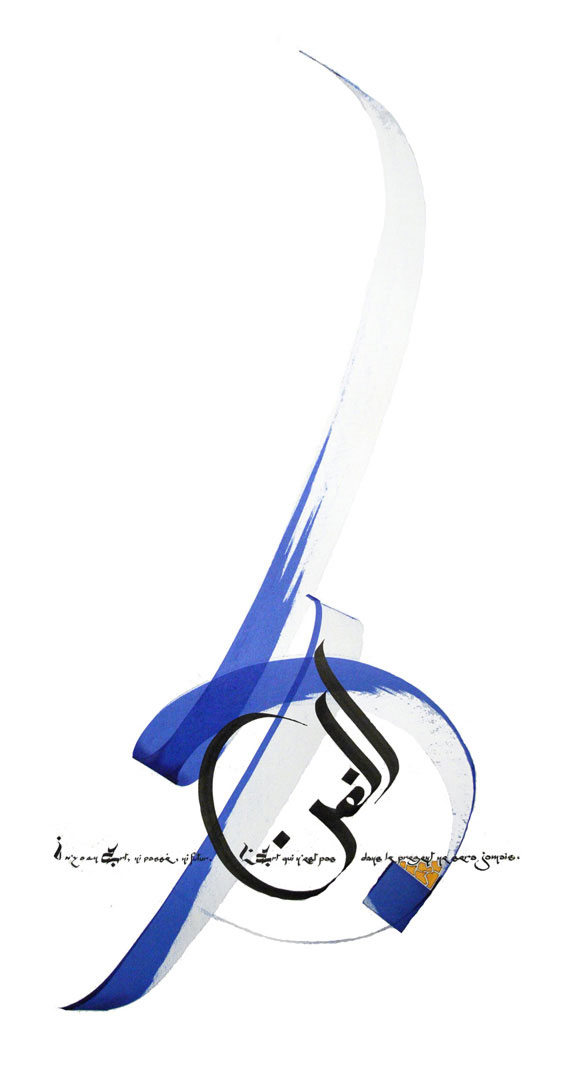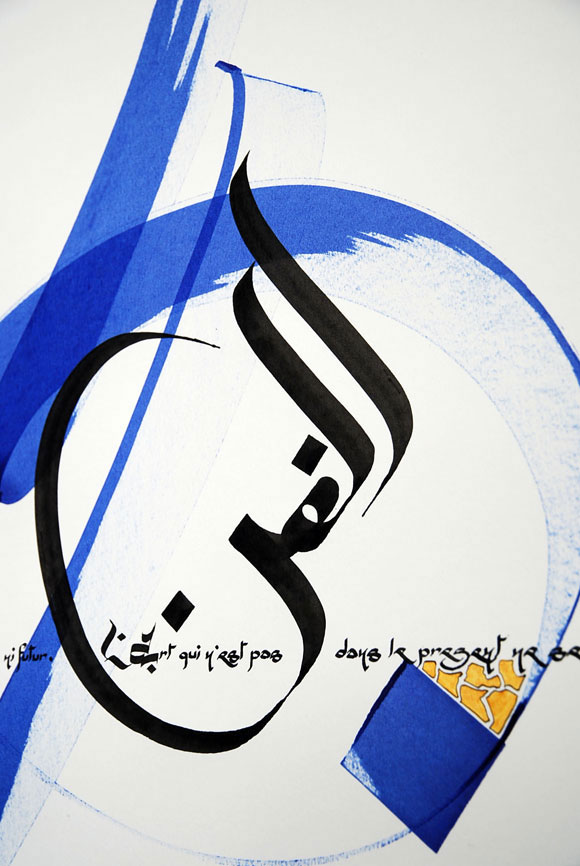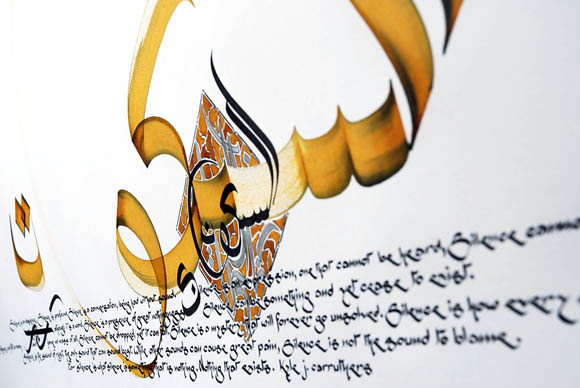 3D Calligraphy
Using 3D applications is one of Julien's new methods in creating the Calligraphy. He creates the artwork as paths in Illustrator and converts it to 3D.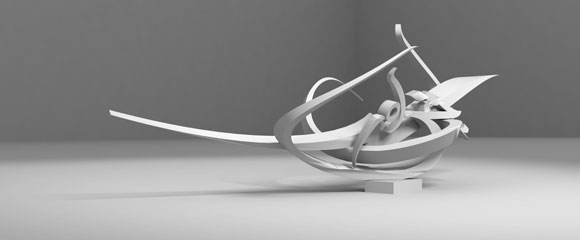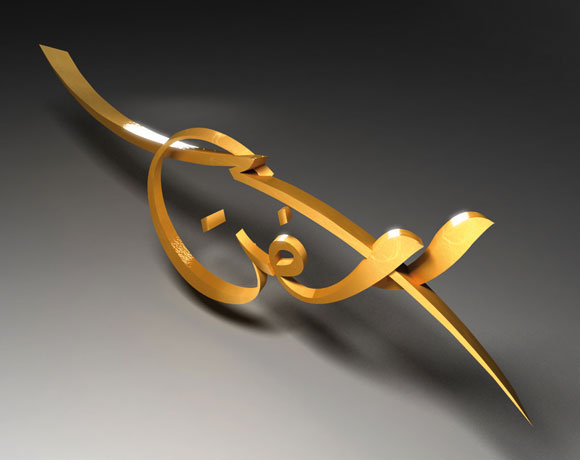 Virtual Calligraphy
This type is another style of real-time Arabic Calligraphy that uses new technology as Julien describes it below:
The Virtual Calligraphy System is developed by Kaalam, experimental Arabic Calligrapher artist, and Digital Slaves, Digital artists and Engineer specialized in new technologies.
This system is a real time virtual drawing process inspired by the light Graff art. A camera tracks the Calligrapher gestures which uses a dedicated infrared lamp and transmits the tracked trace in real time to the system which compute the aesthetic drawing rendering.
The system reproduces perfectly the calligraphy behavior. The system could also be improved by adding a real time sound generation directly linked with the Calligraphers movements. The system is composed of a camera, an infrared lamp, a computing system and a touch screen which allows the Calligrapher to choose texture, size, color ….
Finally, I hope you enjoyed Julien's amazing artwork like I did. Do not forget to check these related topics: