Fractal Art: Inspiration with Equations
17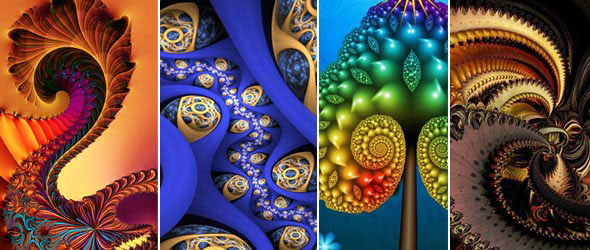 Wikipedia defines the fractal art as calculations of fractal objects that are processed and the calculation results are presented as still images, animation or other media. The idea behind fractal art is that calculations and equations can produce great artwork and creative inspirations as well as the tools in the artist's hand. Although, fractal art may not include specific artistic topic, it provides deep inspiration source to fuel your ideas with the great and may be randomly generated combination of  colors and shapes. When you focus for a while in fractal art work, you may see shapes that never been and color balance ideas based on your personal experience and what you can imagine when you look at a fractal art work. In this article, I will share with you different fractal artwork inspirations. Meanwhile, I would like to share with you fractal artwork for one of the inspired fractal artists Jock Cooper. Fractal Recursions of Jock Cooper Jock Cooper is one of the talented fractal art and fractal animation artists, during his experience with fractal design animation, he did not just produced many fractal artworks, but also he changed our view to this type of art. He is the writer for Fractal Recursions, a collection of his fractal artwork. Below, we will start our journey in the fractal art work with an amazing collection of Jock fractal artwork.
Please note that Jock Cooper artwork that are shown below are under the copy right:
Now, lets check other creative fractal artwork amazing collection from different artists over the web. You can notice that fractal art has different styles and methods to treat the shapes, colors and balance to form different output.