Six Artists, Six Revolutions in the Digital Surreal Art History
12
Since the early 1920th of the last century, Surreal and Dada artists had their own revolutions on the world situations in these days. The world wide war I and II and the world sinking into machines and industry had its deep effect on humanity inside these artists that drive them to have their own revolutionary ideas through unexpected artwork that breaks all the traditional art roles and values.
Although many people had attacked this art with all means. But in my idea it was and still the nature of human being to stand against any thing that is non-human or affect the human nature.
By entering the digital era, surrealism artists find a new mean to express their ideas and feelings. The digital media opens the doors for more freedom and capabilities to present the non-expected and helps digital artists to form their dreams and ideas into visual art that we all enjoy.
Today, I would like to present to you six of the most amazing Surreal digital artists that have well known influence on the digital art generally and the Surreal art specifically. Along with each artist's work, a brief bio about the artist history and his life as an inspired artist. However, I would like to take the chance to thank and acknowledge these wonderful artists for their acceptance to share their artwork and bios with Graphic Mania friends.
Please note that images in this post are property for their respected artists and presented here with permission from them, please do not copy, download or redistribute artwork displayed in this post.
I was born in London, England on October 26 1958, the youngest of four and much to my parent's surprise, I was born a dog. This unfortunate turn of events was soon accepted within my family and was never again mentioned in the presence of polite company. I was a rambunctious youth as was natural to my breed but showed a fine interest in the arts as I drew pictures incessantly on anything including the walls and floors of every room of our tiny house. After some trouble with intolerant neighbors, my family was convinced to move to Canada and it was not long before the burgeoning town of Toronto became our new home.
Unfortunately the drawing continued to become somewhat atypical and aberrant and it was impressed upon me that such images might not be suitable for public viewing. In the summer of 69, there was a valiant attempt to stop me from doodling infamous contemptible fascist dictators upside down on my stomach with a ballpoint pen. I was consoled however by the encouragement to continue penciling in faces of flamboyant cowboys such as Gene Autry, Roy Rogers, The Lone Ranger and Tonto on my toenails but was expressly forbidden to talk to them at night.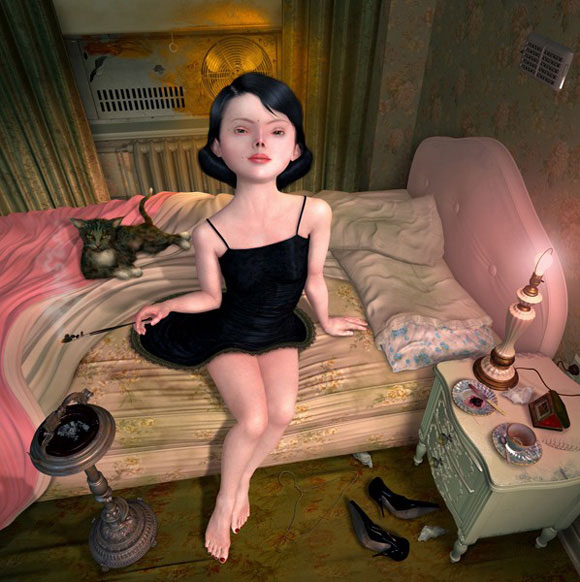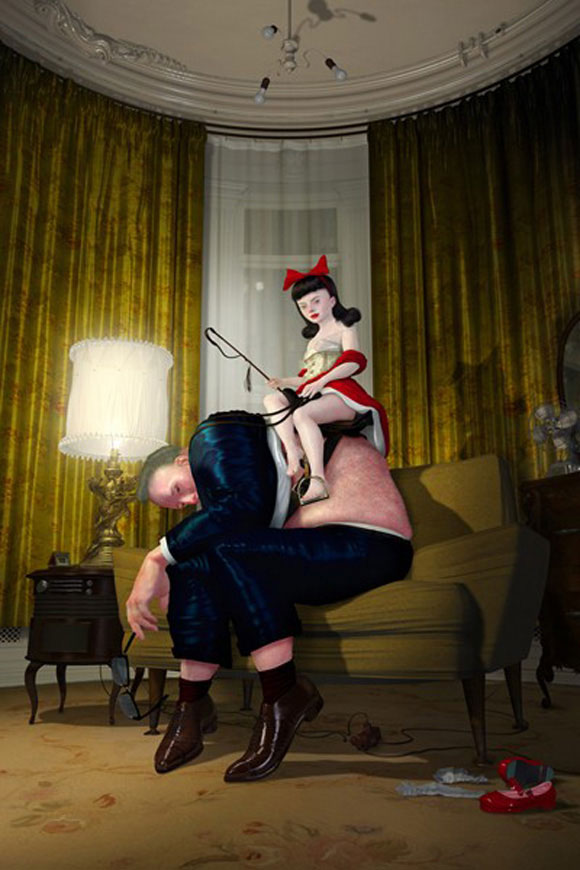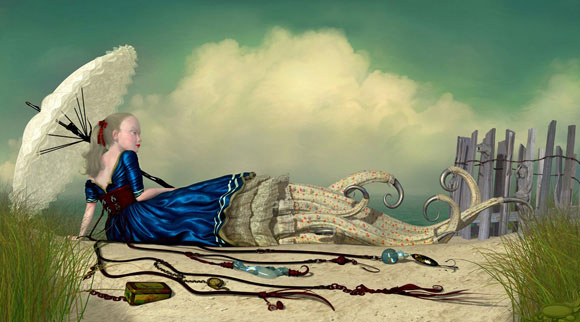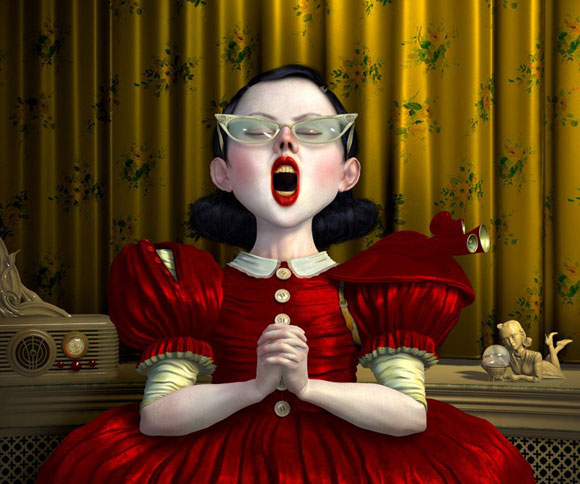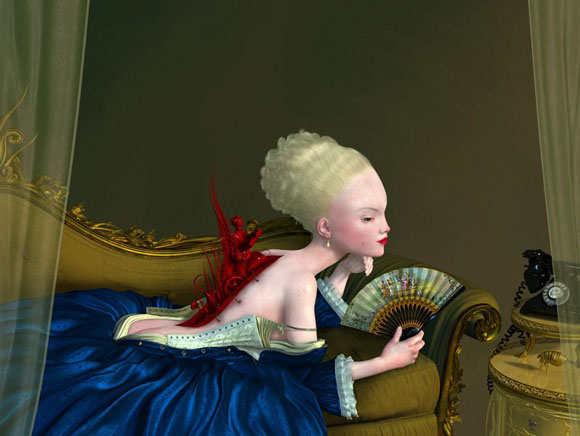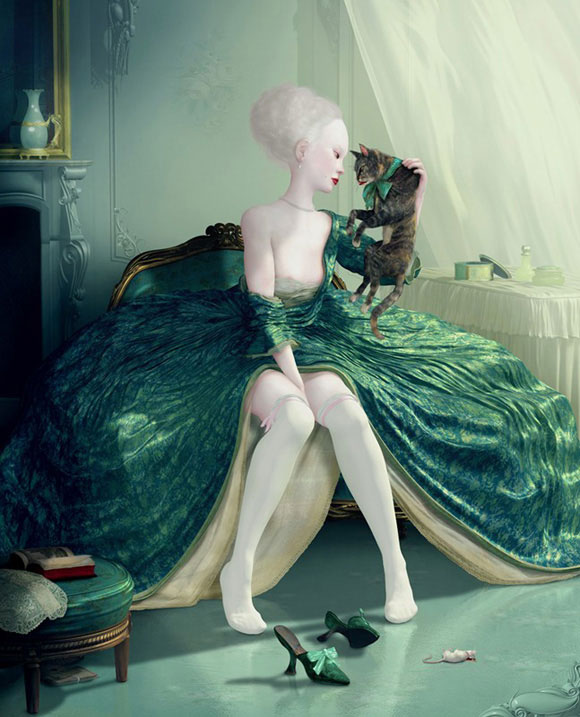 Contrasts and paradoxes were surrounding Bogdan since childhood: a wooden village house without any conveniences that drowned in snow till roof, it was situated next to a modern building of a famous bank and an awl-like TV tower. Winter frosts till -60 and dry summer heat of +40 with sandy air from Lena. House foundations on piles growing from permafrost, and ugly heat pipelines spoiling cold sky. Then St. Petersburg. Mystic inconceivable city built on an absurd spot by a controversial person with the cost of a paradox number of lives and expenses. The city that in absurd time became symbolic, isn't it a perfect refuge for Bogdan Zwir? Weird author. Who is capable of distracting anybody from idle thoughtlessness, tearing away from a swamp of indifference, evoking craving for self-study and bringing fruitless ideas to life. Showing in the absurd the creative dynamics of magic images, his real fantasy is full of them.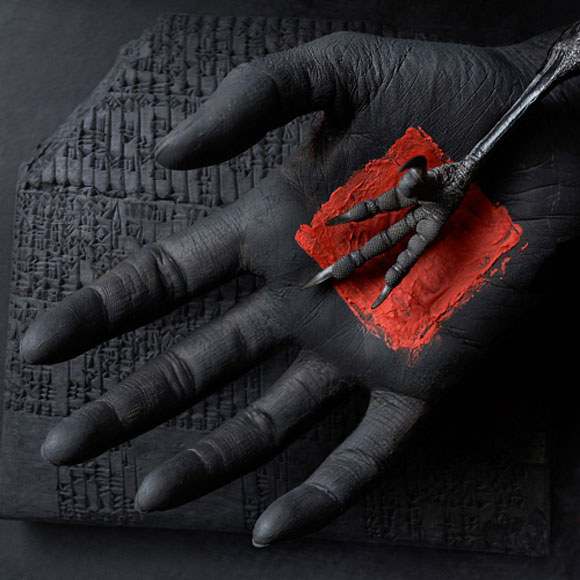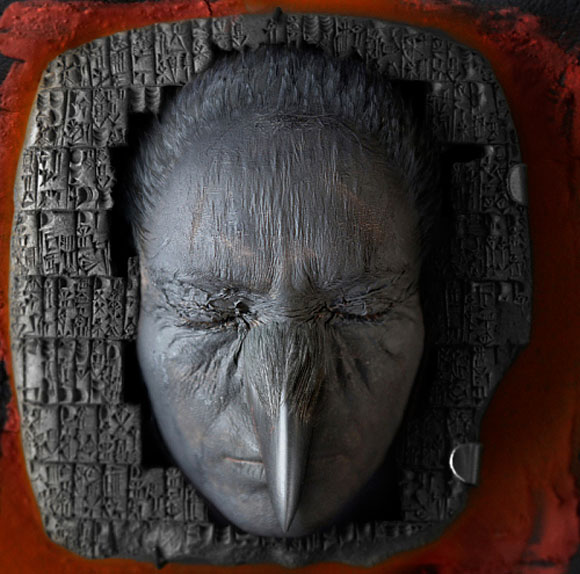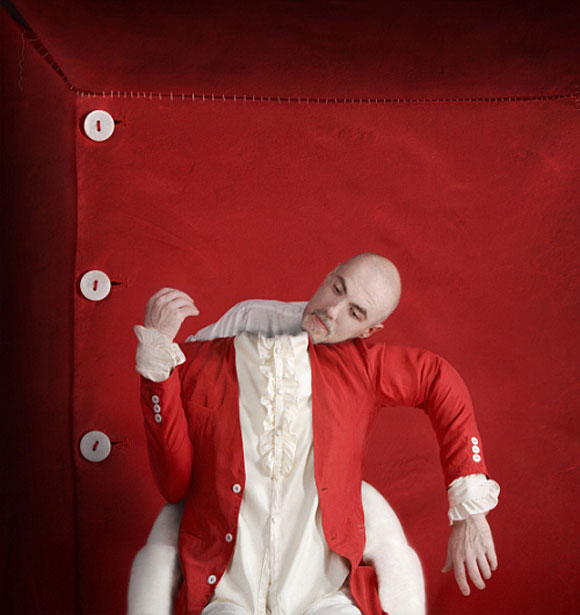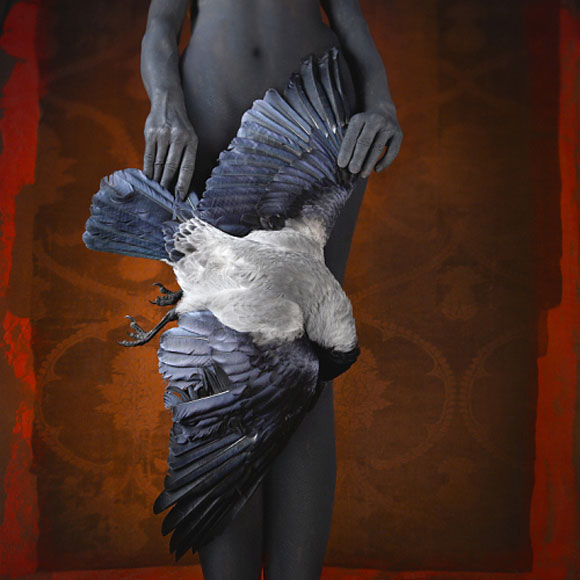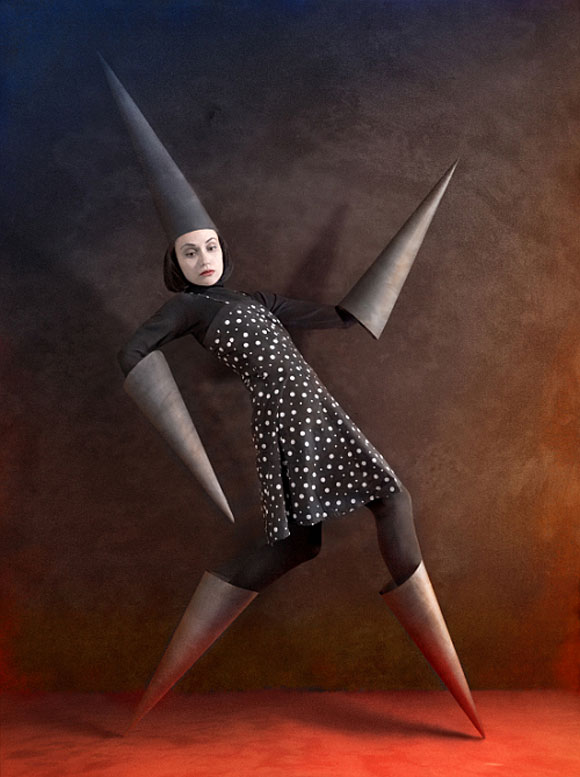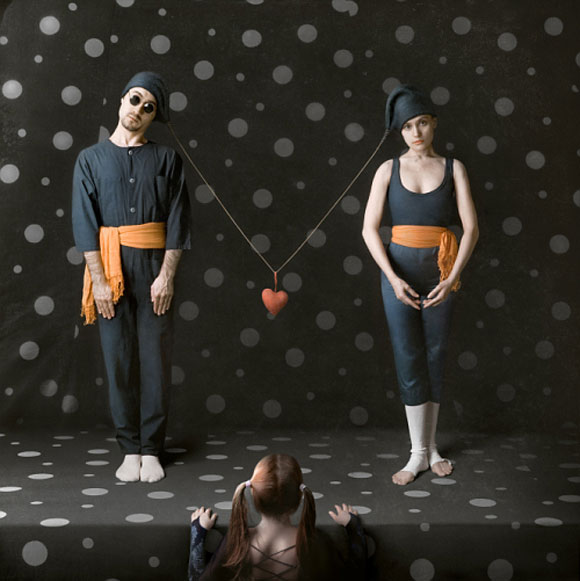 Meats Meier is currently a freelance illustrator and animator living in Downtown Los Angeles, California. He taught the first ever ZBrush course at the Gnomon School of Visual Effects, and is the author of the very popular "Introduction to ZBrush" training DVD produced by the Gnomon Workshop. Meats is also an award-winning digital artist (including two Expose' Master awards) with over a decade of experience in a wide range of artistic fields. Meats feature film credits include "Sky Captain and the World of Tomorrow" and "Hellboy" as a technical director and compositer. He has also worked as an airbrush artist, lead artist at a video game studio (Beyond Games), and has had a successful career as an independent artist and illustrator. Meier's artwork is on the cover of numerous books, magazines, and web sites and he was honored with the prestigious "Maya Master" title by Alias at SIGGRAPH 2003. In 2006, Meats helped with the stereoscopic graphics for the cover of the TOOL album "10,000 Days" and now continues to work on animations along side Chet Zar and Camella Grace for their live touring concerts.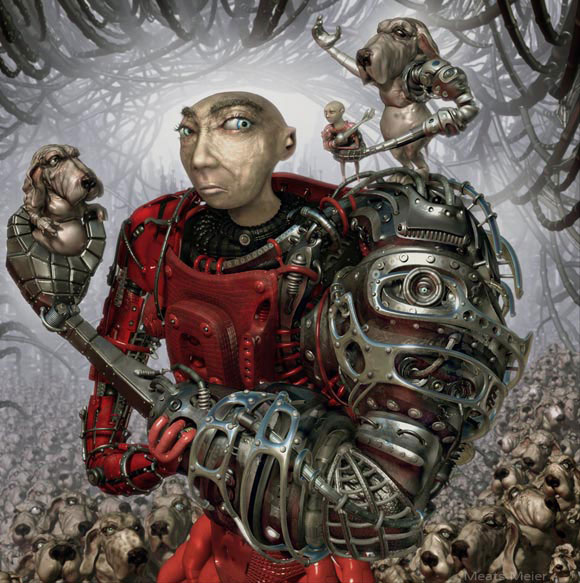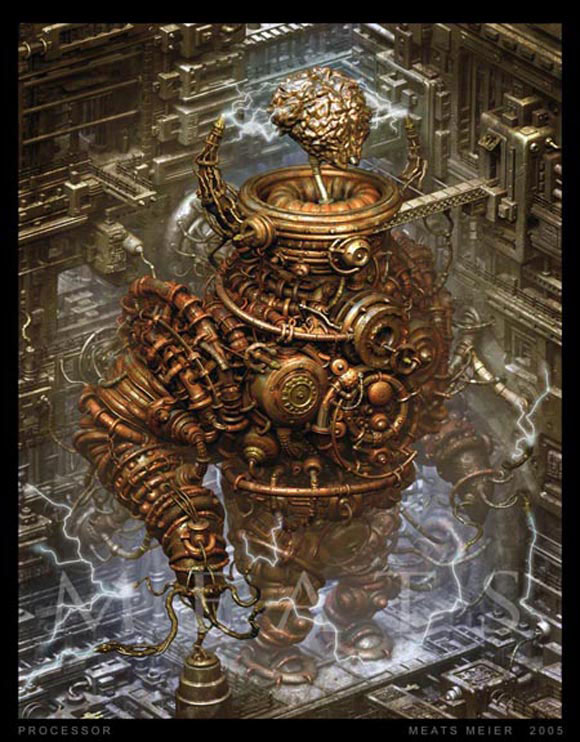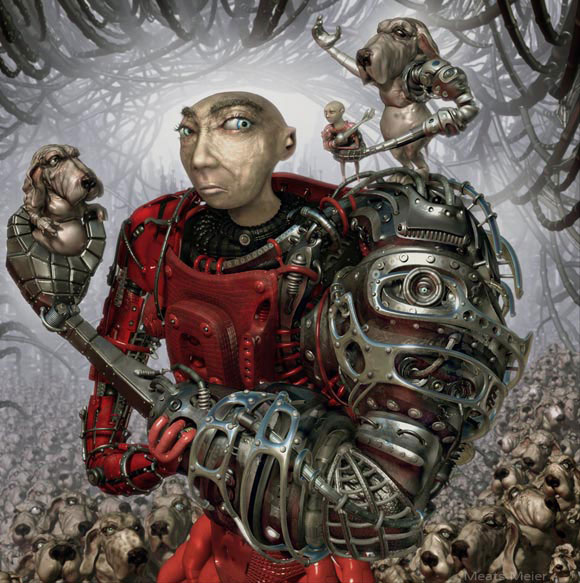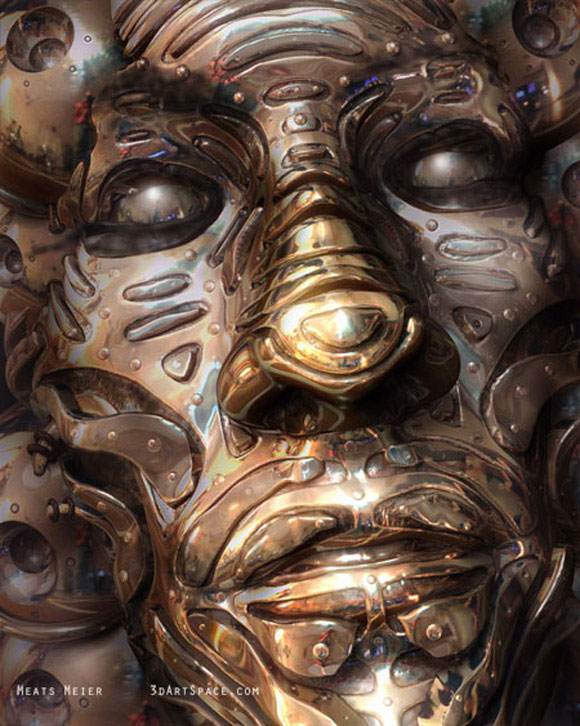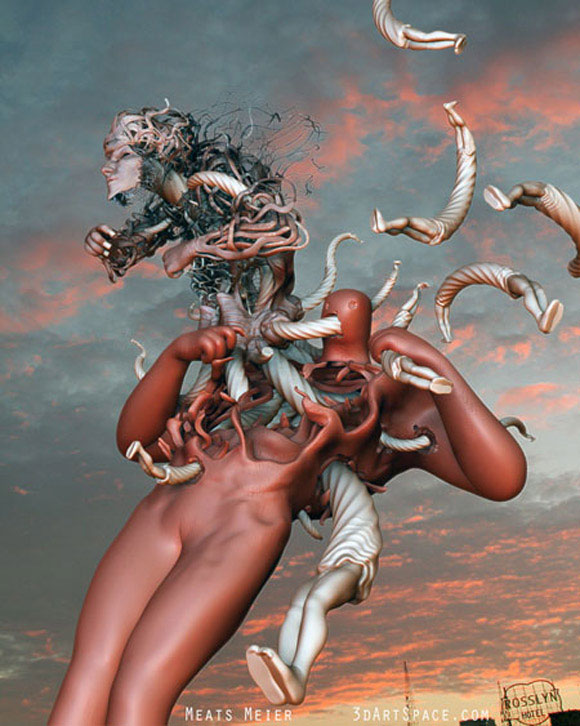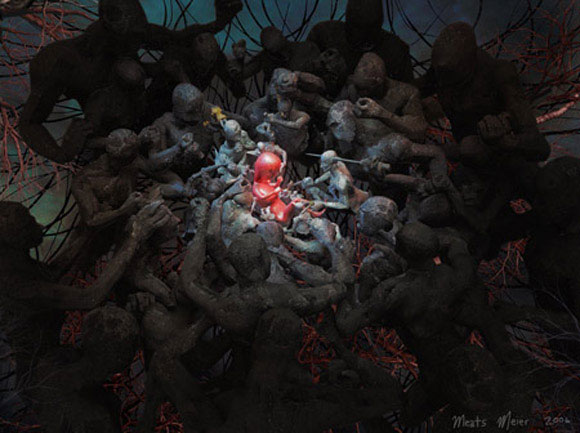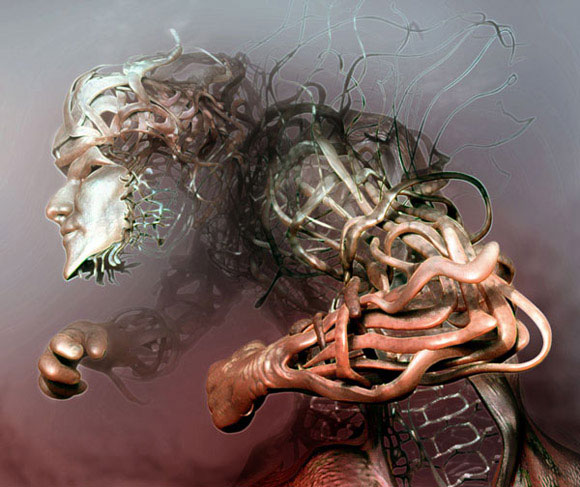 Born in 1978, Alain has followed studies related to the visual arts at the School of Fine Arts in Epinal and Metz (France). Influenced by different sorts of art, he mainly draws his inspiration from surrealism.
He works on different media, depending on the projects: digital or traditional painting, acrylic on wood or oil on canvas. For digital works, he uses traditionals drawing sketchs and working them on computer. For that he uses a Wacom intuos4 A5, photoshop CS2 and sometime Art Rage.
For some time he has been working as an independent in the field of illustration and painting, and taking part in exhibitions and other publishing projects when the opportunity arises. He is part of the "Beinart International Surreal Art Collective" and the "Art & Fact" Association. He also produces short films in stop-motion, another passion.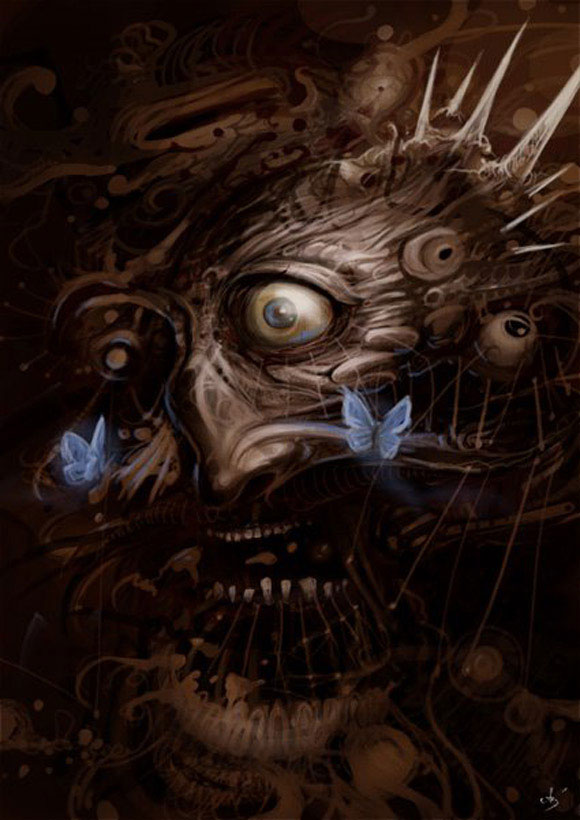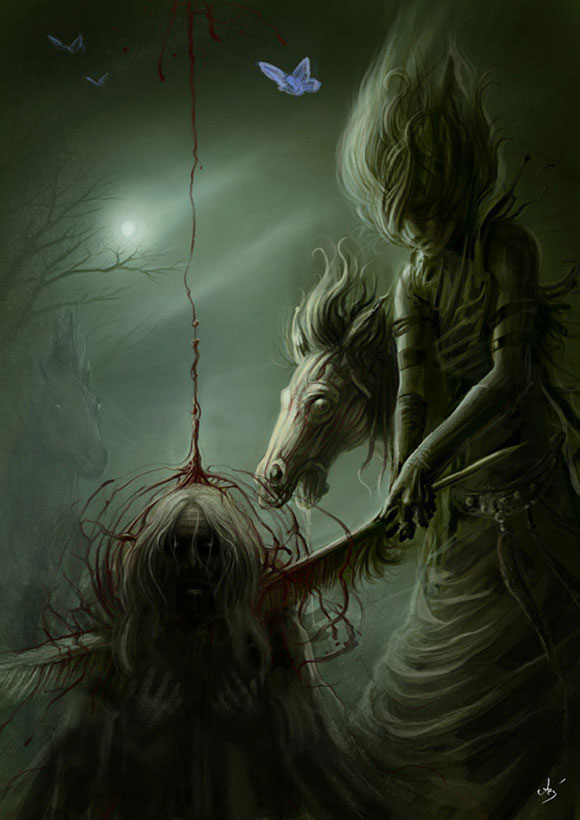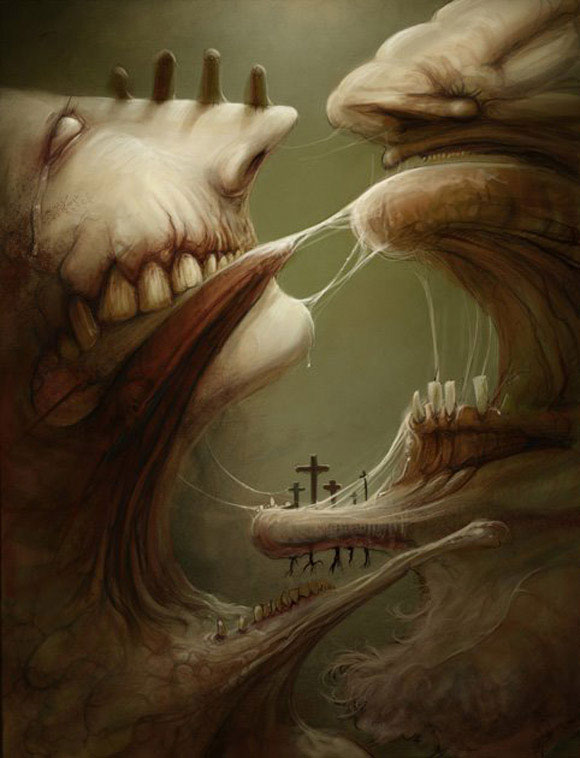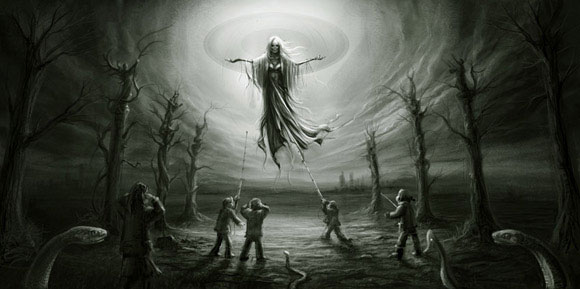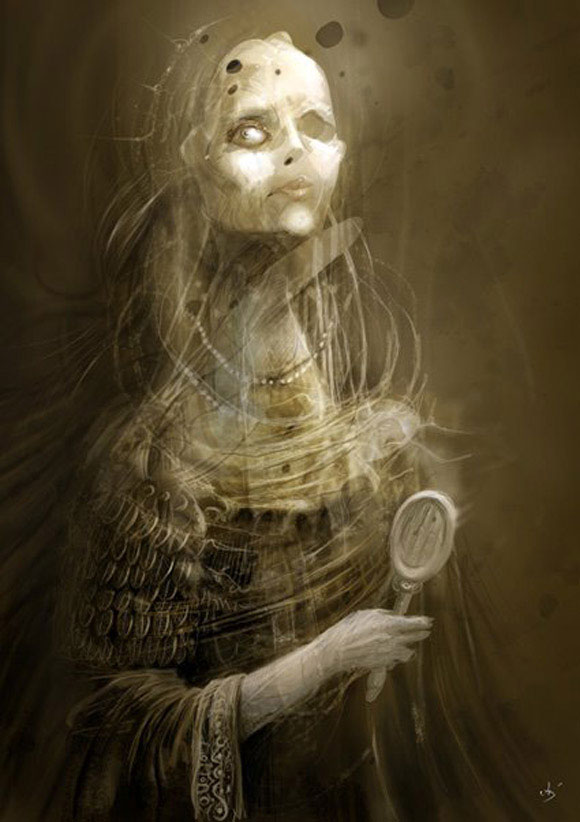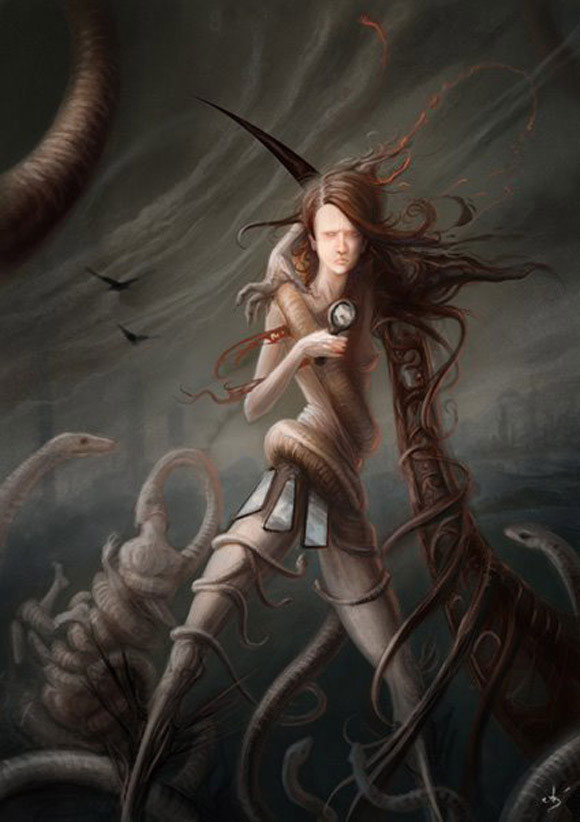 Robert Morris is an image maker. He has a bachelor's degree in illustration from the Savannah College of Art and Design and has built a world-wide reputation for over 10 years of creating stunning imagery through a variety of media ranging from traditional pen & ink and photography to design and digital compositing. Robert's artwork has been featured in galleries alongside other notable artists such as H.R. Giger and Marilyn Manson, as well as featured in club events, concerts, commercials, and feature films. Since working as a full-time freelance VFX Artist and compositor, his work has been praised in publications such as The Reel Magazine, Digit Magazine, Creativity Magazine, Cthulhu Sex Magazine, and Fangoria Magazine. Robert has worked with a range of high profile clients such as Michael Moore, Nike, FedEx, Nickelodeon, MTV, Pantene, Discovery Channel, and Sundance, as well as working on films such as 'Capitalism: A Love Story', 'Margot At The Wedding' and 'Be Cool'. Robert has also helped create visually exciting music videos for bands such as Android Lust, Kittie, and The Birthday Massacre.
Robert has a passion for subway decay, the smell of burning electricity, the taste of blue, fall evenings in the city, Jack Daniel's, soft black puppies, medical illustrations, slow foreign films, natural history museums, and certainly not least, working in his Brooklyn, NY studio.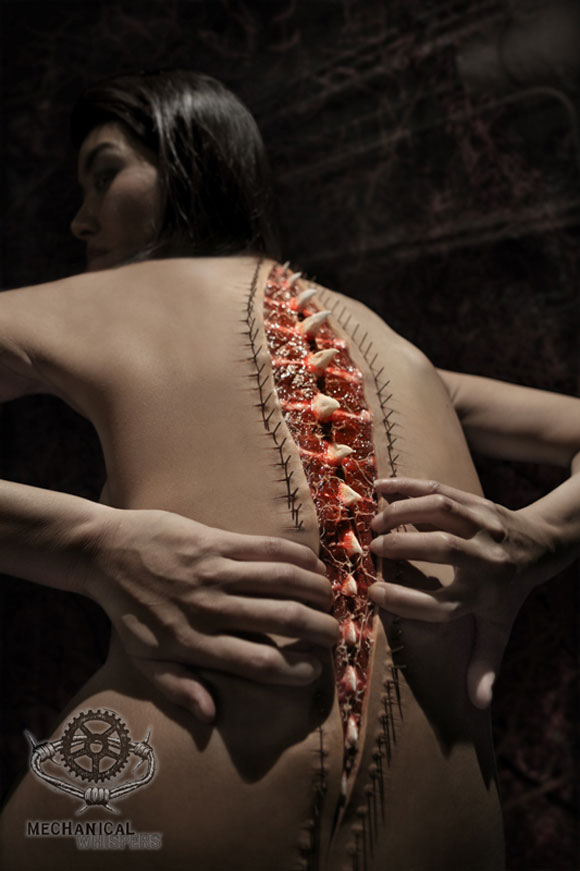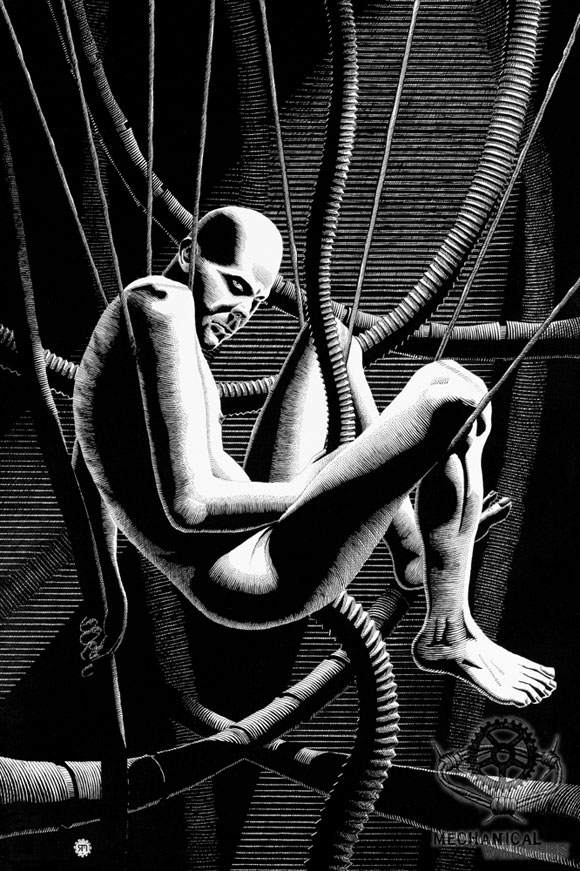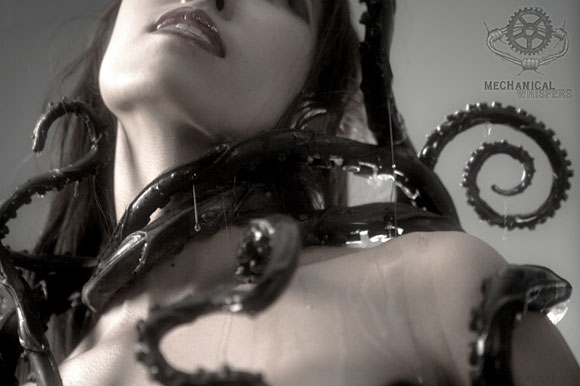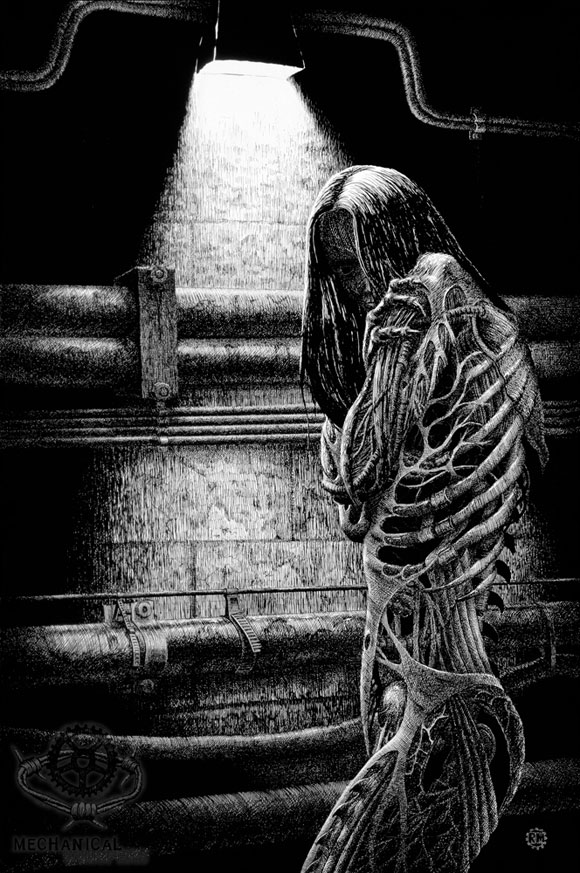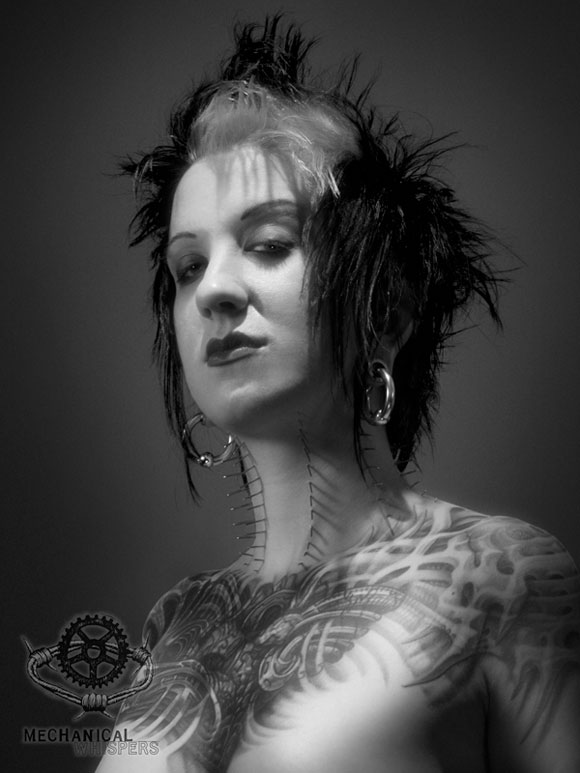 Osvaldo González is a self-taught digital artist, born in Argentina. He discovered his passion for visual arts and illustration when was 17 years old and started to work as a graphic artist in Las Flores, his hometown.
In the late 80′s he moved to Buenos Aires and worked as a graphic designer for a print house for five years. In the 90s, he worked as graphic designer and illustrator for several projects in the music industry, and for companies like MCA, Nems Enterprises, Roadrunner, Triton, BMG, Poligram, Mastertrax, Universal, Tocka Discos, and Word Entertainment.
In 2002, he began to produce his own personal artwork. Working in a melancholic vein, Osvaldo creates complex and emotional scenarios of the human condition and strange dreamlike figurations.
He has a knack for creating dark mysterious stories. His use of layering to create depth, tonal qualities, and aged effects are decisive and work together to produce otherworldly narrative moments with a delicate and detailed sense of atmosphere and transparency. In 2005 he starts to produce Mixed Media. His passion for the ancient is present in his traditional art. He uses acrylics, clay, found objects, to obtain emotional compositions. He currently resides in Miami, Florida, with his wife Mariana and his iguana Morticia.