The Optimal Solution for Your Stock Media Sales
3

The new trend of buying and selling royalty free photos online provides photographers with new opportunities to find wider market to their photography. And the more stock photo sites you join to sell your photos, the more chance to get sales for your photographs.
With the increasing number stock photos, you need to handle and manage your accounts in all these stock sites. iSyndica is a software solution that provides you with a complete solution to you online photography business. iSyndica is a software that enables you to upload photos, manage your stock photos in different sites and manage your earnings.
iSyndica supports wide range of stock photo and photo sharing sites that you can handle through iSyndica application such as fotolia, pixmac, dreamtimes, Facebook, Picasa and Flickr…etc.
Because focusing on photography should remain the first priority for the photographers, working with iSyndica is pretty easy process and does not need any training or specific knowledge. It is consists of five main sections that organize your work process:
Configure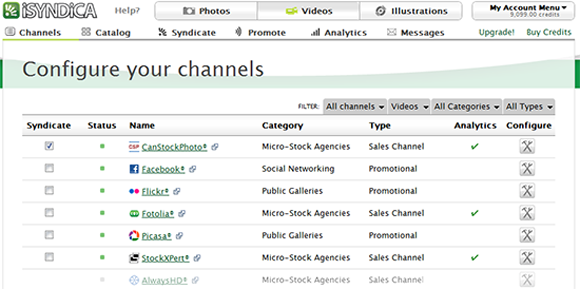 When you first use iSyndica, you need to add to configure your accounts from various networks and stock photo sites that will upload the images to it.
Upload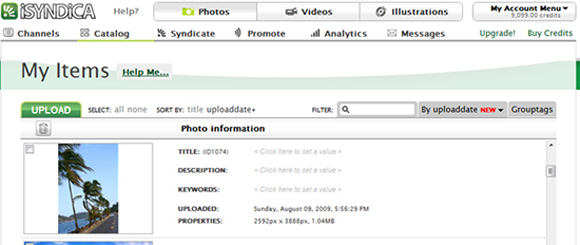 In this step, you upload your photos through a secure connection to iSyndica server and keep it their for free for 30 days till you distribute it to photo networks.
Distribute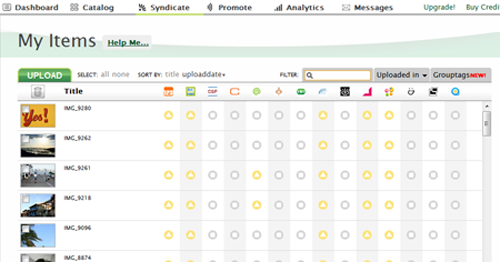 Start distributing your photos to stock photos sites to add to your profile there.
Promote

This step helps you to spread the word and promote your media among different free sites and social networks such as Faceebook, Flickr and Picasa…etc.
Track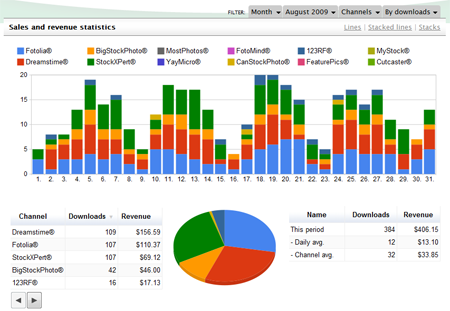 Here, you can track your earnings easily with the ability to analyze it.
iSyndica provides wide variety of pricing packages with different storage sizes, ftp options and watermark option as well. Actually, I would like to recommend iSyndica to photographers that need to upload many photos to stock photos site and keep updated with their photos sales process.