20 Creative Apple iPad Case Designs
4
The Apple iPad is made to be portable, easy to hold and use when you are away from the office, and allows you to manage your digital life while you are away from your computer. This portable concept of the iPad requires that you to protect it, using iPad cases. These cases do not only protect your iPad, but also help while you use the iPad.

For example, some iPad cases have a holder to allow you to watch movies and media on you iPad without having to hold it all the time. Also, it can include a stylus holder and paper holder for taking notes while you are using your iPad.
iPad cases vary in their design, function and the materials used in them. Some iPad cases are made from leather, others from fabric, or plastic, and there are even wooden ones. Using various materials helps to craft creative iPad cases, as we will see in today's 20 Creative Apple iPad Case Designs post. I hope you will enjoy these iPad cases and do not forget to comment with your opinion about the best case design.
Related posts:
The Booqpad agenda combines iPad 2 case and notepad into one product, making it the ideal solution to create, store, review or present the next hot idea. Keeping a pen or stylus, business cards, cash or tickets close to your iPad and written notes has never been more convenient.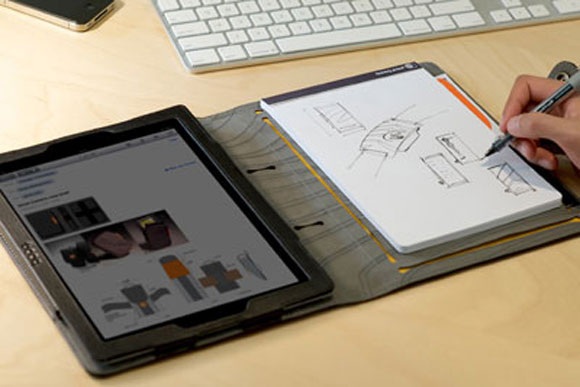 The Hanakapiai iPad 2 sleeve is made with dark brown, heavy duty 18.5 oz basketweave hemp canvas.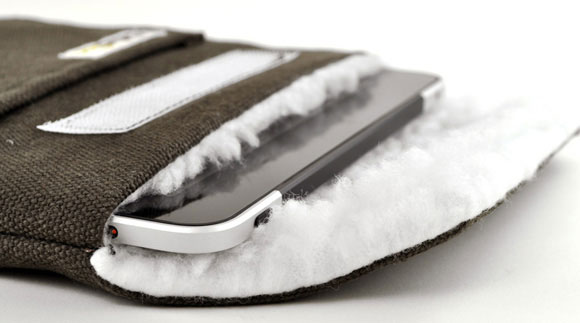 The Damask is made from soft-but-strong, heavy duty, upholstery-weight, 100% certified organic cotton. The fabric is colored with non-toxic, low-impact dyes. No formaldehyde or PBDEs here.

This is a new creation for your newest gadget! This case or sleeve will hold and protect an iPad or any device of a similar size. Outer layer is made of a herringbone wool-suiting fabric, lined with a soft brown anti-pill fleece. It has a lined flap with hook-and-loop Velcro closure to hold your iPad securely. It has an outside pocket and it comes with a handy carrying strap attached to a swivel lobster-claw clasp for your convenience.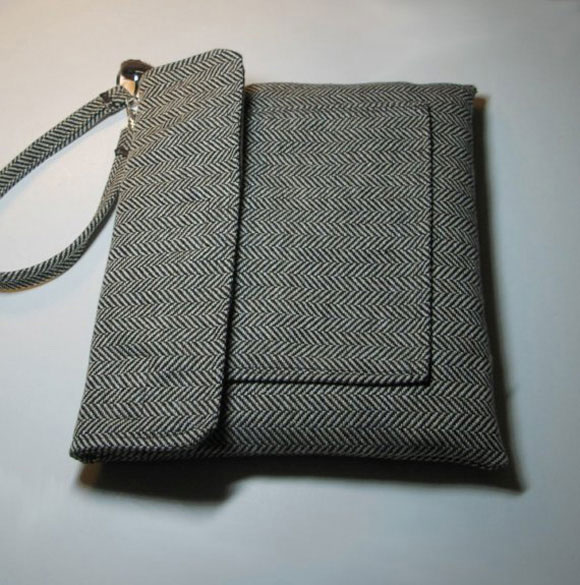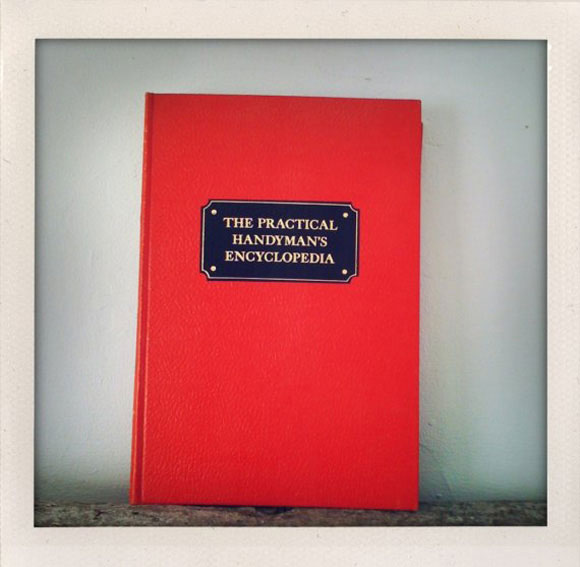 Individually crafted leather sleeves which provide comfort & style to your eReaders.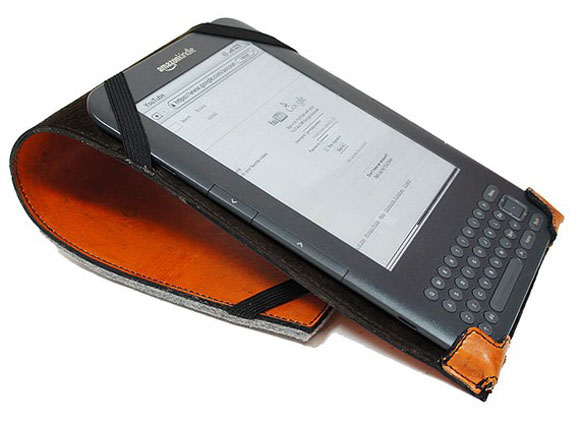 This iPad case is designed for the original iPad. It'll also fit the iPad2. It's made from stone-oiled leather, that's specially treated so that the more wear and tear that the case receives, the better it looks.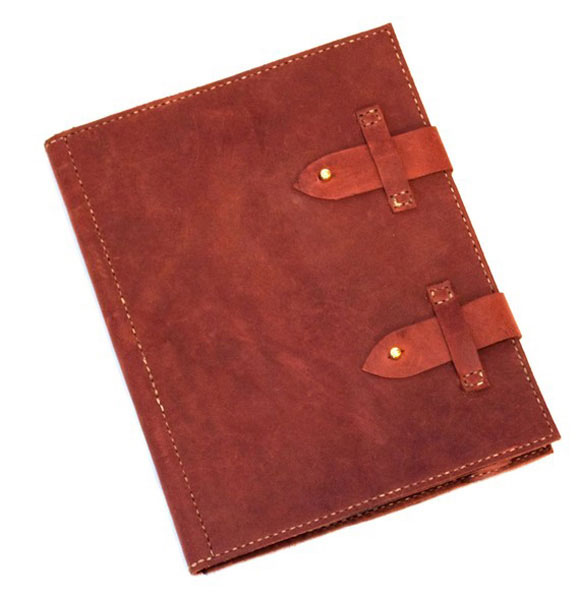 Protects Apple iPad tablet computer from dust and scrapes. Our sleeves are designed to keep you productive, portable and cute.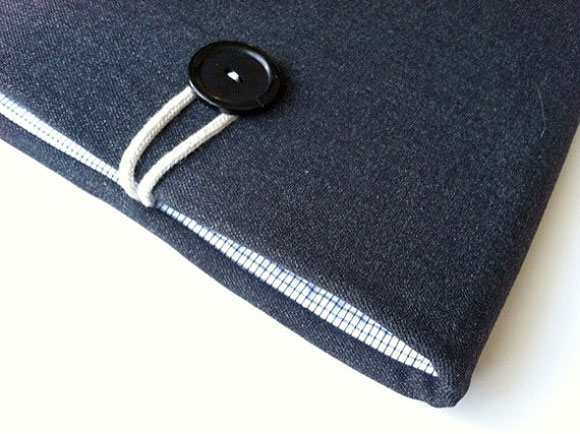 Ipad case with reinforced 10 ounce leather bottom with all the portals and openings to listen/charge/turn of an off without taking it out of the case. Amazing Deckled edge brown buffalo leather that wraps twice around the ipad and can be rolled under for height when sitting down. Buffalo leather is highly textured and spongy and incredible strong and soft to the touch. Also available in grey buffalo.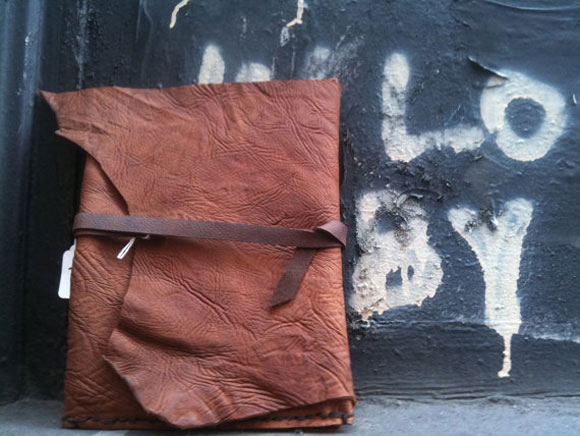 Hand cut, hand punched hand twice twice with double thread. With windows to access all portals, can also be made for Ipad 2 or for any other e-reader. This one not only comes with all the portals but with leather padding of almost shoe grade leather. Padding color may vary depending on stock. This one closes with a latch but you can choose any closure, wrap, buckle, swivel lock closure.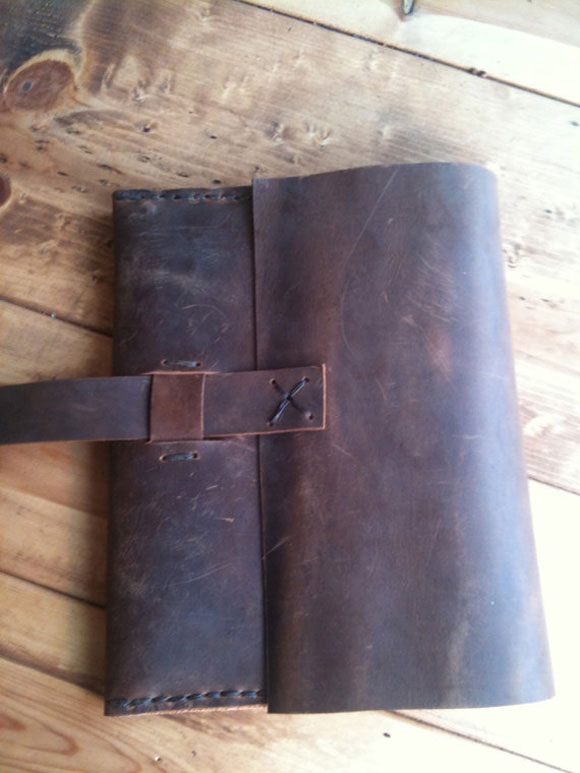 This handmade owl iPad case is made of strong and durable felt with double layers each side and padded with light foam for extra protection. This case has a secure velcro closure on the back.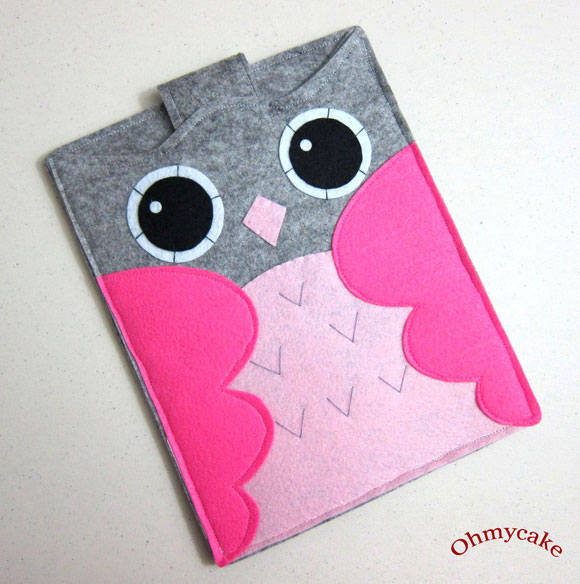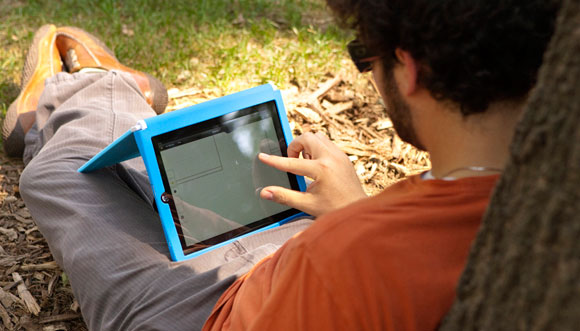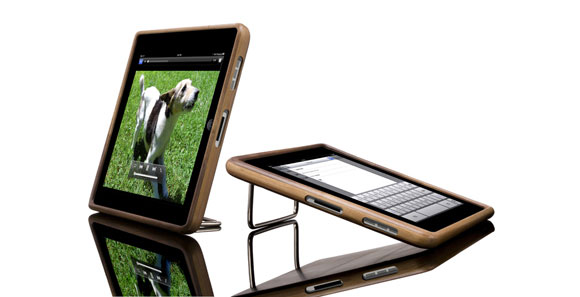 Features:
- Made of clear frosted ABS plastic with grey rubber corners and a thin grey rubber border on the back.
- Snaps in place to fit the iPad 2.
- Rubber corners protect from bumps and falls, while a rubber border grips tabletops.
- Fully functional with the Apple Smart Cover.
Dimensions:
7.5? × 9.75? (designed to fit the iPad 2)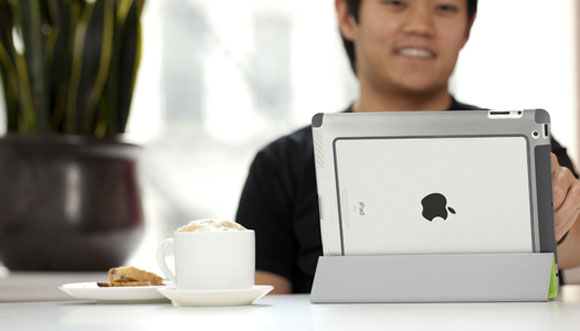 This cutting-edge case incorporates three layers of hardcore protection plus some advanced features. Stowing your iPad away for the night or for your commute? Simply remove the back polycarbonate cover and snap it over the face for ultimate touch screen protection.
The built-in stand will come in handy while trying to watch a movie or video, and creates a comfortable browsing experience. When using your iPad on a flat surface, the silicone grip pads on the bottom will hold your device securely in place. Otterbox also designed this case to accommodate the optional iPad dock accessory! Take your iPad everywhere you go knowing that it is safe from the occasional drop, bump and/or scratch.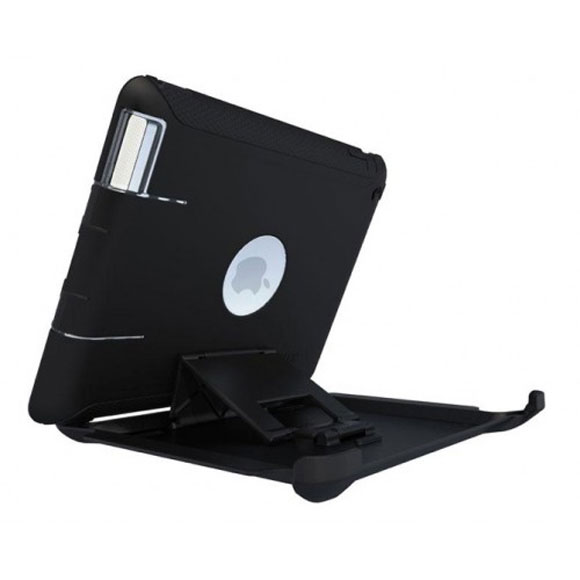 Hard Candy's signature bubble design on a deliciously styled, premium protector. The molded EVA-foam iPad 2 case features fitted rubber bumpers, keeping your iPad 2 (or iPad 1) in place while you navigate its Multi-Touch display. And the Bubble Sleeve's soft interior lining saves your iPad 2 (or iPad 1) from harsh environments.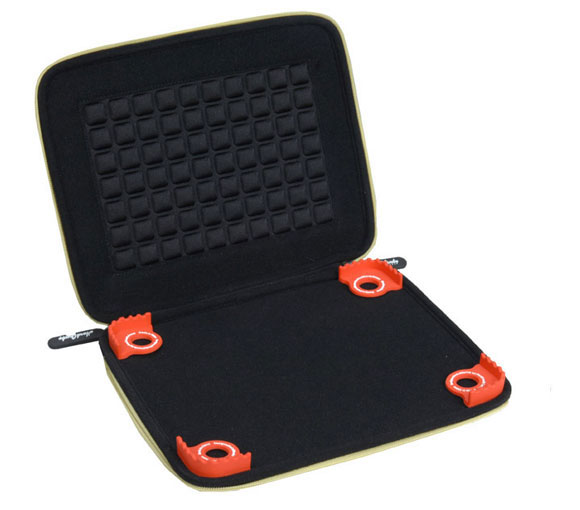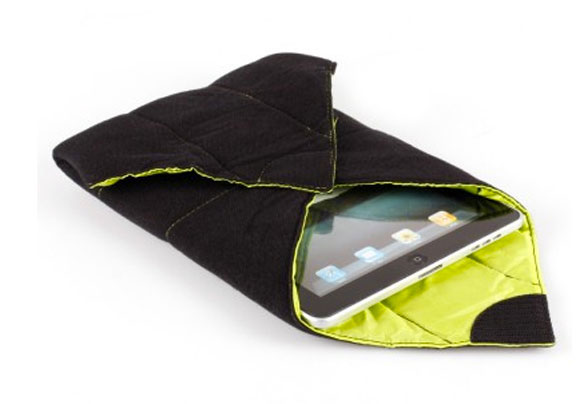 The Hard Candy Sleek Skin iPad Case is constructed of exceptionally shock-absorbing TPU rubber that won't stretch or surrender. This iPad case's integrated screen cover snaps onto the front or back of your iPad when not in use, making the Sleek Skin iPad case the most versatile choice in functional iPad protection.
Features
Form-fitting rubber iPad case – better protection, less stretching, and easier cleaning than silicone
Snap-on integrated screen enclosure
Full access to all media controls while in the iPad case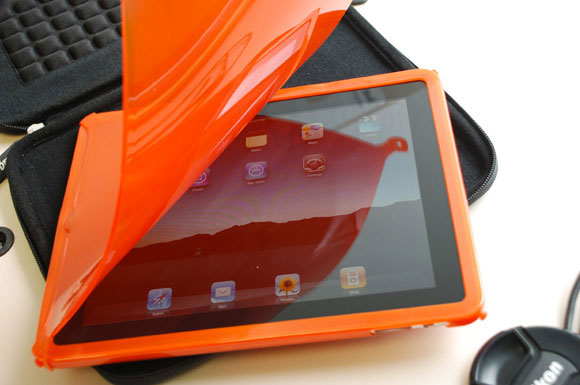 This Smarty Complete case features a polycarbonate shell with leather PU material for the front and back. The foldable front cover features the same sleep/wake functionality seen in the previous Smarty Complete line of cases.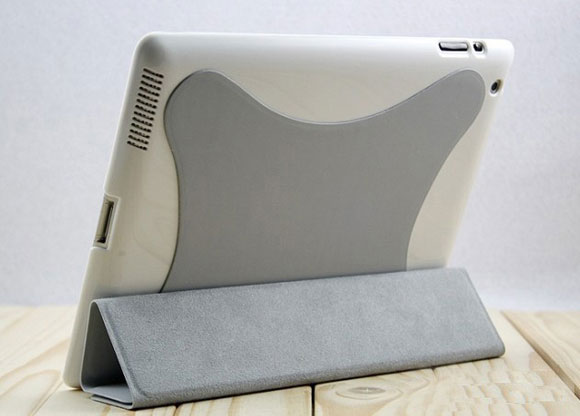 - Memory Foam for extra padded protection
- Soft thin plush interior prevents scratches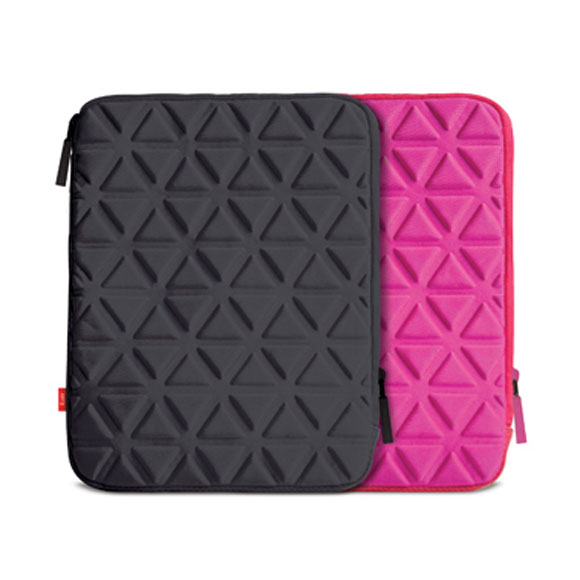 I hope you find these iPad cases creative and useful. Do not forget to check these related posts: