Amazing Graphic Design Resume Examples to Attract Employers
5
Are you looking for a creative or graphic design job? Are you moving from one job to another? A graphic design resume and a work portfolio are the most important tools that you need in your career life, and not only on the entry level, but throughout your career life in order to get a position that lives up to your professional expectations.
While many designers focus more on their printed or online work portfolio, I believe that having an up-to-date resume is even more important, because the employer will check your resume before looking at your website to learn about your experience, the tools that you use, and your previous work experience. Therefore, you need to create a very good resume to help you to make the correct impression about yourself towards a company or a client in need of your services.

Related articles:
What should a Graphic Designer Resume Include?
Companies usually receive your resume through email or Fax before determining if you are eligible for an interview or not. Thus, it is very important to arrange your resume so that it emphasizes the most important information and messages you want the employer to learn about you. In your graphic designer resume, you need to include the following:
Objective, and your target position and what you expect from it.
Name and contact information such as your email, phone number, and address.
Your portfolio website link, to showcase your work samples to the client. You can find more tips about building your portfolio here.
Work experience, and previous clients you worked with and places you worked. For each work experience item, add the duration and the tasks you performed while working in that position.
Technical experience, the tools that you use in your design work.
Education, this can include the schools, universities, degrees, and courses you attended.
Activities, the conferences and workshops you have attended and participated in.
How to Format Your Resume?
There are many tools you can use to write and format your graphic design resume. While many designers use word processing applications, such as Microsoft Word and Pages to create their resume, others prefer to use more advanced applications, such as Adobe InDesign for better formatting options. There are many templates on the web for each of these tools.
Other creative minds go further and build highly creative and attractive graphic designer resumes. They use their talent and experience with design applications, such as Adobe Photoshop, Illustrator, CorelDraw, and other tools to create unusual and creative resumes that stand out from the crowd and let the employer or the client notice their talent without even reading their resume or seeing their portfolio. While these types of resumes are hard to print or send through Fax machines, they are is very helpful when sent via email and added to your web portfolio.
In the following examples, you will find amazing examples of graphic designer resume ideas from different creative artists and various styles, such as the clean style, cartoon style, vintage style, and the modern business style.
 Graphic Design Resume Examples
Rianbowgirl Resume by RianGonzales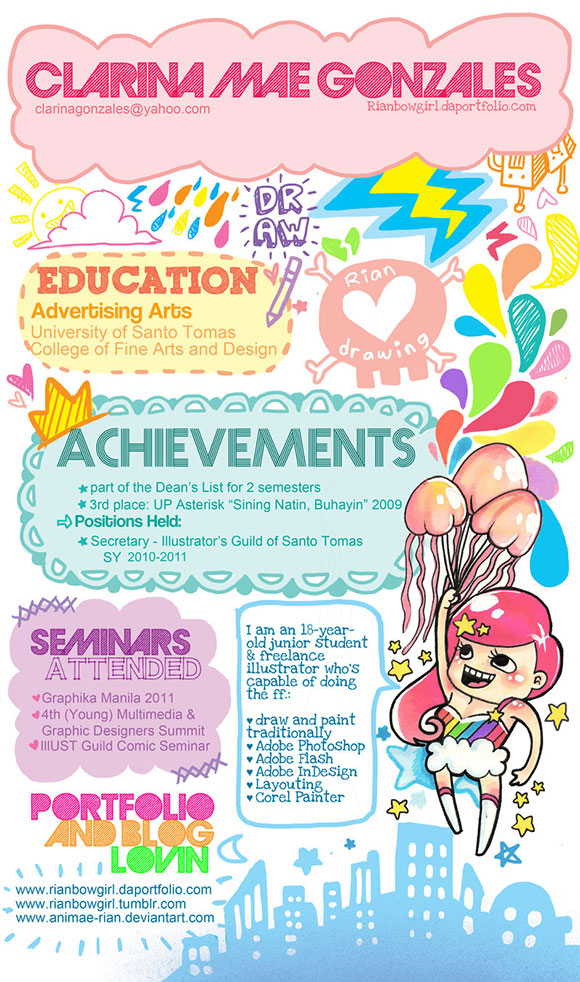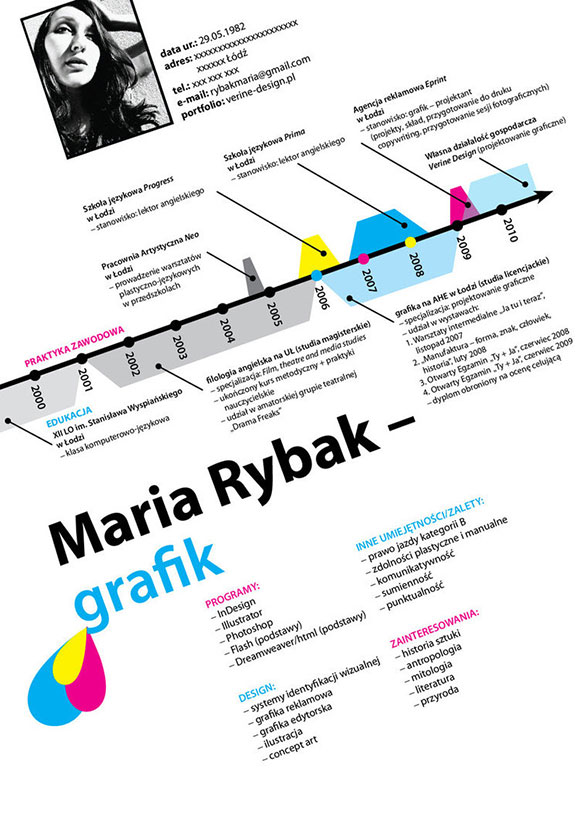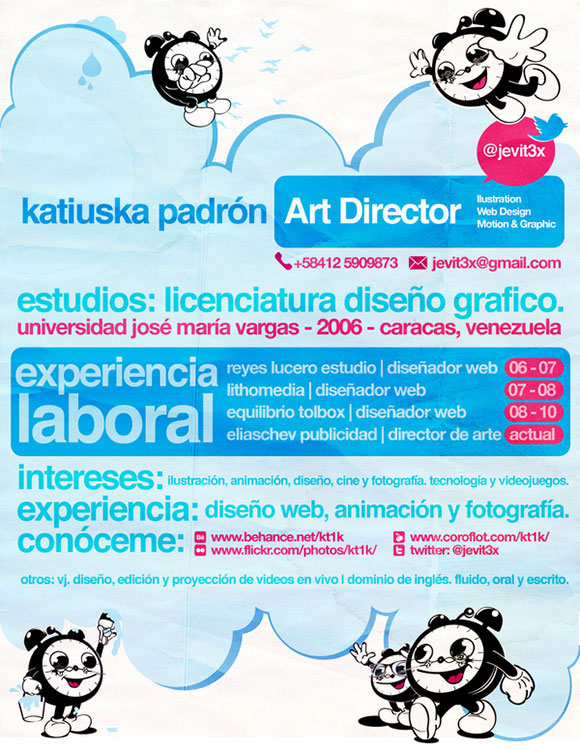 Graphic Design Resume by Jane Gardner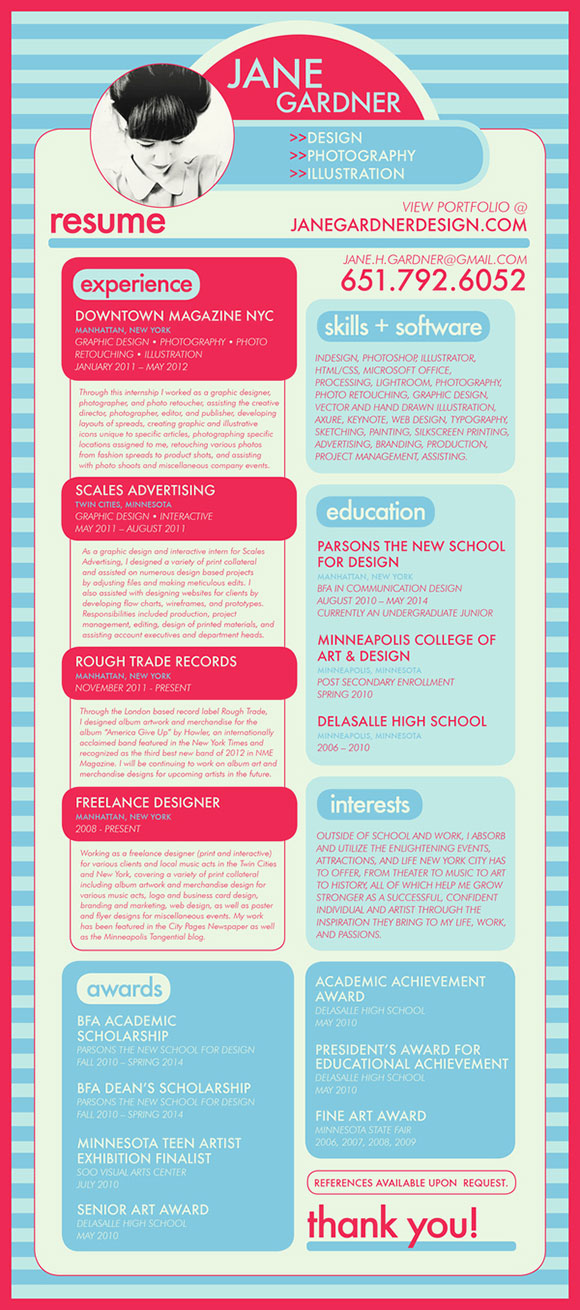 Facebook Resume by Callison Neo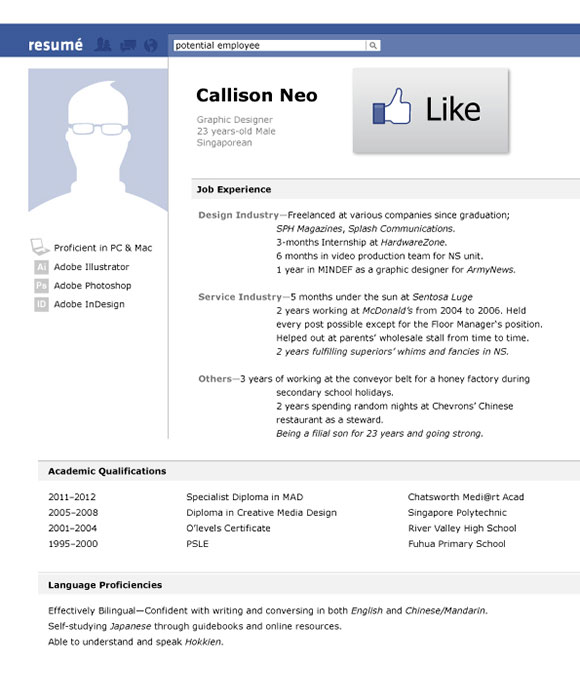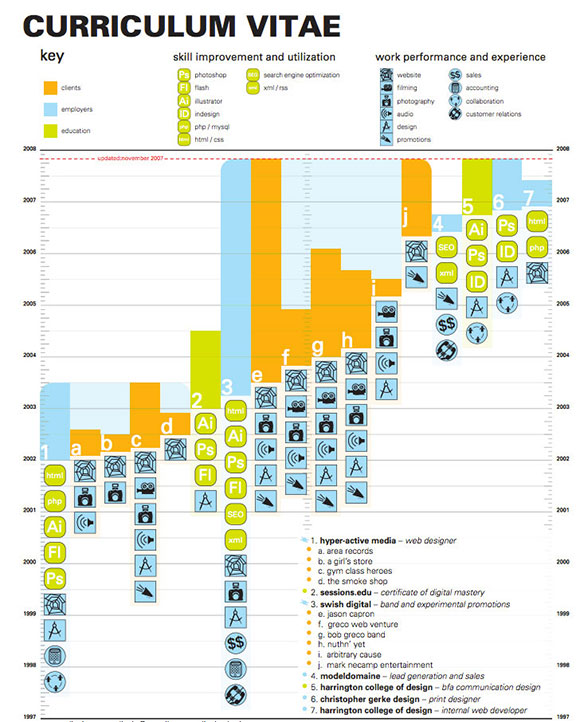 Nice Resume by Exeivier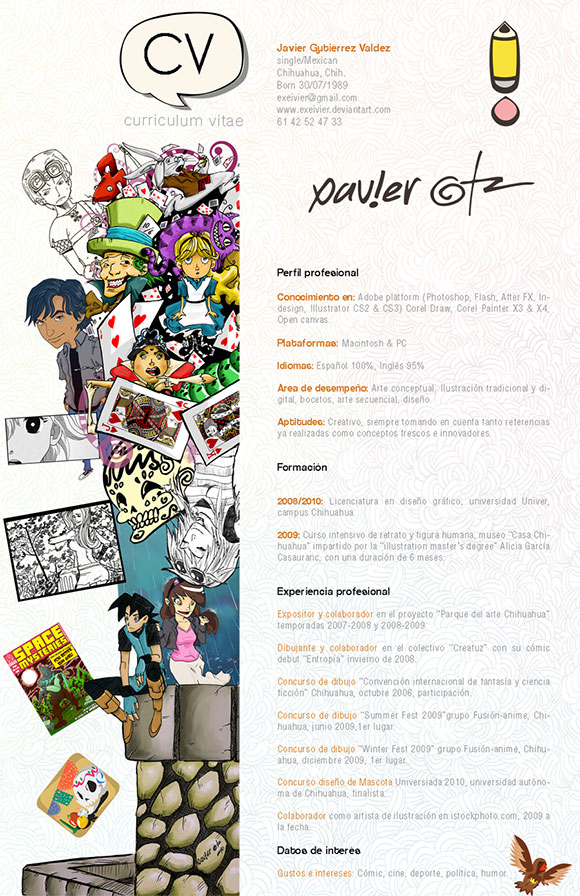 My Design Resume by ChuckDLay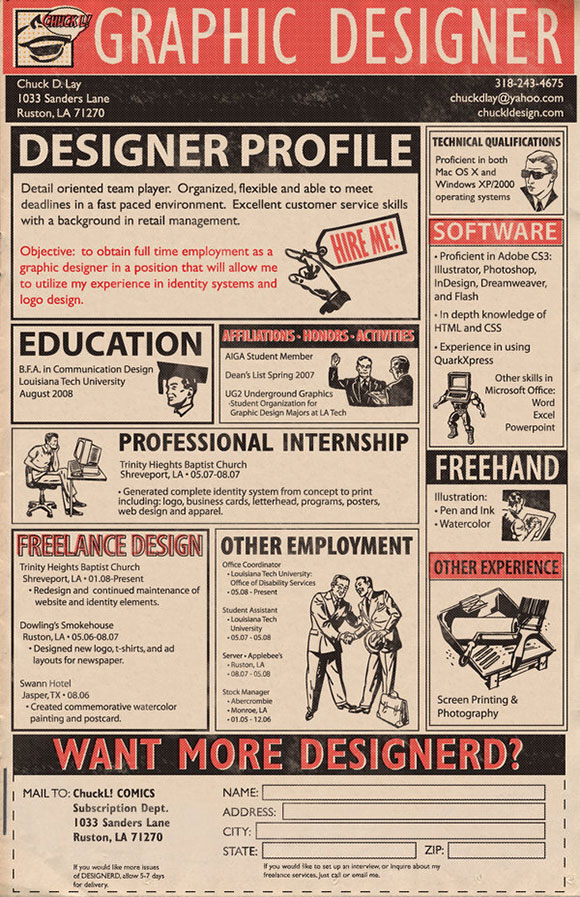 Resume: Infographic by Mohdsyukri83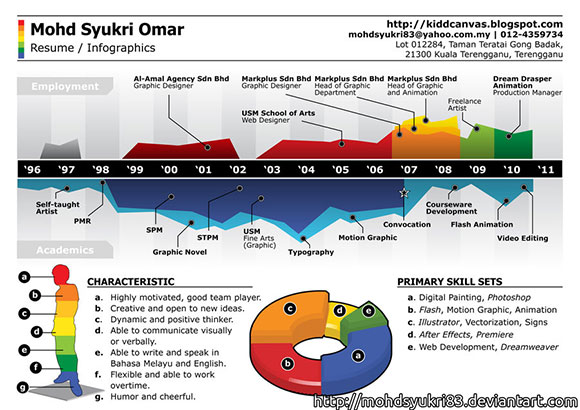 Personal Resume 2010  by Heeeeman