Social Networking Apps You Must have on Your Mobile
6
Social networking apps become part of our daily life and essential method to get connected with friends, colleagues and even business connections. Furthermore, social networking sites such as Facebook, Twitter and LinkedIn are our main methods to share information interest, news , photos and video.
Before continuing reading this post, did you already join our Twitter and subscribe to our RSS feed? If not, rush and join us now to receive updates of new posts and free resources.
With this increasing popularity of the social networks apps and the mobile devices applications, both technology trends meet in one point where you can connect to your favorite social network through your mobile. While social networks involved in our daily life and actions, many people would like to stay connected with their friends even when they are away from their computers. The rapidly growing mobile technology and fast wireless connection provide us with the best suitable device to get connected to our social networks. However, a lot of mobile applications have been developed to allow you to access your social network easily from your mobile. These applications lets you connect to social network content using a standalone application without the need to access it from mobile web browsers.
Below is a collection of the social network apps for mobile that allow you to connect to your social site such as Facebook, LinkedIn, Twitter and Myspace. Along with each application its features and the devices that support it.
Facebook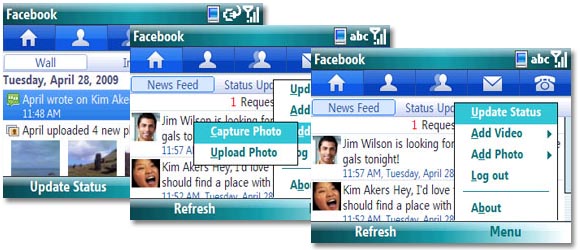 Keep up with the latest news and posts with Facebook on your phone. Now, your status updates can be up-to-the moment accounts of what you're doing. Photos and videos are about as close to live-action as you can get. Show your friends what you're up to, while you're out and about. Facebook for windows mobiles is one of the commonly used social networking apps as it includes the following features:
• Send messages to any of the people in your Friends list.
• Take pictures and videos on your phone then, upload them right to Facebook.
• Send messages or call people in your Friends list.
• Manage your profile and post anytime, anywhere.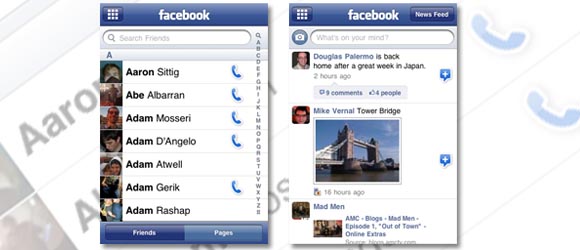 Facebook for iPhone is one of the social networking apps that makes it easy to stay connected and share information with friends. Use your iPhone to start a conversation with Facebook Chat, check your friends' latest photos and status update, look up a phone number, or upload your own mobile photos to Facebook while on the go.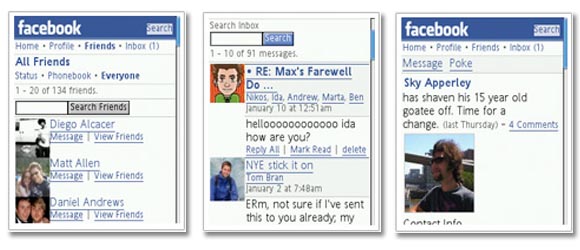 Get all the Facebook features on your mobile using Facebook Mobile Java social networking application that supports wide range of mobile devices. You can list the number of the supported devices and download it for free here.
Linkedin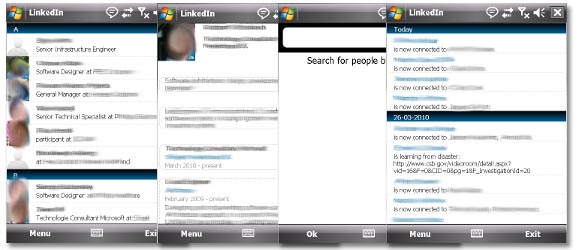 LinkedIn for Windows Mobile is one of the social networking apps that brings your LinkedIn account to your Window Mobile powered phone. See networkupdates / connections / profile etc.
LinkedIn for Windows mobile include the following features:
Network updates
See your profile.
Browse your own connections.
See the profile of your connections.
Search for people by name.
Update your own status.
Invitations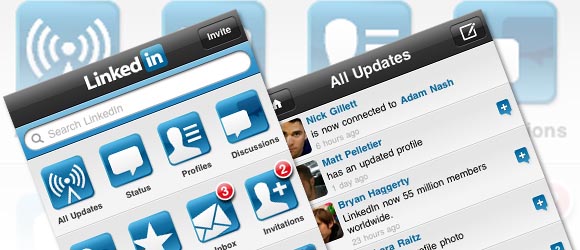 LinkedIn for iPhone puts your professional network just a touch away. Walk into any interview or client meeting with the ability to look up the details and connect with over 60 million professionals worldwide. Get the latest updates and messages from your network and keep them up-to-date with your status in real-time. The new 3.1 version include the following features:
Made it easier to discover, build, and manage your Favorites list
Made it easier to understand and use 'Download All' functionality based on user feedback
Set your status directly from your profile
MySpace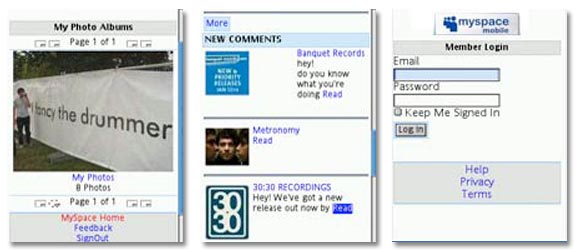 Another social networking application that gets MySpace on your mobile and never more than a click away from the site. The Myspace for mobile includes the following features:
Get activities updates from your friends.
Get activities updates from your friends.
Alert all your friends at once.
Get mobile text alerts when you receive messages, comments and friend requests.
Update your status with your phone.
Share what you're up to with
Blogs
MySpace IM
Messages
Forums
Find
here
the compatible devices with this application.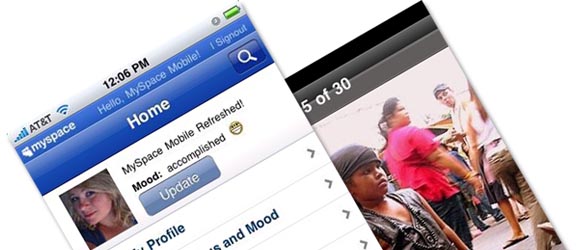 If you love MySpace, you're really going to love MySpace Mobile for iPhone as one of the social networking apps for iPhones. Simply download the free application to stay connected with your friends… anytime, anyplace!
Twitter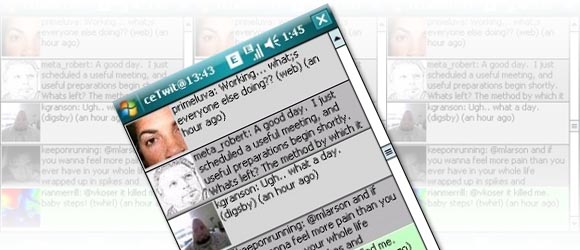 ceTwit is a windows mobile twitter client written in c# leveraging the .net compact framework, and includes the following features:
Timeline display (merged and filtered)
Account storage
Status Updates
Direct Messages
Click to reply
Automated Refresh
Smartphone support
Avatars in timeline
Local caching of avatars
Squeezer support
Relative Timestamps
Follow/Unfollow
Twitpic support
ping.fm support
timeline updates while device is sleeping
audible/vibrate alerts
retweet
favorite
delete
System Requirements:
Tested on windows mobile 6 on an HTC TyTN II (AT&T 8525) and a Samsung Blackjack. I have tried to make it smartphone friendly.
Tweet with your mobile phone, follow your favorite people, and search real time trends.  Check the supported devices here.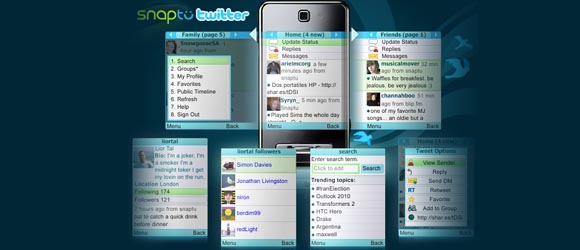 Snaptu's renowned Twitter application is a fully featured, fast and intuitive mobile service that has a large, vibrant and growing community of users. And it includes the following features:
Main options – Update status, @Replies (mentions), direct messages, Public Timeline, Favorites
Tweet options – View sender, view other mentioned tweeters, reply, send direct message, retweet, add to favorites, add to group, open URL, see attached picture
Groups – Create customized groups, assign users to any group
Search – Recent searches, trending topics on Twitter
View user profile – Bio & location, Following, Followers, user tweet stream, send reply, send direct message, follow or remove, block
Navigation – Use right & left keys to navigate between home screen and customized group tabs, Click * key to open group dialog for any screen, Click on any tweet for Tweet options dialog, Use menu for additional options
Check the supported devices here.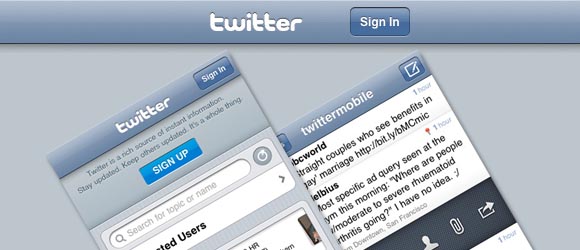 Discover what's happening right now, anywhere in the world with the official Twitter for iPhone app.
Realtime search, Top Tweets, trending topics and maps show whats happening now everywhere and nearby.
I hope you enjoy the above social networking apps and if you have other useful social networking tools or application, share it with us in the comment below.