45 Useful Signature and Handwriting Fonts
23
Signature fonts style is one of the important fonts. Despite of the computer ability to create enormous number of fonts. Many designers are looking for the style of handwriting fonts or signature fonts and the random letter arrangement. Handwriting fonts let you use the computer to create handwriting style fonts that you can use in your designs, writing and signature.
The handwriting fonts and the signature fonts are similar to other casual fonts, it suites simple content such as headlines, tags and signature. It is not suitable for the long text and large paragraphs as it is not easy to read and do not meet with the other fonts standards. In this collection, I would like to share with you 45 free download handwriting fonts for both Mac and Windows that can be used in casual designs, headers and signature. These fonts have different random styles and sizes to find the best font to use in your design.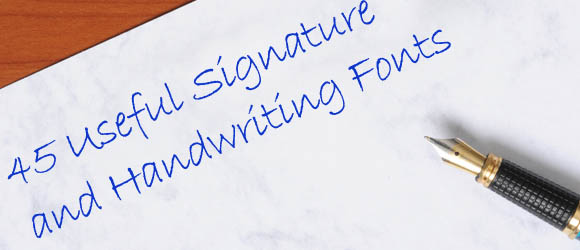 These handwriting fonts are available for either personal use or commercial use, you need to click the link associated with each font preview to check the font license and download it for your Windows or Mac computers. You can also use the preview text feature in the font page to check how the font looks using your custom text.
Related posts:













































I hope you enjoyed the above collection of signature and handwriting fonts and find it useful in your daily use. Do not forget to check the below for more showcases of handwriting and other fonts that you can use in your design. Share with us your comments and ideas about these fonts and if you think it can be helpful in your real-world design projects.