Fresh Adobe Illustrator Tutorials
3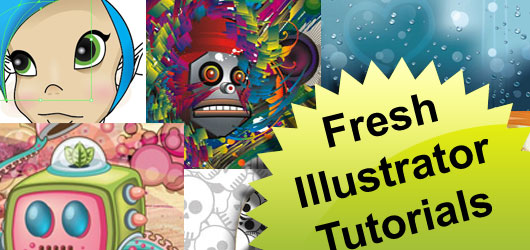 It is a long time since I shared with you Illustrator tutorials and vector tutorials. So, it is the time again for those cool Adobe Illustrator tips and tricks. This Illustrator tutorials collection includes how to create brushes in Illustrator, how to create vector background, text effect and more.
If you like these tutorials you can view more vector tutorials and tips and tricks in the links below:

There are 4 types of brushes that you can create in Illustrator. (Calligraphic, Art, Scatter, and Pattern) we will be showing you how to make an Art Brush, and you can experiment with the other brush types in the same fashion, the only differences are settings, and how the brushes act when applied.

Creating a cartoon or human-like caricature is a fun and rewarding project to do in Illustrator. Not only that, but if you're pretty good with the pen tool, it doesn't take very long. In this tutorial we will be creating an elf.

Follow this Adobe Illustrator tutorial to create a range of simple vector objects based around the theme of a designer's lifestyle, then tile them together into a cool looking repeating pattern. The creation of objects based on Illustrator's basic shapes makes for a great tutorial for beginners while resulting in an awesome outcome which can be put to use in a range of design projects.

In this tutorial I will show you how to make a cool colorful text effect using a vector image. This tutorial will focus on showing you the technique,couse once you know the technique you can explore and experiment it further to suit a type effect or a project that you're making. Apart from the text effect.

Are you still using the traditional 2D graph for your reports and presentations? This tutorial shows you how to create 3D graphs with Illustrator CS2 at ease.

This tutorial shows you how to make hi-tech style abstract background with Illustrator Blend Tool. Very cool and simple!

Using the Symbolism Tools, plus a bit of Gradient Mesh, learn to make a realistic window covered with raindrops. This is an advanced tutorial that assumes a fair amount of Illustrator experience, but everyone should be able to follow along. It can be done with earlier versions of Illustrator, but takes full advantage of newer features in CS4.

This brush is for use with Adobe Illustrator CS.This brush is good for using for hair (and eyebrows) as well as line art.

"An ambigram is a typographical design or artform that may be read as one or more words not only in its form as presented, but also from another viewpoint, direction, or orientation. The words readable in the other viewpoint, direction or orientation may be the same or different from the original words."in this tutorial we will learn how to  Make an Ambigram in Illustrator.

This tutorial shows you how to create a stamp image with Illustrator in just 3 simple steps! This tutorial is useful for designing photo edge or album cover.

For this project it begins with the background, and we'll be bringing vector illustrations into Photoshop as Smart Objects from the outset. The great thing about working with Smart Objects is that they are instances of artwork, rather than the artwork itself.

Illustrator's built in Symbol Sprayer can be a highly useful tool for quickly creating awesome pattern graphics. Let's look at creating a few vector skull graphics, then combine them into an intricate pattern design to customise a skateboard deck.

Twist your words out of recognition to create cool and unusual illustrations, with these great tips from Amenth.

Often after approving the final label's design, clients will want to see the design mocked-up as a package. Starting with a final label design, we'll use Illustrators mesh tools to simulate a 3D package design. Let's go ahead and do that!

In this tutorial, we will learn how to create a vector Wacom tablet in Illustrator CS4 using some basic shapes, gradients, and effects. In order to follow this tutorial, you should have some prior experience with the Pen Tool and know how to manipulate preexisting points and curves.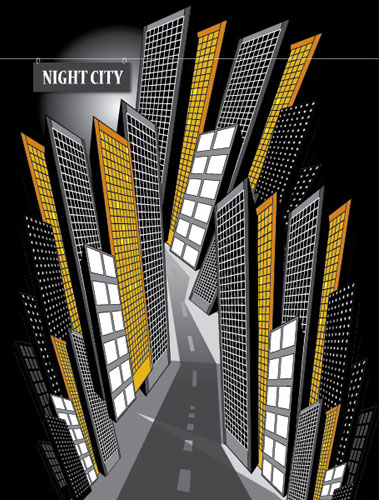 In this tutorial, we will explain how to create vector skyscrapers and how to set up a vector city with simple steps. This is a beginner tutorial and easy to follow.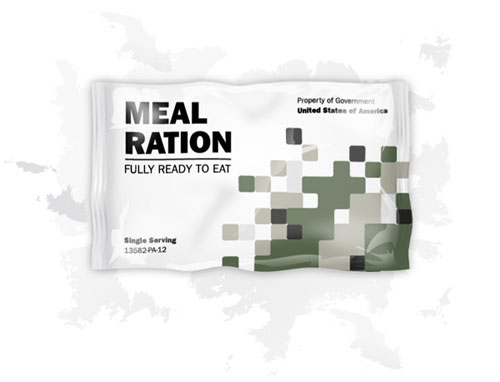 Discover how to create a shiny military themed ration package. This Adobe Illustrator tutorial is ideal for advanced users. We'll use an interesting combination of techniques to create this themed package design. Let's get started!