Tips to Create an Online Graphic Design Portfolio
3
Matias Corea, a well known designer and Chief Designer for the renowned Behance Studio, suggests that all new designers create an outstanding graphic design portfolio to showcase their work, as this brings job offers and client contacts for design managers seeking new talent.

He also states that this portfolio need not be complicated, but instead a simple framework to showcase a designer's best work. No one would know better than he. After all, he has judged contests and reviewed thousands of digital portfolios and websites looking for new talent. The following are six simple tips we have put together to help you showcase the best of your graphic work online.
Related articles:
1 – Choose from your best work
Once you have set your best work aside, step back and analyze it. Take the time to look at all of your work and choose your best work for your portfolio. While you want your graphic design portfolio to showcase the breadth of your work, you also want to showcase those pieces that identify the area you want to develop more fully. Display projects of which you are proud, and where you used the best ideas and materials.
Select at least five projects that demonstrate the type of work you are best at, but be selective. Remember, it's better to have a few stunning projects than many projects that are average.
2 – Select Eye-Catching Images
Use outstanding images that capture the viewer's attention. Once you choose the projects to include in your graphic design portfolio you need to think of how you want to present it. When setting up a digital graphic design portfolio viewers will want to know what events led you to this take on the project, so make a visual and written presentation using the initial concept, the early sketch work and the finished product.
3 – Stick to Simple Web Design
By keeping the web design simple, your graphic work will stand out. Your images and content need to be the focus, and the web design must keep from interfering. The website is the frame which holds your work so you don't want it to be flashy, colorful or take away the emphasis of the work.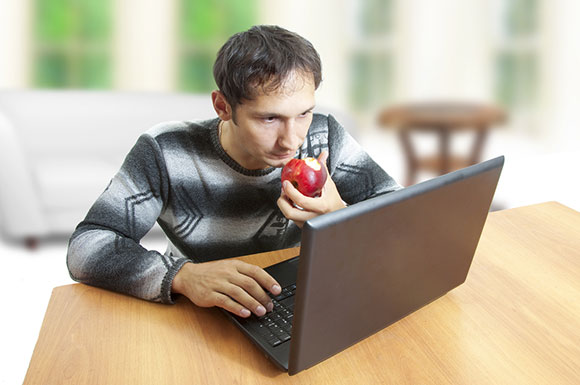 You want something that offers easy navigation and very basic sections; something that gives you a gallery and a contact page, and that's about all. Matias suggests that an outstanding graphic design portfolio offers simplicity. You only want to use one font and one color for the link state across all web pages in the site.
4 – Offer a Custom Bio Page
Be sure to make a bio page that expresses your particular point of view, or demonstrates how you attain a unique perspective or approach to your work. Tell a story with your bio, don't just list your past jobs.
5 – Add Something Different
Be sure to list awards, add a blog, and broadcast important successes in your graphic design portfolio. Invite others to comment or contact you. Be sure to add a contact form on your portfolio. Above all, don't forget the sharing buttons. Remember that social media can be a powerful tool, and it can bring you work from many other areas.
6- Update Your Portfolio Frequently
As your work progresses so should your graphic design portfolio. You need to regularly update it, adding new and better work. However, you should always analyze and showcase additions with the same focus that you placed on your initial portfolio work.
Understanding these tips can help you to buil a creative and powerful online graphic design portfolio for you and your business. Feel free to share with us your experience about your own portfolio.