20+ Free Graphic Resources Sites for Your Library
21
I remember the old days when the internet bandwidth was not as high as we got today, the web was very static these days and the ideas to use the web in work or ordinary life was limited. Now, the high bandwidth and discovering the new web trends such as cloud computing and blogging give us more capabilities to communicate and share ideas. The web becomes more like a big hard desk or big library where no one is using the old CDs library to save content.
When I was learning graphic design many years ago, it was very hard to find enough resources. Furthermore, it was expensive to get few image library or so on a CD. Things have changed alot these days, the new internet resources sharing concept brings alot of content to be free, and the blogging concept makes it easy to share content with others. As a result for this concept alot of design blogs and sites have come a life to deliver designers with massive number of daily updated content such as share tutorials and resources, unique tutorials, inspirations and ideas.
Related posts:
Graphic Mania is actually part of this trend, which makes me understand the effort and great work these sites do to deliver to you these content. However, I would like to share with you some of these great sites with all the respect to their efforts to deliver free resources to us as designers that help deliver design projects easy and fast.
It would be great if you share this post with your friends and join our Free Resources News feed to receive free tutorials and resources here.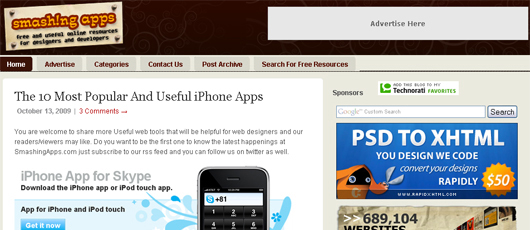 If you are searching for free resources or articles, Smashingapps will help you reach hidden resources in the web instead of spending alot of time to find a good tutorials or resource to use. Smashingapps is not for graphic resources only, but also for other web resources for every day use.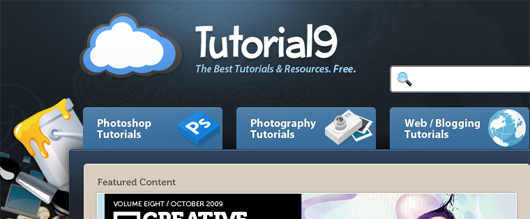 Tutorial9 is all about unique; it is a site that includes some of the best unique and amazing Photoshop, photography and web tutorials over the web. However, if you are searching for challenge or learn new tips and tricks, I would recommend this amazing resource before even trying to search on google for your needs.

Are you looking for tutorials that is made by the best designers over the web? Well selected inspiration ideas? interviews with artists who had a great influence in the design community? Then you are on the right site. Abduzeedo by Fabio Sasso provides unique and useful design and creative tutorials, resources and inspirations that that will help you enhance your skills and creativity.
Depot is another great resource for graphic design resources, web tips and tricks and practicing great tutorials and inspiration ideas. Depot includes amazing collection of the best on the web resources that is updated regulary. One of the advantages of Depot is the high quality content shared on the site that gives you more trust about the site content quality.

Tutplus is a very large network of sites that is dedicated to provide free tutorials in different design fields such as Photoshop tutorials through PSDtuts+, Vectortuts+ and Flashtuts+…etc. Each site of the mentioned sites and others cover different design tutorials topics through amazing high quality tutorials provided by great designers.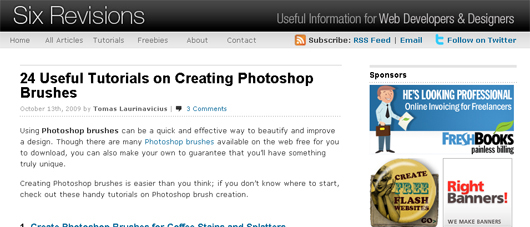 Sixrevisions is another stunning resources that includes wonderful resources and tutorial about graphic and web topics. With the simple site design and great content, you can easily reach your needs or navigate to find much more resources than you may expect.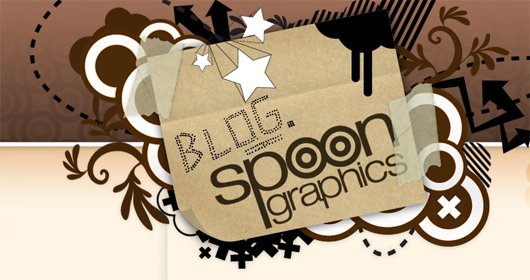 Spoongraphics is one fo the sites that is only focusing on graphic and design topics, Its topics include graphic tutorials, reources, article and more. And I am sure you will like the site design as well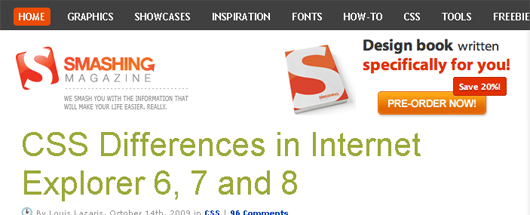 Actually, I doubt that any of you do not Smashing magazine, it has a long great hestory in sharing and providing great resources for designers and web users in the fields that most interest them. Smashing magazine provides huge number of articles and tutorials that is wrote by high experienced designers over the web. Beside the Smashing magazine forum and  job board, it provides a printed book that collect the best of the site in your hand.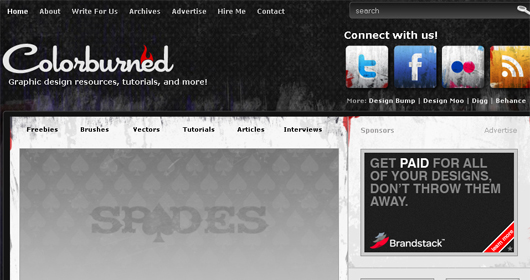 Color burned is another site that provide great content for graphic design and web design including free tutorials, shared resources and more. With the nice site design, I am sure you will enjoy the site and its content as well.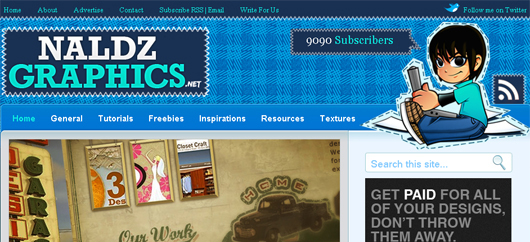 With the unqiue design and amazing content, Naldz Graphics share the best overt the web related to web and design. Naldz is another resources with great content to add to your favorite and keep updated with its great content.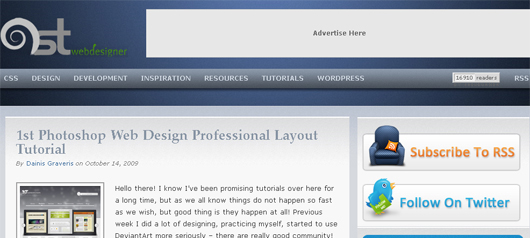 1st web is a site created by designer and for designers that is looking to learn more and know more about their interest. The site include useful posts about design, developing, CSS, wordpress, inspirations and free resources.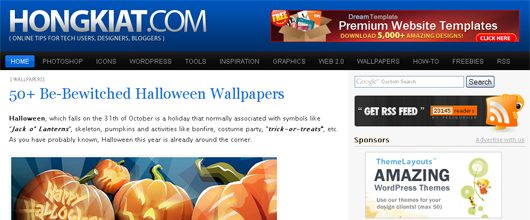 Hongkiat is one of the most famous design and web free resources site that has been for years provides interesting topics in a dailly basis. In this amazing site, you will find all what you need and further more from the best of the web that is related to design and web technology.

Another site that collects to you the best of the web in graphic design, wallpapers, CSS, icons and more. It is one of the sites that must be in your libary or you will lose alot of the great updated content.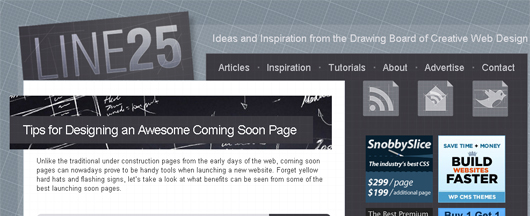 Amazing design, amazing content and amazing collection. Line 25 includes some of  the best topics over the web as well as one-of-a-kind tutorials that make the site special. Line 25 delivers what you really need as designer in different design fields including we design, digital imaging and more.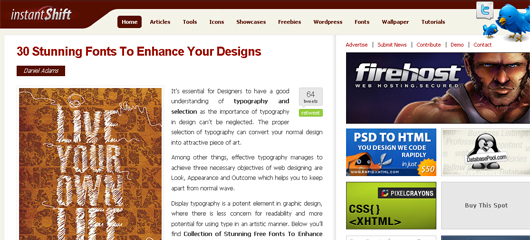 Instant Shift is another site that share and provide high quality free resources and share resources from all over the web. it is a good site to add to your library and use it in your work, learn or view daily inspirations.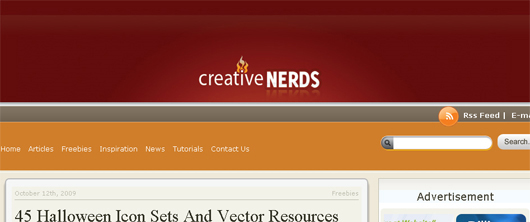 Creative Nerd provides free tutorial, share design and useful resources from different places over the web and provides news and software reviews as well. it is a good place to find more free resources and news about design and web related topics.

It has not been a long time since the launch of Speckyboy, but it is a really fast growing site that regularly add new creative content and share great content from the web and bring it all in one psot for you to save time and effort, enjoy the creativity and learn more.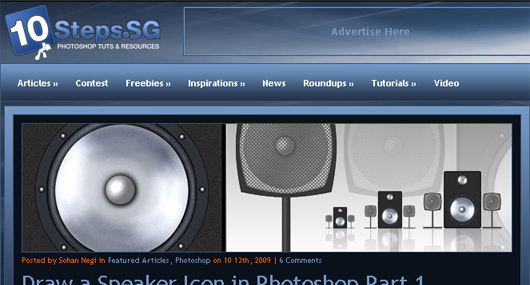 10 steps provides freebies, contest, tutorials and inspirations about Photoshop, it is a great resource to learn Photoshop or enhance your knowledge with its great content and tutorials.

I am sure that most of us know Noupe, and we lived with it on daily basis seeking for great isnpirations, tutorials and free resources, it is a well-known site that includes massive number of great content for eveyr one to share.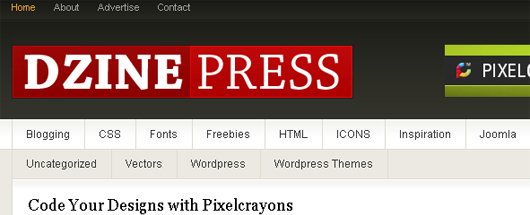 Beside the graphic great content in Dzinepress, it is more concern with open-source CMS such as Joomla and wordpress. But we can not ignore the great content about design that such as icons, fonts, Photoshop and vectors.

its is all about web design, Web design booth is more concerned with web design and web developing free resources and tutorials such as PHP, Javascript, SEO, CSS, ecommerce and more.

Actually, I am a fab of the Psdfan, it is a really great resource to learn evey thing about Photoshop and find great freebies and inspirations. Also, it includes exclusive number of interviews that will help you learn more from the design gurus out there.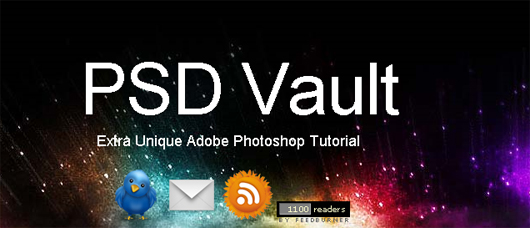 With a fancy amazing design, Psdvault provides you a great experment to life through huge number of content for designers. Psdvault focuses on Photoshop, Photoshop tutorials, Photoshop Effects and more.

Dzineblog is also a great site with good content and topics about design. The site includes inspirations and free tutorials about design topics and related topics.